The 2012-13 NHL lockout has officially passed the one-month mark and as optimism continues to elevate with the owners, players and, most importantly, the fans, there could be a few less-than-thrilled faces around the major junior hockey rinks. With the ending of the lockout looming, Canadian Hockey League fans across parts of Canada and the United States could potential lose some of its top talents. If NHL Commissioner Gary Bettman and the thirty owners can come to an agreement with Donald Fehr and the Players Association then it is expected that abbreviated mini-training camps could commence rather quickly. The NHL teams were preparing for this possible occurrence and agreed to appoint several top prospects eligible to be recalled from their respective CHL teams in order to compete for spots on NHL rosters.
The Canadian Hockey League has been in full swing since the middle of September and teams are just beginning to form chemistry. With a few teams scheduled to have one or more of its top players potentially leaving for NHL main camps there stands the possibility of some major disruptions within the CHL.  The following list will break down the selected players who could be recalled by NHL teams for training camp upon settlement of the Collective Bargaining Agreement.
Note: The players listed below could (key word) be recalled but do not necessarily have to be as it is up to the respective National Hockey League team to decide their fate.
Rickard Rakell (Anaheim Ducks): Drafted with the last pick in the first round of the 2011 NHL Entry Draft, Rakell is currently competing in his third OHL season with the Plymouth Whalers. After posting point-per-game numbers last season, Rakell is off to a mediocre start with six points through eight games as he looks to show the Ducks that he can better his offensive numbers and become a dominant player this year.
2012-13 Final Destination: If recalled, Rakell will almost certainly return to Plymouth to lead the Whalers as one of the key pieces on a contending team.
John Gibson (Anaheim Ducks): Like fellow Ducks' prospect Rakell, John Gibson is a vital component of the Kitchener Rangers, another stacked team hopeful of making a long OHL run. By no fault of Gibson, the Rangers have struggled early this season to score goals leaving their win column a bit bleak but it's been the stellar play of the Swedish netminder that has kept Kitchener in games. Gibson currently sits with a 3-2-0-1 record posting a respectable 2.39 GAA and 0.927 save percentage.
2012-13 Final Destination:  Gibson could attend training camp as the Ducks want to take a look at his development but Kitchener is set to end an eight-game road trip and return home to their newly renovated rink and could use Gibson's services. With capable veteran netminder Frank Palazzese as backup, Kitchener can afford to let Gibson go gain valuable training camp experience and welcome him back in a short time rejuvenated with confidence.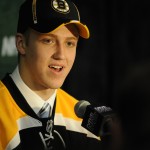 Dougie Hamilton (Boston Bruins): The former 9th overall pick of the Bruins is all but guaranteed to attend Boston's training camp whenever it opens as he is expected to not only make the roster but play valuable minutes on the B's blueline. Dougie Hamilton should be in the early discussions as a potential Calder candidate for the 2012-13 NHL season and his game should translate well under the mentorship of all-star Zdeno Chara. The big strapping Hamilton currently leads all OHL defensemen in scoring with 11 points including a league-leading three goals.
2012-13 Final Destination: Dougie Hamilton's days are limited for the Niagara Ice Dogs as once the lockout is settled he is on his way to Massachusetts immediately…and for good.
Mikhail Grigorenko (Buffalo Sabres):  The free-faller of last year's draft class, Mikhail Grigorenko, has rocketed out of the gates to start his second QMJHL season after being named "Rookie of the Year" last year. Grigorenko has nine goals and 22 points in 10 games this year which is good enough for second in league scoring.
2012-13 Final Destination: Mikhail Grigorenko will certainly be recalled by the Sabres for training camp and is one of the few prospects from last year's draft class that stands a very good chance of sticking around in Buffalo for the season.
Ryan Murphy (Carolina Hurricanes):  Ineligible for the American Hockey League, defenseman Ryan Murphy was returned to Kitchener to lead the offensive attack but the team has struggled enormously to produce goals, as evident by Murphy's lone single point. Big expectations were placed on this offensive dynamo and it should be a matter of time before he turns his game around.
2012-13 Final Destination: Murphy has already attended one training camp and performed well before being sent back to junior to focus on his defensive game. He will attend the Hurricane's training camp but I would expect him to return to Kitchener as the franchise hopes to make a long championship run this season.
Boone Jenner (Columbus Blue Jackets): The unexpected OHL leading scorer (17 points) has impressed early in his fourth OHL campaign and is on pace to shatter his previous career highs of 25 goals and 66 points. The Blue Jackets may invite their 2012 second round pick to camp but it's quite possibly they decide to leave him in OHL to continue riding his hot stick.
2012-13 Final Destination: One month ago, I would've said that Jenner would remain in Oshawa if the lockout occurred but after a strong start to the season the Columbus brass could be interested to see how he performs at camp.
Ryan Murray (Columbus Blue Jackets): Everett Silvertips captain and 2012 second overall selection Ryan Murray has scored twice and recorded five points in ten WHL games this season as his team sits last in the U.S. Division.
2012-13 Final Destination:  With a high draft pedigree and big expectations, it is difficult to say what his best route of action would be but Murray will definitely be in Columbus for training camp upon the lockout ending. Whether Murray remains in Columbus for the season will be up to the Jackets' staff as they weigh the value of him gaining professional experience versus dominating the junior ranks for another year.
Radek Faksa (Dallas Stars): Faksa is the key centerpiece of the Kitchener Rangers' offensive attack and without his seven points (8 games) the team's awful scoring slump would be even more depressing. Faksa has yet to dominate on the score sheet but he brings the intangibles and complete game that provides value to any franchise at the OHL or NHL level.
2012-13 Final Destination: Import forward Faksa will head to Dallas' training camp as he does have the potential to sneak into a roster spot, especially with the injury to centerman Derek Roy.
Brett Ritchie (Dallas Stars): Ritchie is off to a tremendous fourth-year start as he sits tied for second in team scoring with Dougie Hamilton at 11 points through as many games. The big winger really needs to put up strong offensive numbers if his game is going to translate to the NHL as he lacks a consistent physical game to play bottom-six grinding type of hockey.
2012-13 Final Destination: Ritchie could be recalled but if training camps are condensed then the Stars may choose to keep him in Niagara to continue his strong play.  Ritchie will return to the Ice Dogs to finish his junior career as I do not anticipate him cracking the Stars roster for this season.
Matej Stransky (Dallas Stars):  The third big Stars prospect to make this list, Stransky is coming off a great sophomore WHL campaign where he led the Saskatoon Blades in goals (39) and points (81). The big Czech winger is off to a slower start with eight points in his first 11 skates but his future remains promising considering he was a former 6th round selection (2011).
2012-13 Final Destination:  Like Ritchie, I'd expect that the Dallas Stars keep Stransky back for another year but he could attend his second training camp. Either way, with the Saskatoon Blades hosting the Memorial Cup, Stansky will certainly return to the Blades for his third WHL season as the teams' key offensive weapon.
Nail Yakupov (Edmonton Oilers): Clipping along at a point-per-game pace in the KHL (yes, I know, he's not in the CHL like the other prospects listed), Nail Yakupov will board his flight immediately upon the signing of the new CBA. Oilers' fans will have a ton of offensive talent to cheer on as Yakupov is set to join youngsters Taylor Hall, Jordan Eberle, Nugent-Hopkins among many other potential NHL stars.
2012-13 Final Destination: Edmonton Oilers. Enough said.
David Musil (Edmonton Oilers): Back in Vancouver for his fourth season with the Giants, Musil has progressed well since being drafted in the second round in 2011.  Look for Musil to put an end to his declining point totals over his previous three WHL seasons as he leads the Giants defense core. Through nine games, Musil sits atop all team defensemen in scoring with seven points.
2012-13 Final Destination: With no real standout blue chippers on the backend in the Oilers' system, Musil should be expected to join the Oilers in training camp to showcase his future minute-munching style of hockey. He's a longshot to stick with the big club and should be returned to compete for Coach Don Hay in Vancouver.
Jonathan Huberdeau (Florida Panthers): The former third overall pick is back in Saint John for the start of another year as a result of the NHL lockout. Huberdeau has found the game sheet 16 times with nine goals and seven assists in 11 games and when he leaves for the Panthers' training camp it is a foregone conclusion that his days in major junior hockey are finished as he will not be returning.
2012-13 Final Destination: The Florida Panthers will welcome Huberdeau as a key piece to their offense and surround him with the opportunity to contend for the Calder Trophy as the NHL's Top Rookie.

Mathew Dumba (Minnesota Wild): At the 11-game mark, Red Deer Rebels' defender Mathew Dumba sits tied for 11th in defensive league scoring with two goals and seven points to go with his 25 penalty minutes.
2012-13 Final Destination: Dumba will likely receive the call to attend the Wild's shortened training camp simply to give this young energetic rearguard the opportunity to experience NHL caliber action. However, Dumba's NHL arrival will likely be postponed until 2013-14, at the earliest.

Alex Galchenyuk (Montreal Canadiens): Despite his average offensive numbers, Alex Galchenyuk has started the year strong as Sarnia's front man. The big pivot has been dangerous on a shift-to-shift basis and is just starting to find some impressive chemistry with his line mates. Galchenyuk is the most interesting 2012 prospect as he has the goods to step into the NHL immediately but with a lost season to a knee injury, one would have to think Montreal keeps him in junior for one more year. Galchenyuk leads Sarnia in points (12) after the team's opening nine games.
2012-13 Final Destination: As the third overall selection, Alex Galchenyuk will certainly attend the Canadiens' training camp and whether he stays in Montreal depends largely on how much of an impact he makes. The safe play would be to return Galchenyuk to Sarnia to dominate as he focuses on improving his strength over the year but the potential to earn a stint in the NHL remains a strong possibility as well.
Ryan Strome (New York Islanders): Not eligible for American Hockey League action due to his age, Strome would have benefited from playing in Bridgeport.  In the end, Strome returned to Niagara to start the season and has been very good offensively breaking the twine seven times and registering 14 points (11 games) to lead the Ice Dogs.
2012-13 Final Destination: Strome will go to Islanders training camp where he hopes to impress enough to stick around and begin his professional career. However, I feel as though Strome has some more developing to do before making the jump to the NHL. Ideally, Strome would be playing in the AHL but it would not hurt him to dominate the OHL for another season as well. Strome is a true wildcard.
Griffin Reinhart (New York Islanders): Reinhart's Edmonton Oil Kings are off to a good start (5-3-1-2) and his one goal and five points are respectable for a player of his ilk. Griffin is a valuable player on the Oil Kings roster and his team is hoping that he returns to Edmonton after his first NHL training camp concludes.
2012-13 Final Destination: Reinhart's draft pedigree (4th overall, 2012) will have him scheduled to make the trip to the Isles' training camp but his goal should be solely to interact and learn from NHL players.
Cody Ceci (Ottawa Senators): Despite an awful team record, Ottawa 67's defender Cody Ceci has been one of the few bright spots for the red, black and white. The native of Ottawa sits second in OHL defensive scoring with 10 points in his opening 9 contests.
2012-13 Final Destination: With no immediate help needed on the Senators' blue line, Ceci's attendance at camp will come down to whether or not the Senators want him to gain the experience of training camp. With him being located directly in town, Cody Ceci stands a great chance at attending camp but his stay may be short as his 67's will surely need his talents back quickly.
Stefan Noesen (Ottawa Senators): One of the many NHL drafted first round talents on the Plymouth Whalers' roster, Stefan Noesen hopes to repeat as the team's leading scorer after racking up 82 points in 63 skates last season. Skating with impressive tenacity most of the time, Noesen would love the opportunity to return to Senators camp for a second straight season to show off his progression.
2012-13 Final Destination: With Noesen already having training camp experience, the Senators may opt to keep him in Plymouth rather than disrupting his momentum as he currently sits atop the Whalers' scoring lead (6 goals, 7 points).
Scott Laughton (Philadelphia Flyers): Playing on one of the hottest teams in the CHL, Laughton is already producing at over a point-per-game pace (12 points in 10 games) and has become a regular on the game sheet.
2012-13 Final Destination: One of my personal favourites, Scott Laughton features such a complete game that he could attend Flyers camp and surprise. However, Oshawa boasts such a strong team that Laughton will likely be returned to the Generals in hopes of him becoming an impact player as his squad looks to earn big game experience as one of the OHL's top contenders.
Scott Harrington (Pittsburgh Penguins): There are not many defensemen as experienced as London's Scott Harrington after playing key roles at the World Junior Championships for Team Canada and in the Memorial Cup for London last season. Harrington is the defensive leader in London and his spot on the Knights' roster is irreplaceable.
2012-13 Final Destination: Penguins GM Ray Shero will want to see Harrington in Pittsburgh for main camp but with few open defensive spots, Harrington will be returned to London eventually.
Olli Maatta (Pittsburgh Penguins):  Playing in his second OHL season, Finnish defender Olli Maatta has adopted a bigger role in London on a stacked Knights roster. With six points through his opening eight games, Maatta is off to a great start offensively.
2012-13 Final Destination: Olli Maatta will jump on a plane with Knights' teammate Scott Harrington and head to Pittsburgh for his first NHL training camp, mainly to gain that ever-so-important experience of big league camp.
Derrick Pouliot (Pittsburgh Penguins): Another defensive prospect featured in the Penguins system, Portland Winterhawk Derrick Pouliot (8th overall, 2012) will undoubtedly be on his way to Steeltown for camp after an impressive start in his opening 11 games scoring four goals and 10 points.
2012-13 Final Destination: The Penguins will want to test their 2012 top draft selection against NHL caliber players to see exactly what they are dealing with. Pouliot should eventually return to Portland as the Winterhawks plan (another) run at the WHL Championship.


Ty Rattie (St. Louis Blues) – Last season's WHL scoring star, Ty Rattie, started the year slowly but has come alive after registering a four-goal game last week. The Blues have to be thrilled with Rattie as a second round selection in 2012 as he becomes another offensive option in a growing pool of talented prospects. Rattie has accumulated seven goals and 12 points in the 10 games he has suited up for.
2012-13 Final Destination: Rattie will indeed be en route to St. Louis once the lockout ends and the mini-training camps begin. On most other NHL teams, Rattie would have a great chance at making an NHL roster but with the Blues' forward depth he is likely looking at another year with the Winterhawks.

Morgan Rielly (Toronto Maple Leafs) – Brian Burke and his staff are elated with their newest top prospect in defenseman Morgan Rielly and they certainly should be. To start the 2012-13 WHL Season, Rielly has three goals and 14 points (10 games) to sit among both the WHL's forward and defence scoring leaders.
2012-13 Final Destination: Much like Galchenyuk, Rielly missed last season with a serious knee injury but enters this season with the skill to make the jump to the NHL. It is unlikely that Rielly is kept in Toronto past the nine-game mark but he certainly is a wild card since the franchise holds him in high regards. In reality, Rielly is looking at one more standout WHL season before making his long-awaited jump to NHL action.
David Broll (Toronto Maple Leafs) – The man-beast who is David Broll has begun the OHL season looking more conditioned and ready to play a more offensive role in Sault Ste. Marie. At the NHL level, Broll projects as a bottom-six player that brings size and physicality to the lineup. After his opening ten games, Broll looks as though he could quickly set new OHL career highs as he already has two goals and six points on the season.
2012-13 Final Destination: At the moment, the Toronto Maple Leafs have no reason to recall David Broll from the Greyhounds and keeping him in the 'O' should keep his momentum going.

Frank Corrado (Vancouver Canucks): Underrated in every sense of the word, Frankie Corrado is letting people know who he is as he sits among the leaders in OHL defensive scoring with seven assists for the Sudbury Wolves.
2012-13 Final Destination: With the long proximity between Sudbury and Vancouver combined with Corrado's impressive start, it is a good bet that Vancouver brings out their 2011 5th round selection to the west coast to showcase his talents. Corrado should eventually return to the OHL to finish out his fourth year of major junior hockey.
Tom Wilson (Washington Capitals) – Drafted based on his impressive physical stature and overall potential, Tom Wilson is beginning to produce the way many felt he was capable of. The big burly winger showcases an impressive statistical line of two goals, five assists for seven points after suiting up in just six games.
2012-13 Final Destination: Physically, Tom Wilson is ready for NHL-action and the Capitals will definitely want to test their big man against NHL-sized players so expect him to report to training camp.  The experience Wilson gains in Washington could be a substantial boost to his development as he looks to gain more confidence offensively and mature as player.
Mark Scheifele (Winnipeg Jets) – From the opening puck drop, Mark Scheifele quickly launched himself to the top of the OHL scoring charts playing for the Barrie Colts, one of the Eastern Conferences' strongest teams. After a disappointing season last year, Scheifele needs to dominate the OHL as one of the top scorers to keep his development on path. Scheifele has recorded points in all but two games this season and carry's a respectable production of four goals and 13 points through his opening 10 games.
2012-13 Final Destination:  Scheifele pushed for a roster spot last season at Jets' training camp and he will attempt to stick around longer this season. Winnipeg has added depth to their lineup so Scheifele will have to really impress the Jets' personnel to crack the roster. Much like Ryan Strome, Scheifele would be best suited for AHL action but dominating the OHL for one year would be better than playing fringe minutes at the NHL level.
Feel free to follow @RossyYoungblood for all of your hockey prospect needs.