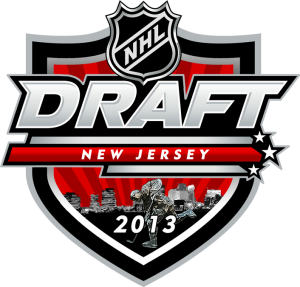 Every year, hockey fans and pundits alike pour over spreadsheets, scorecards and any number of other resources in an effort to determine which junior-aged prospects will enter the National Hockey League via the annual entry draft. The 2013 edition of the draft is no different.
What follows is the first installment of my personal 2013 NHL Draft projections. The list will vary from most others because, like everyone else, I have certain criteria I look for and certain inherent biases. As somebody based in Western Canada, I am far more likely to have seen live action featuring WHL prospects. As such, I have had to rely upon scouting reports, game footage and statistics for prospects that I haven't seen in-person. While statistics can say a heck of a lot, they tend to leave out the intangibles.
Beyond all this, a bit of research makes it seem like this is a pretty deep draft class. There are two very obvious top prospects in Nathan MacKinnon and Seth Jones, but a team drafting even half-way into the first round will likely gain a player that will be a difference-maker within a few years. However, it's worth noting that the representation of the U.S. National Development Team on this projected ranking is probably short-lived given that the USHL has yet to begin play. In a few weeks, it should probably became apparent which of the six Team USA reps are for real and which, well, aren't.
Finally, this list is not intended to be a prediction of where players will go. This is an assessment of which players I would take and in what order. The main question I am examining is which player would be most likely to help my imaginary team win hockey games. As such, there's a certain risk/reward assessment built into the assessment – it's just as much about helping their team win as much as preventing it from losing.
As always, your mileage may vary. This projected ranking will be updated several times between now and June 2013 and the NHL Entry Draft.
For comparison's sake, check out our Senior Prospect Correspondent Chris Ralph's Preliminary Top 60 Rankings, Prospect Correspondent Brendan Ross's detailed Preliminary Top 30 Rankings and Future Considerations' Top 30 Rankings.
C Nathan MacKinnon – Halifax (QMJHL)
D Seth Jones – Portland (WHL)
LW Alexander Barkov – Tappara (Finland)
C Elias Lindholm – Brynas (Sweden)
C Sean Monahan – Ottawa (OHL)
LW Jonathan Drouin – Halifax (QMJHL)
LW Hunter Shinkaruk – Medicine Hat (WHL)
C Max Domi – London (OHL)
D Josh Morrissey – Prince Albert (WHL)
D Rasmus Ristolainen – TPS Turku (Finland)
D Ryan Pulock – Brandon (WHL)
C William Carrier – Cape Breton (QMJHL)
C Nicolas Petan – Portland (WHL)
RW Adam Erne – Quebec (QMJHL)
C Ryan Kujawinski – Kingston (OHL)
D Robert Hägg – MODO Jr. (Sweden)
LW Anthony Duclair – Quebec (QMJHL)
LW Kerby Rychel – Windsor (OHL)
C Curtis Lazar – Edmonton (WHL)
D Shea Theodore – Seattle (WHL)
RW Artturi Lehkonen – KalPa (Finland)
LW Valeri Nichushkin – Chelyabinsk (Russia)
C Frederik Gauthier – Rimouski (QMJHL)
LW André Burakovsky – Malmo (Sweden)
C Ryan Fitzgerald – Valley Jr. Warriors (EJHL)
C J.T. Compher – U.S. National Development Team (USHL)
D Nikita Zadorov – London (OHL)
D Darnell Nurse – Sault Ste. Marie (OHL)
C Bo Horvat – London (OHL)
LW Morgan Klimchuk – Regina (WHL)
RW Hudson Fasching – U.S. National Development Team (USHL)
RW Oliver Bjorkstrand – Portland (WHL)
LW Anthony Mantha – Val-d'Or (QMJHL)
D Eric Roy – Brandon (WHL)
D Ian McCoshen – Waterloo (USHL)
RW Jackson Houck – Vancouver (WHL)
RW Nick Sorensen – Quebec (QMJHL)
C Jason Dickinson – Guelph (OHL)
LW Stephen Harper – Erie (OHL)
C Jayden Hart – Medicine Hat (WHL)
RW Gustav Possler – MODO Jr. (Sweden)
LW Pavel Buchnevich – Almaz Cherepovets (Russia)
D Will Butcher – U.S. National Development Team (USHL)
D Chris Bigras – Owen Sound (OHL)
LW Tyler Motte – U.S. National Development Team (USHL)
D Madison Bowey – Kelowna (WHL)
RW Ryan Hartman – Plymouth (OHL)
RW Evan Allen – U.S. National Development Team (USHL)
D Keaton Thompson – U.S. National Development Team (USHL)
C Bogdan Yakimov – Reaktor Nizhnekamsk (Russia)
C Greg Chase – Calgary (WHL)
LW Riley Sheen – Seattle (WHL)
RW Sergei Tolchinsky – Sault Ste. Marie (OHL)
G Zachary Fucale – Halifax (QMJHL)
G Eric Comrie – Tri-City (WHL)
C Lucas Wallmark – Skelleftea (Sweden)
RW Juuso Ikonen -Blues (Finland)
LW Connor Hurley – Muskegon (USHL)
D Dillon Heatherington – Swift Current (WHL)
D Jan Košťálek – Rimouski (QMJHL)