Joe Hicketts made his NHL debut for the Detroit Red Wings, Monday night, in a 3-0 win over the New Jersey Devils. If the 5-foot-8, 181-pound defender had any pregame jitters, they weren't evident. Instead, the Kamloops, British Columbia native played his regular intimidating, offensive-minded game.
The same one he has used to shed concerns about his size at every level.
"I definitely trick myself into thinking I'm a little bit bigger," Hicketts told Helene St. James of the Detroit Free Press after Monday's morning skate. "It's something that's just ingrained in my mentality that if there is a puck I'm going to go get it; I'm going to do everything in my power to beat the guy beside me in that battle."
It's that mentality that allowed the 21-year-old to stand out in training camp and eventually earn his first NHL call-up, where he went plus-one, threw a big hit on 2017 first overall pick Nico Hischier, and blocked three shots in 15:13 of ice time.
Hicketts' NHL Path
The Red Wings signed the undrafted defenseman in September of 2014 and he has appeared to be a steal ever since.Following the signing of his contract, Hicketts scored 20 goals and 125 points over 121 WHL games as captain of the Victoria Royals.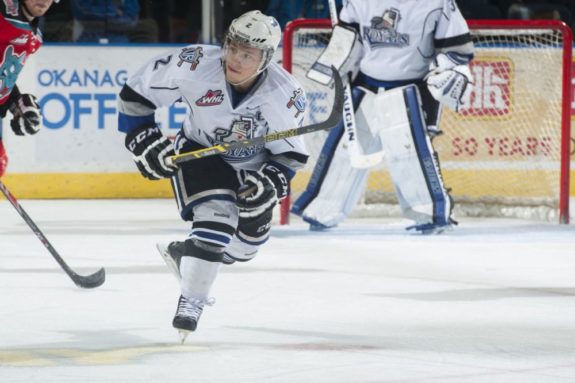 In 2015-16, he won the U20 World Junior Championship with Team Canada as an assistant captain and the only undrafted player on the roster.
Last season, he joined the AHL's Grand Rapids Griffins, scoring seven goals and 34 points in 73 games. He followed it up with another goal and eight points in 17 games to help the Griffins claim the 2017 Calder Cup.
His sophomore season has been a slight step back with just two goals, eight points and a minus-10 rating through 43 games, but outlying factors have contributed. A visible championship hangover, coupled with significant roster turnover, saw the younger, less-experienced team falter to start the season on time.
But his determination and grit in training camp represented everything Wings fans fell in love with during the eras of Bob Probert, Chris Chelios and The Grind Line and has been largely missing through 46 games this season.
A Tenacious Debut
His call-up came after Trevor Daley was forced out of the lineup with a lower-body injury, but even upon Daley's return, his strong play could keep him around. The team has maintained hope for the postseason and Hicketts' displayed the high hockey IQ he credits himself with early on.
A smart pinch in the offensive zone kept a threatening Red Wings attack going, which resulted in Tyler Bertuzzi staying hot by opening the scoring just 6:36 in.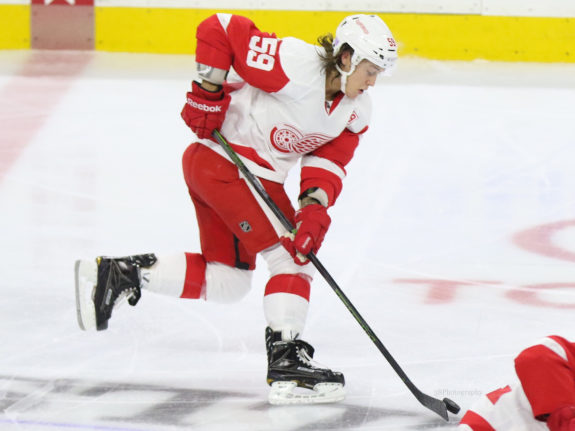 Hicketts was beat on a few risky plays as he tried to provide some much-needed offense from the blue line, but it didn't stop him from earning the trust of his but coaches. With a 2-0 lead late in the third period, Jeff Blashill used Hicketts on the penalty kill, where he put his body on the line to block a New Jersey scoring chance.
"I think he did a great job, he wasn't afraid to hit some guys in front of me and [had] a huge block in the third period," Petr Mrazek said postgame following his second consecutive shutout.
Hicketts' play showed confidence in himself, but with confidence from his coaches and goalie his NHL stint could be a long one.
I offer opinions and insight on the Detroit Red Wings organization and its prospects.