In the span of five months junior goaltender Dylan Ferguson's life changed forever, twice. On the first occasion, Ferguson was selected in the 2017 National Hockey League draft. On the second occasion, he had the rare opportunity to play goal in the NHL as a teenager.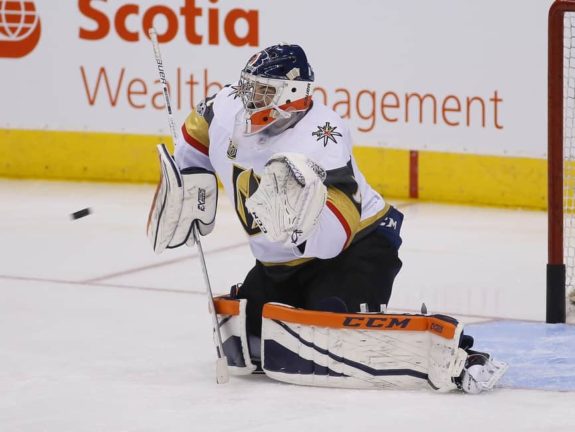 In a mere nine minutes, Ferugson contributed to what's already been a remarkable and history-making inaugural season for the Vegas Golden Knights.
A Hectic Summer
Ferguson spent the 2016-17 season backing up Western Hockey League veteran Connor Ingram for the Kamloops Blazers. In a secondary role Ferguson still impressed, going 16-10-2 with a 2.74 goals against average and a .922 save percentage. He earned the 17th ranking among North American skaters from the NHL's Central Scouting Service at mid-season and improved his ranking to 8th by May's final ranking.
Blazers up 2-1 with 5:45 to play, Shots 34-25 Rebels. Kamloops goalie Dylan Ferguson the difference tonight.

— Byron Hackett (@RDAbyronhackett) January 21, 2018
Ferguson ended up being one of three WHL goaltenders taken in the 2017 NHL Draft and the 20th of 21 goaltenders selected overall. He was drafted in the seventh round, 194th overall, just before Cayden Primeau. A few weeks after the draft he was traded by the Stars to the Vegas Golden Knights with a 2020 second round pick for Mark Methot – part of Vegas' attempt to ease their defensive log-jam.
An Eventful Fall
Ferguson signed an entry-level contract with the Golden Knights during training camp and returned to the Blazers as the team's starter. They got off to a slow start and were among the WHL's worst clubs when fate intervened in the form of an injury to Golden Knights goaltender Oscar Dansk during a game in Brooklyn that resulted in an emergency recall to the NHL for Ferguson.
"That game was actually on TV and I saw Oscar go down, and it didn't go through my head until I got the call," said Ferguson. "They just pretty much told me the situation. It wasn't too long of a call, but I started scrambling, paid for my team's meal and didn't get to eat until 8:30 the next morning but it was definitely worth it… I was in Boston Pizza and had two and a half hours to catch a flight."
Ferguson jetted to New York City to join his new team and backed up Maxime Legace in Madison Square Garden the next night – a thrill for a netminder that idolizes Henrik Lundqvist. He dressed for eight games for the Golden Knights during his 18-day recall, including playing 9:14 in relief during an 8-2 loss to the Edmonton Oilers.
When Malcolm Subban returned to the lineup, Ferguson was sent back to the Blazers. He was 4-9-0 when he was recalled, but he's posted a strong record since – including rattling off a five-game winning streak immediately upon his return. While his days may be winding down in the WHL – he'd be an overager if he returned next season – Ferguson's committed to making the most of his time.
"I got a lot of opportunities this year and a lot of cool ones, and they've all made me better," said Ferguson. "And being up there especially made me better. Seeing how hard those guys work day in and day out, and the commitment they have to the sport. It really lifts my passion to play that hard."