The Detroit Red Wings have operated a quiet – yet successful – operation thus far at home. This week, it's going to be much of the same with three matchups at Joe Louis Arena. Their big guns are starting to click with Daniel Alfredsson starting to find his groove in the red and white. Both goaltenders are playing well and have given their team confidence to go out and do what they do best.
Instead of breaking down the week in general terms though, let's take a look at how their games break down individually. Taking on San Jose and the Rangers, there's one game mid-week that one Red Wing is definitely going to have marked off on his calendar. Here's how the week breaks down.
Monday 10/21 – Red Wings vs Sharks
A one-time premium Western Conference matchup, the San Jose Sharks and Detroit Red Wings met at Joe Louis Arena on Monday night. The Sharks – a team that has been amongst the top ten teams in the NHL's power rankings – pressured the Wings in a defensive battle that saw a 0-0 tie go to a shootout.
Both goalies – Jimmy Howard and Antti Niemi – were awarded shutouts and it took a second round shootout goal from Logan Couture to decide a winner. San Jose outshot the Red Wings 27-24 through the four period game – but play seemed more lopsided at times than the shots and score indicate.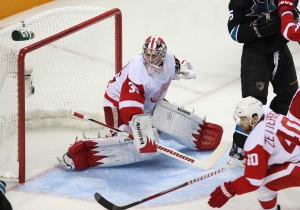 Although the Wings seemed to be pinned in their own end quite often, they became the first team, this season, to keep the Sharks scoreless over the first two periods of a game. This game also marked the debut for Red Wings rookie defenceman Xavier Ouellet – who was filling in for new father Jonathan Ericsson.
"He's a real good player," said Wings' coach Mike Babcock in an article by Bill Roose prior to Ouellet's first game. "He makes good decisions. He's just got to get quicker. That comes with experience, so I think he'll do that."
Final Score: Sharks beat Red Wings 1-0
Wednesday 10/23 Red Wings vs Senators
It's certainly one of the more talked about games of the week. No – it's not because they're historic rivals, but because of Daniel Alfredsson. In some ways, it was the NHL's less publicized version of LeBron's 'Decision'. When everyone thought it was without question Alfredsson would sign with the Sens this past offseason, he surprised everyone – including former teammates and management – and signed with the Wings.
This will mark the first regular season meeting between the two clubs – the first time the Wings will play their conference and division foe. But it also marks the first time Alfredsson will play against his former club.
Ottawa's off to a shaky start. Through eight games they sit 3-3-2 and sixth in the Atlantic Division. Senators' captain Jason Spezza will have to be watched as he leads the team in both goals (5) and points (8) over his first seven games played.
While the team waits for second-year forward Cory Conacher to score his first goal of the season, other Senators are having the same issue including Colin Greening, Zack Smith, and offseason acquisition Clarke MacArthur.
Craig Anderson will likely get the start with his 0.924 save percentage and 2.88 goals against average. He'll go up against either Jimmy Howard or Jonas Gustavsson – both of whom have put up impressive numbers so far this season. It'll be a physical affair, but look for the Wings to come out on top of this one.
Saturday 10/26 – Red Wings vs Rangers (Hockey Fights Cancer Night)
On a night where the NHL and NHLPA will raise awareness and money for the fight against cancer, the Red Wings will take on a depleted New York Rangers team at Joe Louis Arena. The Rangers are currently without captain Ryan Callahan – who's had a rough go with injuries as of late – and power forward Rick Nash. Nash is still recovering from a concussion he suffered after taking an elbow from San Jose's Brad Stuart.
The Red Wings, on the other hand, will look to their number one line to lead the way – as they have for most of the season. Going into Wednesday's game, Pavel Datsyuk and Henrik Zetterberg combined for 11 goals and 11 assists while the rest of the team's combined for 13 goals and 18 assists over the first 10 games.
With Martin Biron gone, the Rangers will likely start Henrik Lundqvist – which could prove to be the biggest defense the Rangers have to stop Detroit's big guns. Howard will likely get the start for the Wings. In two career games agains the Rangers he's 2-0 with a 1.50 goals against average and a 0.961 save percentage.
It shouldn't be a physical game but look for Justin Abdelkader and Derek Dorsett to set the tone for their respective teams. Chris Kreider will also be looking to sell himself to the Rangers' coaching staff, so he could be a factor early in the game.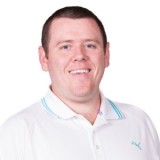 Andrew is in his 8th year reporting for The Hockey Writers covering the Toronto Maple Leafs. He began his broadcasting with CBC's Hockey Night in Canada team as well as being part of their coverage of the 2014 Winter Olympic Games in Sochi. He's the former play-by-play voice of the London Jr. Knights for Rogers TV and currently hosts the Sticks in the 6ix podcast. You can follow him on Twitter at @AndrewGForbes.