An active offseason continues for the New Jersey Devils. Early yesterday evening, they acquired Swedish winger Andreas Johnsson from the Toronto Maple Leafs in exchange for prospect Joey Anderson. Johnsson missed a good chunk of 2019-20 with a knee injury, but he still produced at a 40-point pace. 
The Devils needed to upgrade their scoring this offseason. While Johnsson won't turn them into the highest-scoring team in the league, he should provide a lift somewhere in their middle-six lines. Let's dive into what he adds to the team. 
Johnsson Has Produced at All Levels
Johnsson's had an interesting journey in becoming an NHL regular. He was a seventh-round pick of the Maple Leafs at the 2013 Draft. But a look at his numbers suggests he probably should've been a bit of a higher selection. He posted 19 goals and 32 points in 42 games in the J20 SuperElit — the Swedish junior league — in his draft year. And from there, it was only an upward trajectory. 
He lit up the J20 SuperElit in his draft+1 season, with 52 points in 42 games. He made the SHL — the top league in Sweden — as a 20-year-old the following season and had a respectable 15 goals and 24 points in 44 games. From there on out, he'd go on to put up 79 points across 107 games over his next two seasons in the SHL. 
Related: Devils Sign Corey Crawford to 2-Year Deal
Johnsson would make his North American debut in 2016-17 and would go on to finish with 47 points in 75 games with the Toronto Marlies (AHL). He followed that up with a point per game in 2017-18, so he was clearly ready to make his NHL debut. He only played in nine NHL games that season, but he became an impact player for the Maple Leafs in 2018-19. 
Though he was not close to winning the Calder Trophy, Johnsson had a solid rookie season. He finished with 20 goals and 43 points in 73 games and averaged 2.49 points per 60 minutes (points/60) at five-on-five, ranked fourth among all players on the Maple Leafs.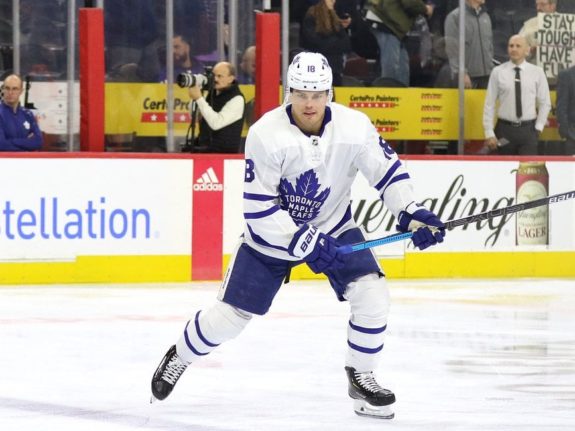 Johnsson may have missed a sizable portion of last season, but he was still on pace to finish with close to his 2018-19 totals. If we look at his track record in the NHL, there's enough data to suggest he's a reliable middle-six option. 
Johnsson's overall play has been worth a goals above replacement (GAR) of 10.2 over the last two seasons, which places him between Patrik Laine and Cam Atkinson. A significant reason for that is because of Johnsson's even-strength offense, which has been worth a GAR of 10.4. His defensive game isn't as strong, but he's not a liability. Plus, the Devils didn't acquire him to be a defensive forward. He'll be coming in to score goals and put up points. And he has enough of a track record to show he can do it consistently. 
Where Johnsson Fits Into the Lineup
Johnsson is capable of playing left and right-wing, so there'll be options for where he fits into the lineup. Because his defensive game isn't the best, it's hard to imagine him fitting in on the top line. But he's a good enough offensive player where he should at least get a look in the Devils' top six. 
One possibility could be starting Johnsson at left-wing on the second line. The other spots would go to Kyle Palmieri at right-wing and Jack Hughes, the 2019 first overall pick, at center. Palmieri is the best shooter on the team, while Hughes has elite vision and high-end playmaking ability. Add Johnsson into the mix, and it's a capable scoring line. The only concern with this group is they could be a problem defensively because of Hughes and Johnsson. But managing their deployment could help them get around that. 
If Johnsson can't stick as a second-liner, he could drop to the third line. That means Pavel Zacha would likely be his center, with someone like Jesper Boqvist as a left-winger. If Boqvist shows he's ready for a second-line role, someone like Nick Merkley could fill out a line with Johnsson and Zacha.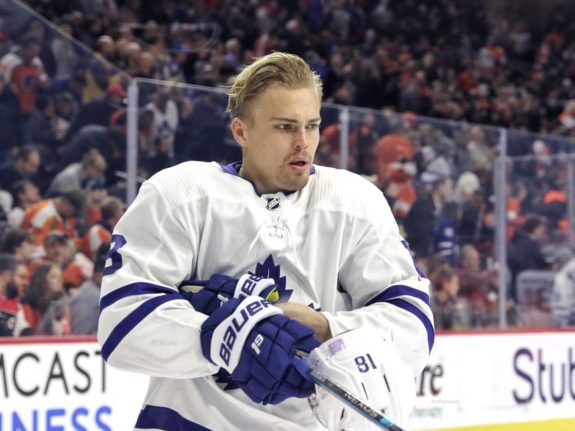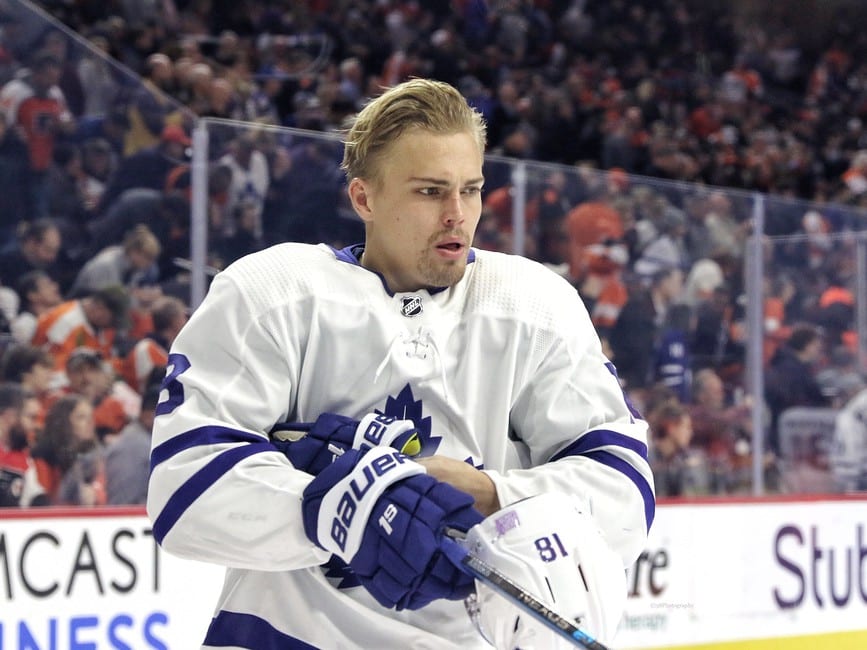 But given Johnsson's track record of scoring, he should be able to handle second-line minutes consistently enough. He's averaged 45 points per 82 games, as well as 2.10 points/60 at five-on-five over the last two seasons. The latter is a slightly better rate than Alex DeBrincat, James van Riemsdyk, and Atkinson over that stretch. 
It's also worth noting the Devils hired Lindy Ruff as their new coach this offseason. If his Dallas Stars' teams are any indication, the Devils should be a much more offensive, fast-paced team. And that could benefit an offensive player like Johnsson. Now, that doesn't mean he'll become a 60-point player. But an offensive player placed in a scoring role in an offensive system should be able to find some success. 
Fitzgerald Continues Trade Magic
You always have to give up something to get something on the trade market. Anderson has looked good in limited NHL minutes for the Devils. If he pans out, he should be a decent bottom-six forward for the Maple Leafs. But he wasn't a high price to give up for a player like Johnsson who can play middle-six minutes. That was also the case when Devils' GM Tom Fitzgerald only gave up a fifth-round pick to acquire defenseman Ryan Murray earlier this week.  
Related: Devils Get Top-4 Upgrade for Minimal Cost With Murray
Johnsson has three years left on his deal, is 25 years old, and only has a cap hit of $3.4 million. Those are the types of acquisitions Fitzgerald has been looking to make to address the team's needs. And that's what he did in obtaining Johnsson. All in all, another solid piece of work that'll help the team win more games. 
* * *
Advanced stats from Evolving Hockey, Natural Stat Trick 
---
---