New Jersey Devils head coach Lindy Ruff has not been shy about changing his line combos when his team needs a spark. With them having scored only five goals at five-on-five through six games of their first-round series against the New York Rangers, they need to find more offense in a winner-take-all Game 7 tomorrow night. When in doubt, go to what you know works, and a couple of combos Ruff used during the regular season could be options for him to lean on. 
Devils' Top 6 Should Look Familiar
Timo Meier has been snakebitten through the first six games of this series. He has 26 shots on goal and has generated 2.71 expected goals, but he has nothing to show for it. The chances have been there, but what does he need to have happen for a breakout in a must-win situation? 
Though Ruff didn't use this line combo much during the regular season, it's worth experimenting with again. Meier, Nico Hischier and Dawson Mercer only played 41 minutes together after the Devils acquired Meier ahead of the trade deadline, but their five-on-five numbers were stellar. They controlled 71.77 percent of the expected goals and 69.44 percent of the scoring chances (SCF%) when they were on the ice together. Sure, it's a small sample, but there's enough to suggest this should work again. 
Part of the appeal of pairing Meier and Mercer together is 1) Mercer has three points in the last two games, including two goals. 2) He and Meier were on the third line in Game 5 — a 4-0 win — and looked quite good together. Mercer played well with Hischier this season, especially when they were on a line with Tomáš Tatar, so there's no reason to think they can't find success with Meier, who's due for a goal this series.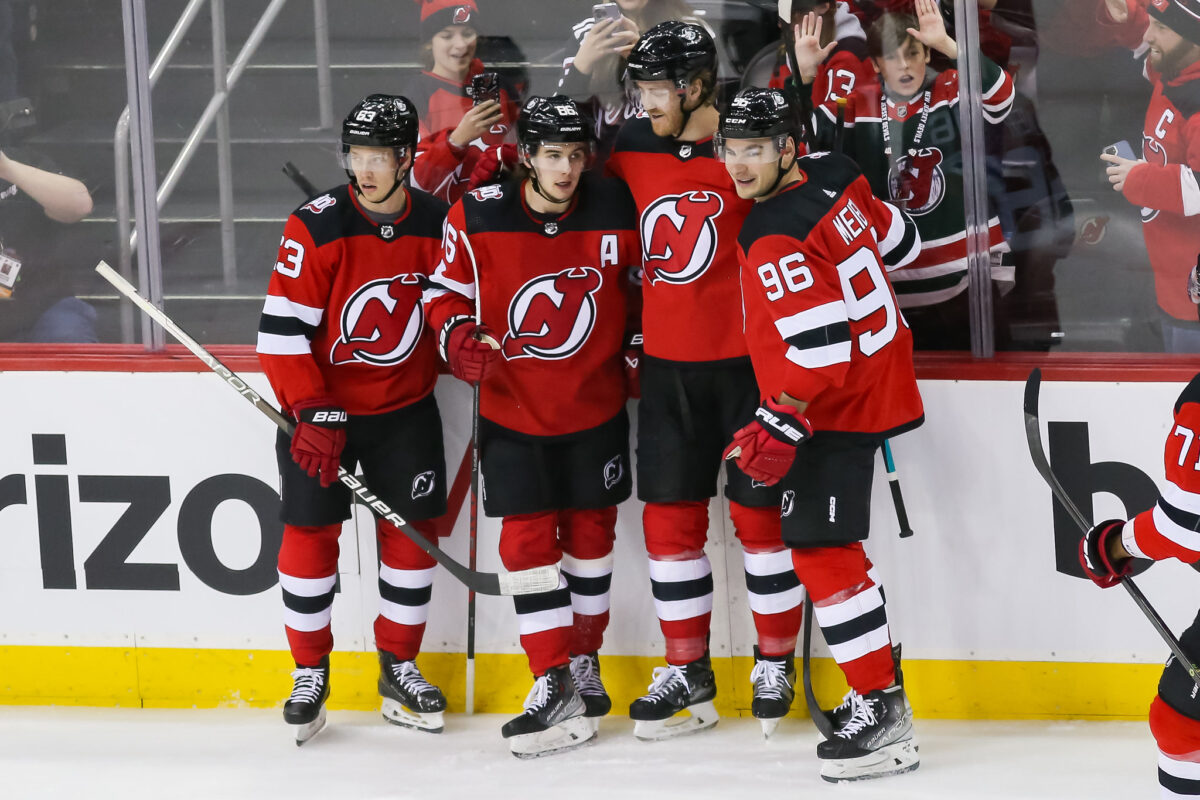 This might not be popular with every Devils fan, but Ruff should return to Erik Haula, Jack Hughes and Jesper Bratt as his second line. Ruff has used Ondrej Palát with Haula and Hughes this series, so it's essentially replacing Palát with someone with more scoring upside. And based on the regular season output, it's a move that makes plenty of sense. In 182 minutes together, the Haula, Hughes and Bratt trio put up excellent five-on-five numbers: 
66.57 Corsi for percentage (CF%)
73.33 xG%
68.84 SCF%
77.14 high-danger chances for percentage (HDCF%)
10-6 goal differential
It's hard to argue with those numbers, and with the Devils really needing to get Bratt going for Game 7, it makes sense to try him on a unit he had plenty of success with during the regular season. Plus, Palát hasn't deserved to be in the top six in the playoffs. And even though Devils signed him to be a top-six winger in moments like this, they shouldn't be trying to force-feed him minutes that haven't worked. 
Related: 3 Takeaways From Devils' Game 6 Loss vs. Rangers
---
Latest News & Highlight
---
Since Palát and Tatar move out of the top six, they should end up on the third line with Jesper Boqvist. Those three didn't play much during the regular season — just 23:07 — but their small sample was also quite encouraging. The Devils had a 69.77 CF% and 77.94 xG% with them on the ice, so there's something to suggest it can work too. 
As for the fourth line, Ruff shouldn't change a thing there. Nathan Bastian, Michael McLeod and Curtis Lazar haven't gotten much ice time as a unit through the first six games of this series, but they're getting the job done. They're controlling play for the most part and scored the lone goal in the team's 5-2 loss in Game 6. They won't get much ice time as is, and when Ruff needs McLeod in certain situations, he'll move him up. 
Should Luke Hughes Play?
I saw quite a few people reply to me in my mentions after yesterday's loss that Luke Hughes should play in Game 7 for Ryan Graves, who's not had a great series. I understand where fans are coming from, especially since the Devils need more offense at five-on-five. But the younger Hughes has not played in a game since the team's regular-season finale against the Washington Capitals over two weeks ago. It'd be a lot to ask of him to come into a Game 7 against the Rangers with the season on the line. 
With that said, the Toronto Maple Leafs put in Timothy Liljegren for Game 6 against the Tampa Bay Lightning. It's not an apples-to-apples comparison, of course. Hughes offers much more offense than Liljegren, but Liljegren had not played in the series until Game 6 and had not appeared in the lineup since the Maple Leafs' regular-season finale, similar to Hughes. If someone like Liljegren, who's a fine defenseman, can come in after a two-plus-week layoff and not have many issues, then there's no reason Hughes can't either.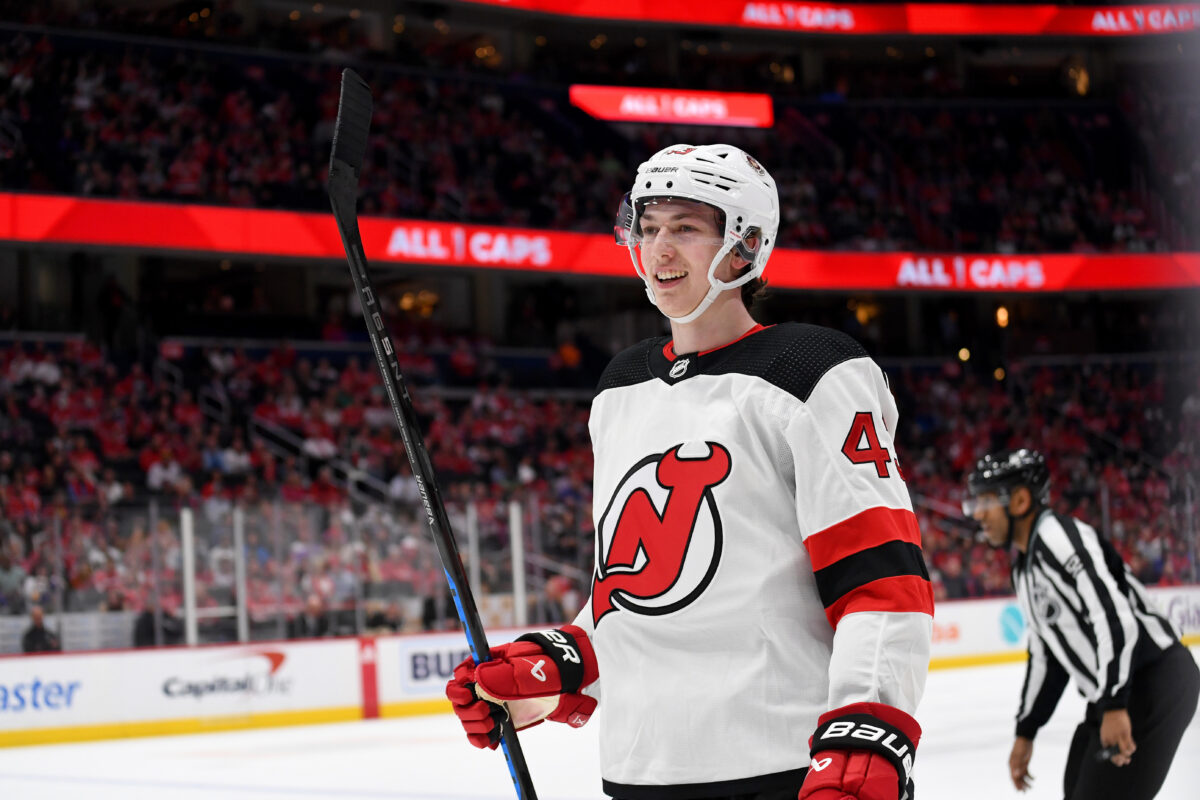 Still, I can't see Ruff making the change at this juncture. Graves and John Marino has been his shutdown pair almost all season long, and replacing Graves with Hughes would break that up for a crucial Game 7. Would Ruff be comfortable moving Kevin Bahl into Graves' role alongside Marino? You could argue he should be, with Hughes playing alongside Damon Severson on the third pair. But it seems like a long shot at this point. 
Regardless, it's more important to get the right combos up front to find more scoring. Meier, Hischier and Mercer showed potential during the regular season, while Haula, Hughes and Bratt was one of the best combos Ruff put together this season. That could help them break their scoring woes at five-on-five and help the team find the back of the net enough to beat Igor Shesterkin in Game 7 to advance to Round 2. 
* * *
Advanced stats from Natural Stat Trick