When looking at the New Jersey Devils roster, you might not think they have too many needs based on their 29-12-3 record. That puts them at 61 points and only one point behind the Carolina Hurricanes for first place in the Metropolitan Division. Yet, there are a couple of items to address ahead of the trade deadline in early March. 
Finding a backup goaltender is one, as Frank Seravalli alluded to on the Jan. 16 episode of DFO Rundown. But another need, and arguably the more pressing one, is finding a winger who can play middle- or top-six minutes. Looking to the trade market is a possibility, but the Devils also have internal options who deserve more significant roles. 
The ideal candidate for extended top-six minutes is Dawson Mercer. Ahead of their Jan. 19 tilt against the Seattle Kraken, he has ten goals and 27 points in 44 games, which puts him on pace for 19 goals and 50 points. He has played well alongside Jack Hughes in top-six minutes, but head coach Lindy Ruff isn't playing him in such a role as much as he should be. That should change moving forward.
Mercer's Most Common Lines in 2022-23
Mercer has played with a few different line combinations this season. For this part of the article, we'll look at his common ones and how he's fared. After then, we'll go over who he fits best with and why he needs consistent top-six minutes. 
Erik Haula, Hughes & Mercer
Time on ice: 117 minutes
Corsi for percentage (CF%): 55.61 percent
Expected goals percentage (xG%): 56.73 percent
Goals for: 11, goals against: 5; goals for percentage (GF%): 68.75 percent
This has been Mercer's most common line this season. The results have been pretty good, and it's likely why Ruff returned to them at practice on Jan. 18. This line has done well creating off the rush, which is how Ruff wants his team to play. You could argue there should be someone else alongside Hughes and Mercer than Haula, but he has played well with this trio. It's worth another look, given the results in a decent sample size this season. 
Yegor Sharangovich, Jesper Boqvist & Mercer
TOI: 80:19
CF%: 58.55 percent
xG%: 70.31 percent
Goals for: 2, goals against: 1; 66.67 GF%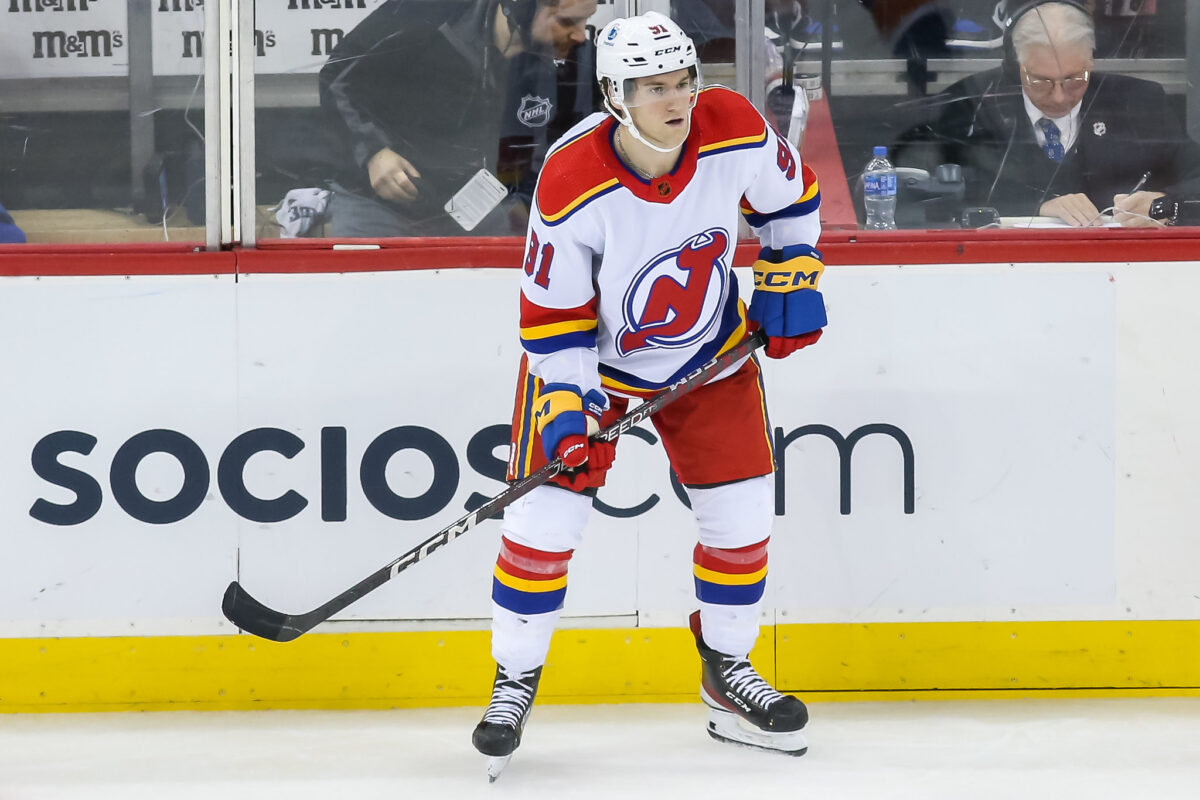 Mercer's second most common line combo this season and one with strong results. The Devils have very much controlled play at five-on-five with this trio on the ice. The problem is they haven't scored and have actually underperformed their expected numbers; they have an xG of 3.62 compared to two actual goals. It works as a bottom-six line, and if Ruff has to move Mercer back into the bottom-six, that's a trio he should use. But the lack of production limits their ceiling. 
Sharangovich, Hughes & Mercer
TOI: 51:52
CF%: 52.04 percent
xG%: 51.78 percent
Goals for: 4, goals against: 2; 66.67 GF%
The line combo that most fans have wanted to see more of, partly because of the success they had in 2021-22. Their results have been good but not great, granted in a small sample size this season. For a line that has Hughes on it, you'd expect a little more possession from them at five-on-five. 
Related: Devils Could Target Vejmelka as 1B to Vanecek
---
Latest News & Highlights
---
It's probably part of the reason why Ruff hasn't used them as much as he did a season ago. Still, they've outperformed their expected numbers in their small sample — four goals to 2.13 xG. It is worth giving them another look in due time, especially if the latest rendition with Haula doesn't work out and Ruff needs to return to the line blender. 
Miles Wood, Michael McLeod & Mercer
TOI: 38:04
CF%: 54.22 percent
xG%: 49.85 percent
Goals for: 1, goals against: 2; 33.33 GF%
I'll keep this one short and sweet. Mercer is completely miscast playing on a line with Wood and McLeod. Even though their five-on-five numbers aren't awful, none of those players' skill sets complement each other well. Fortunately, with Nathan Bastian's return to the lineup on the horizon, Ruff shouldn't be using this trio all that often in the future.
Boqvist, McLeod & Mercer
TOI: 26:48
CF%: 54.35 percent
xG%: 65.29 percent
Goals for: 5, goals against: 0; 100 GF%
This line combo came together by accident in the Devils' 4-3 comeback win against the Carolina Hurricanes on Jan. 10. Since then, they've impressed at five-on-five. But with Bastian set to return to the lineup, Ruff has broken them up and placed Boqvist and Sharangovich with Tomáš Tatar as the team's third line. At least when Ruff has to make an in-game change, he knows he can come back to this combo for a spark. But I wouldn't expect to see much of them anymore.
Where Does Mercer Fit Best?
The answer to this question is pretty simple. If Mercer is to play consistent top-six minutes, he needs to be alongside Hughes. He has seen some time alongside Nico Hischier, but the results haven't been pretty. In 54 minutes together this season, Mercer and Hischier have a 47.57 CF% and have controlled 46.25 percent of the expected goals. Dating back to 2021-22, those two percentages fall to 44.05 and 43.16 percent, respectively.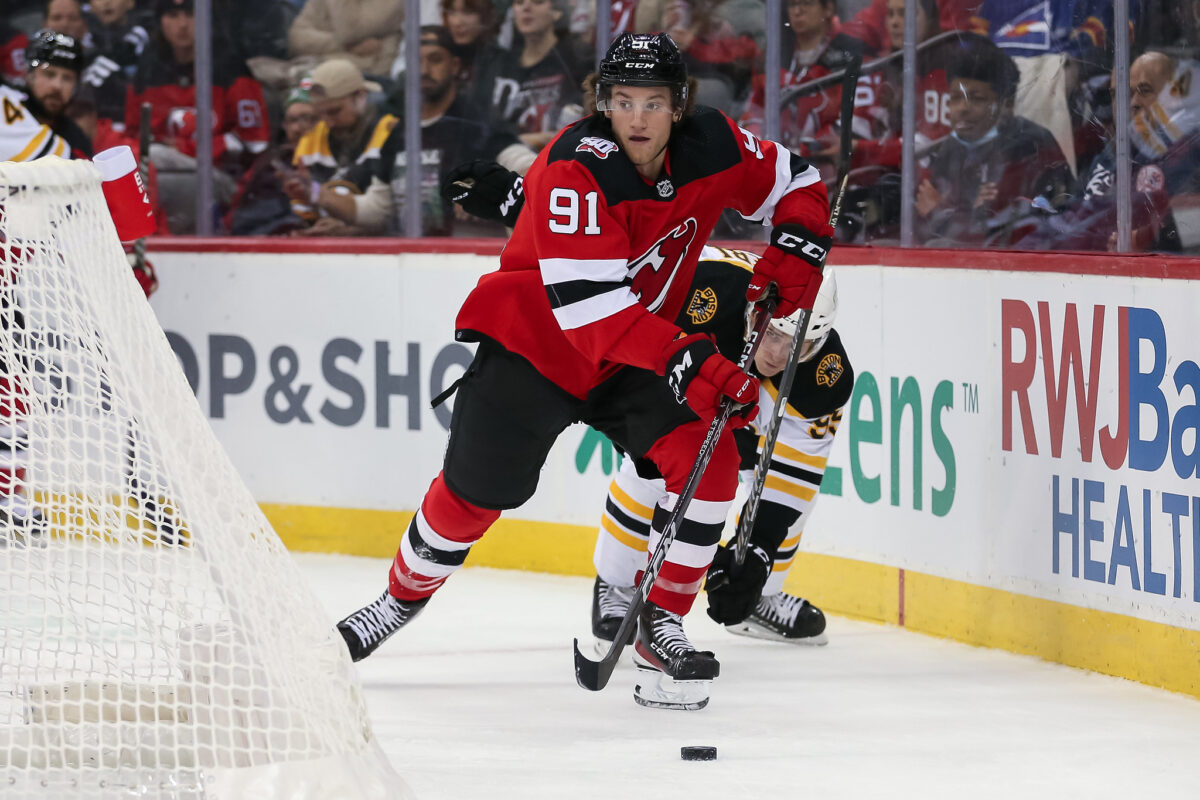 For whatever reason, that's not a combo that works. It's a different story with Hughes, however. Since the start of last season, they have a 52.44 CF% and have controlled 53.15 percent of the expected goals as a pairing. In 2022-23 alone, they have a 55.75 xG% and a goal differential of plus-9. They should be a regular duo moving forward; it's just a matter of who plays alongside them. 
There's no denying that Haula has played well with Hughes and Mercer, so giving them another look is worth a shot. Tatar has played well with Hughes and would also fit on a line with Hughes and Mercer. And considering Boqvist's success with Mercer, it should even be in the back of Ruff's mind as an option with Hughes; Boqvist and Mercer have a 60.5 xG% and plus-6 goal differential together. Boqvist would bring a different element to that line as a forechecker with solid defensive metrics, but he's also shown flashes of skill and scoring upside on a line with Mercer. 
But regardless of what Ruff decides, Mercer should be a fixture in the Devils' top-six until they make a deal ahead of the trade deadline (if they do). And even if they make an addition, there's a very strong argument he's a top-six winger no matter what. It's good to see Ruff is giving Mercer that opportunity again, starting tonight against the Kraken. And hopefully, it's something he gives more runway, because Mercer has thrived in a top-six role this season and should receive those minutes consistently.
* * *
Advanced stats from Natural Stat Trick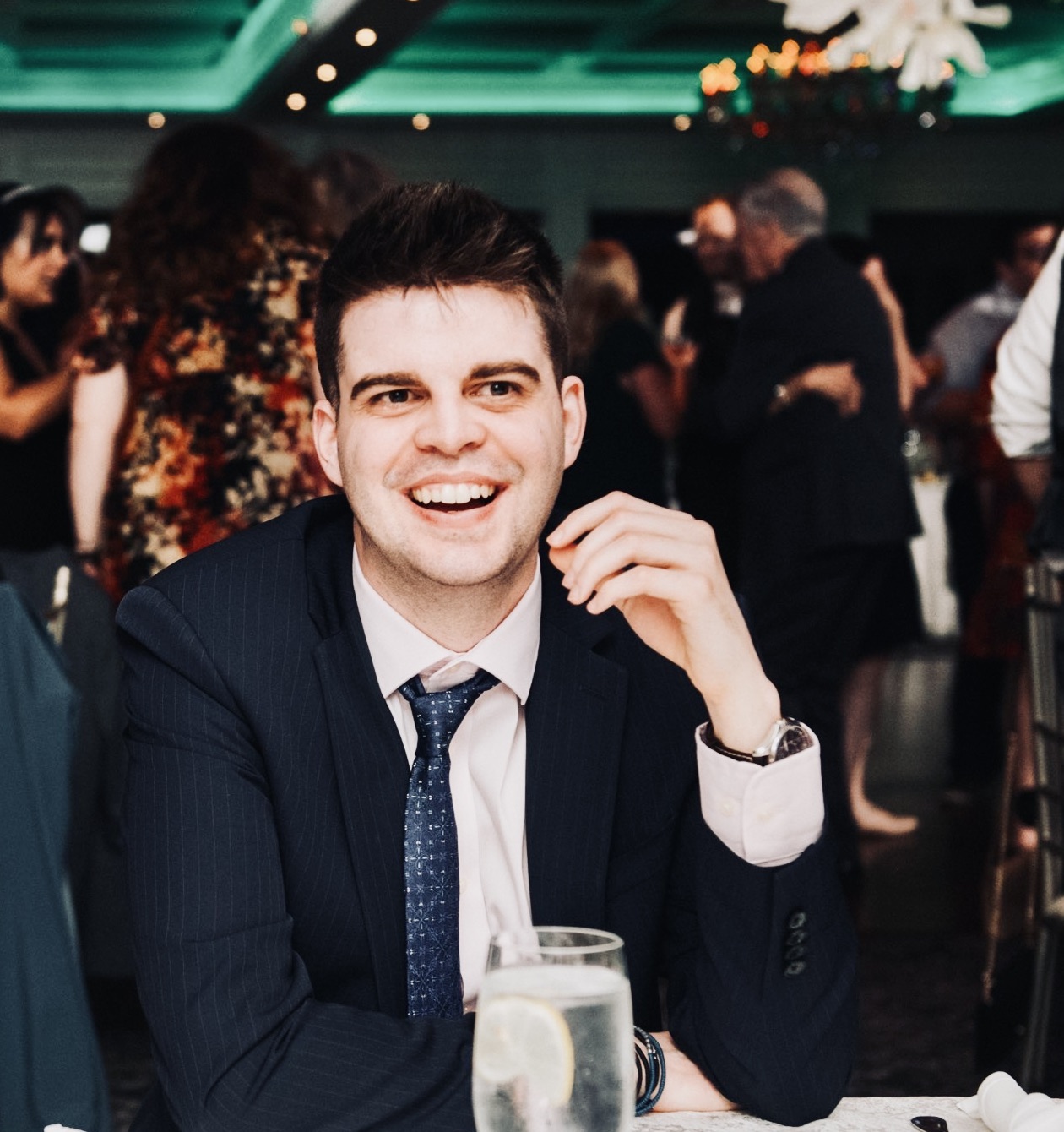 Alex Chauvancy is a New Jersey Devils writer for The Hockey Writers who has a penchant for advanced stats, prospects, signings and trades. He previously wrote for Devils Army Blog, a New Jersey Devils fan blog, from 2015-2017