There are less than 50 NHL players who have scored 500 or more goals in their careers. On Jan. 18, 2023, the Tampa Bay Lightning's Steven Stamkos joined this elite group when he scored his first of three goals against the Vancouver Canucks. He is now only the third active player, along with the Pittsburgh Penguins' Sidney Crosby and the Washington Capitals' Alex Ovechkin, to reach this milestone.
The 2022-23 season has been filled with milestones for Stamkos as he surpassed 1,000 career points earlier in the season. The Lightning captain is proving why he was the first overall pick in the 2008 NHL Draft and why he is the team's undisputed leader.
The Development of Stamkos
When Stamkos was growing up in Unionville, Ontario, which is less than 30 minutes from Toronto, Canada, he was a devout fan of the Toronto Maple Leafs. Although he played other sports, his passion remained hockey. He played two seasons for the Ontario Hockey League's Sarnia Sting and scored 197 points and added 17 points in 13 playoff games.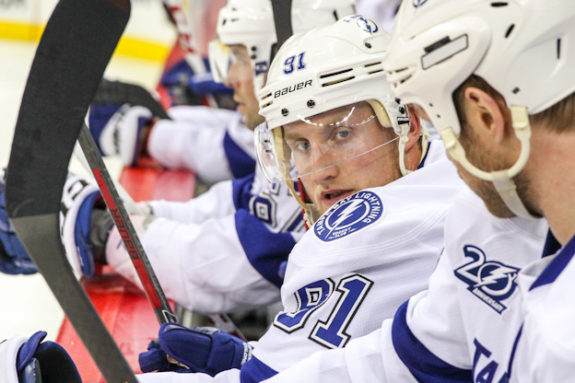 Those impressive numbers led to him being drafted above Drew Doughty, Jordan Eberle, and current teammate, Zach Bogosian in 2008. He further cemented his goalscoring ability when he appeared in the 2008 World Junior U-20 tournament and scored five goals and one assist in seven games.
Lightning Draft Stamkos First
Since his rookie season, Stamkos has scored 1,021 points, passing Martin St. Louis for first place in Lightning history. He also holds the franchise records for most career goals, most goals in a season, most even-strength and power-play goals, most game-winning goals, and finally, most overtime goals. What makes these records even more astounding is that he did it in fewer games because of several injuries that kept him off the ice for significant amounts of time. Even though he has broken most of the Lightning's records, his real strength comes from being a team leader.
When TNT's NHL pregame host Liam McHugh asked Lightning coach Jon Cooper what was the biggest difference in Stamkos since he entered the league, the coach stated, "He was a mature kid the whole time, but it's a lot different—you're different—when you get married, have kids and get into your 30s and stuff like that. What came with that is his leadership skills. He really has become a fabulous leader for us. I can't wait until he scores 500 for us. One thing about Stammer is he's a great ambassador for the league" (from Jan. 4, 2023 Lightning game against the Minnesota Wild).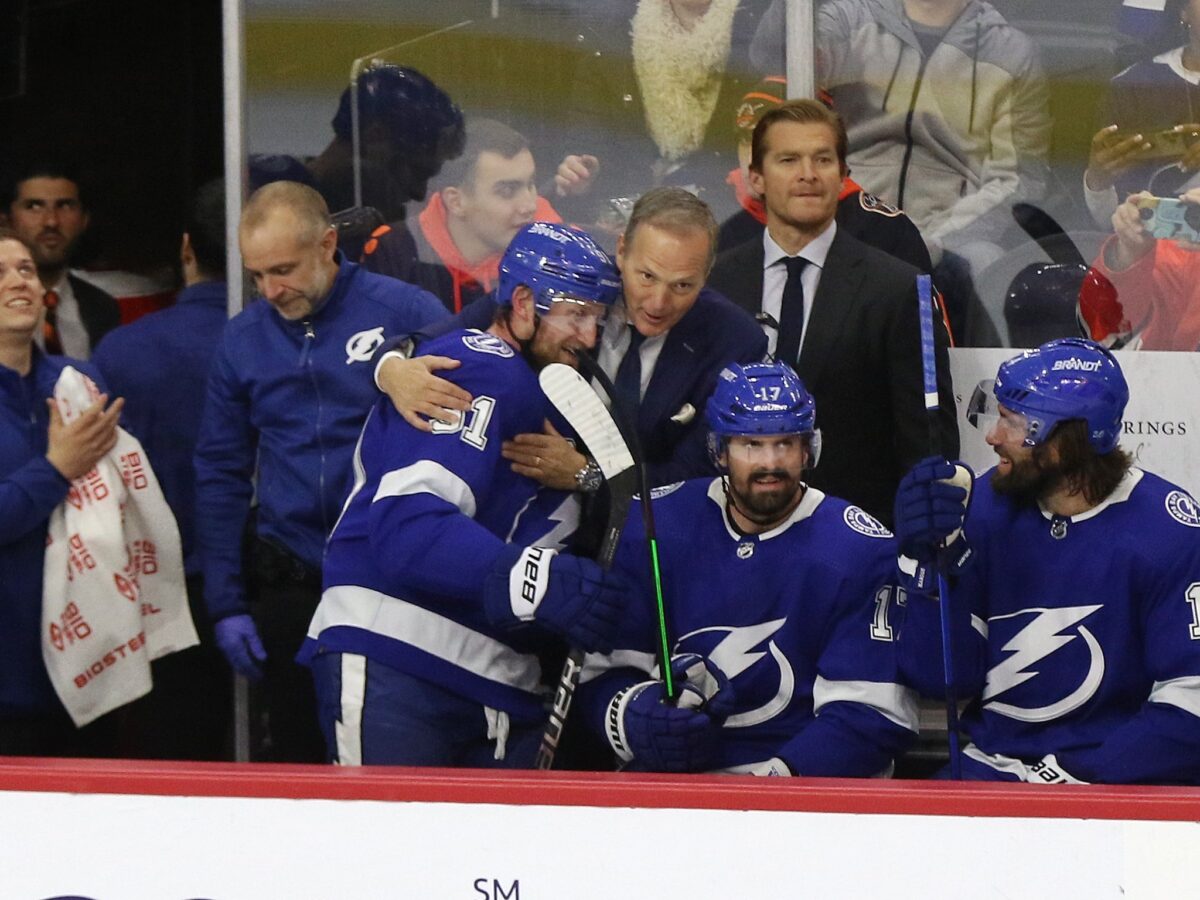 It's been nine years since Stamkos replaced St. Louis as the team's captain. The 32-year-old is the fifth longest-tenured captain in the NHL and a very respected teammate in the locker room.
Related: Steven Stamkos Should be in the Lady Byng & Messier Award Discussions
---
Latest News & Highlights
---
Stamkos won two Maurice "Rocket" Richard Trophies for the most goals in 2009-10 and 2011-12 and was named to the All-Star team seven times. He has also been nominated for several league awards including nine times for the Lady Byng Memorial Trophy, which recognizes sportsmanship and gentlemanly conduct combined with a high standard of playing ability, and the Hart Memorial Trophy, given to the league's most valuable player.
Two Stanley Cups
Star players show up when it counts, and the Lightning's captain needed less than three minutes to produce a legendary goal that was named Play of the Year by Sports Illustrated in 2020. His goal in Game 3 of the 2020 Stanley Cup Final against the Dallas Stars will probably go down as a singular moment in franchise history. With that goal, Stamkos became the second player in NHL history to score a goal while skating in his first playoff game during a Cup Final.
The following season, Stamkos and the Lightning won their second Cup and in 2021-22, they reached the Final for the third consecutive season. When they lost to the Colorado Avalanche, he was gracious in his respect for the new champions but was adamant that the Bolts were not finished winning more championships and so far this season, the captain is scoring goals, setting up plays, and blocking shots to help his team secure a spot in the postseason.
Stamkos commented in a 2007 Toronto Star article printed right before he was drafted by the Lightning, "one of the things my parents really instilled in me was to have a backup plan in case hockey doesn't work out." After 15 years and over 500 goals and 1,000 points in the NHL, I don't think he has to worry about a backup career plan anymore (from Steven Stamkos: Hockey player, Toronto Star, Dec. 30, 2007).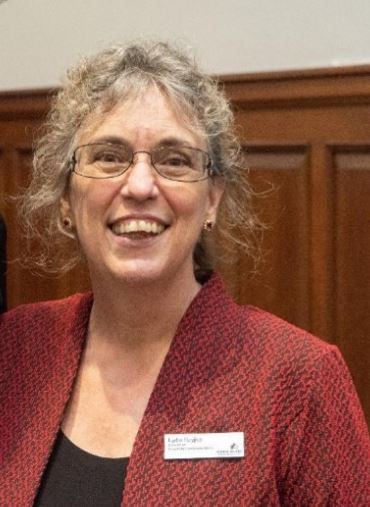 Lydia Szyjka is a writer for The Hockey Writers. Growing up in Tampa, she graduated from H.B. Plant High School—never dreaming her Tampa Bay Lightning would win three Stanley Cups. She is director of communications for a Catholic university, where she is the editor of the alumni magazine. An avid hockey fan, she and her husband live in Delaware and watch every Lightning game on the NHL's Center Ice.