The New Jersey Devils have surprised a lot of folks with two straight wins coming back from their extended COVID-19 break. But despite their solid 6-3-2 record, the team has a few glaring weaknesses. New Jersey ranks dead last in the NHL in both penalty kill percentage at 64.9 and in faceoff win percentage at 41.2.
In fact, both of those figures are so poor that if the Devils were to finish the season with them, they would set all-time NHL records for futility in each area. Stats for penalty kill percentage date back to the 1977-78 season, and the current low mark for a full season is held by the 1979-80 Los Angeles Kings at 68.2%. Records for faceoff win percentage only date back to the 1997-98 season, but the lowest mark since came in that season, courtesy of the Tampa Bay Lightning at 44.1%.
The good news for the 2020-21 Devils is that it's still early. They have 45 games left to avoid making history. In order to improve in these two areas, it may be necessary to switch up their personnel.
Improving the Penalty Kill
On the penalty kill, New Jersey has established a top defensemen pairing of Ryan Murray and Damon Severson, with a secondary pairing of Dmitry Kulikov and P.K. Subban. Matt Tennyson has gotten a few shifts on the kill, while Sami Vatanen and rookie star Ty Smith have each played less than two minutes total this season.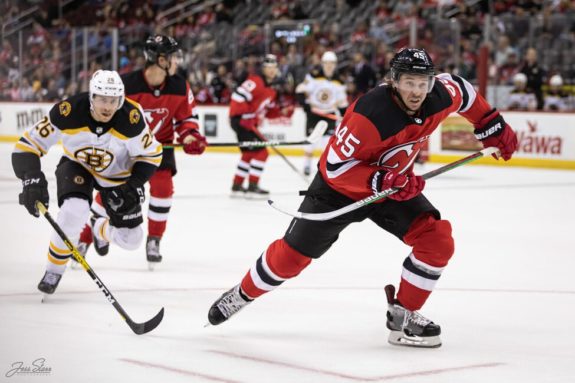 Vatanen is a player who has often served on penalty-killing units over the course of his career and could see more PK time if the Devils continue to struggle. The team likely wants to continue easing Smith into life in the NHL, but it may be worth experimenting with him on the penalty kill as well.
New Jersey's struggles killing penalties are especially remarkable considering the franchise holds the league record for best PK% over the course of a season, set less than a decade ago at 89.6 in 2011-12. That team of course had the luxury of Martin Brodeur in net. Their stellar penalty killing helped vault the team all the way to the Stanley Cup Final, where they fell to the Kings.
In fact, the three-best single-season penalty killing percentages ever recorded were surprisingly all achieved by teams that would go on to lose the Cup Final that year – following the 2011-12 Devils are the 1999-00 Stars, who of course lost to the Devils, and the 1997-98 Capitals, who lost to the Detroit Red Wings.
Improving Faceoffs
As for faceoffs, New Jersey's biggest problem is Jack Hughes. Every center on the team has a faceoff win percentage below 50 so far this season, but Hughes still stands out among them. The 19-year-old has taken 138 faceoffs, second-most on the team to Pavel Zacha's 160. He has won just 45 of them, losing 93.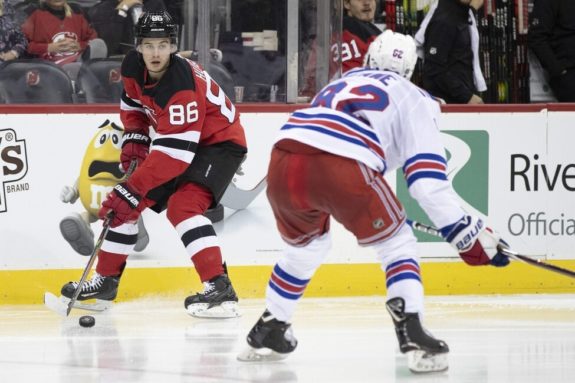 Out of 163 players who have taken at least 45 faceoffs this season, Hughes' 32.6 FOW% ranks 162nd, ahead of only Columbus' Jack Roslovic at 30.9. He didn't enjoy much more success last season either, finishing at 36.1 FOW%, ranking third-to-last out of 175 skaters who took at least 150 faceoffs.
There are reasons to hope for the Devils to improve in this area though. One is the impending return of Nico Hischier. The 22-year-old has yet to play this season, first due to rehabbing from an offseason leg injury, and then due to landing on the COVID-19 list. Hischier ranked second on the team last season in both FOW% at 51.7 and in total faceoffs taken at 980. The teammate ranked ahead of him in both categories, Travis Zajac, is another reason for optimism.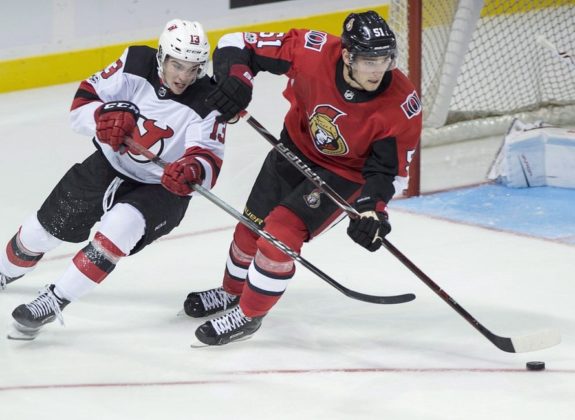 Zajac is playing in his 15th season in the NHL, all spent with New Jersey. After failing to do so in his rookie year, the centerman has since rattled off 13 consecutive seasons with faceoff winning percentages above 50%. His career FOW% stands at a robust 53.5. However, this season, in the seven games he's played thus far, his winning percentage stands at 41.8, more than a 10-point drop from last season. A return to form by the Devils' most experienced player will go a long way in helping the team avoid making a dubious piece of history.
---
---
Michael Dominski covers the Devils for The Hockey Writers. He's previously covered the NHL for the Associated Press, NHL Network, and NBC Sports.