The New Jersey Devils have been drafting decently and have acquired some solid prospects with promising futures. Some of them have gotten a good amount of playing time this season already, while others have found themselves in messy situations related to COVID-19. For example, the AHL's season only began at the beginning of February, and the OHL doesn't even have a start date yet.
With that said, let's take a look at some of the Devils' prospects who have been able to play and how they're doing so far.
Ethan Edwards, 18, LHD (Sioux City Musketeers-USHL)
3 G, 9 A, 12 PTS in 30 GP
Young defenseman Ethan Edwards has gotten a lot of playing time so far this season, and has looked very good. Edwards was taken by the Devils in the fourth round of the 2020 Draft. He has 12 points in 30 games for the Musketeers and has been playing well. In fact, he was named the USHL Player of the Week on Feb. 15.
That's something the organization and fans alike love to see. Edwards is a ways away from the big leagues, but he has a high ceiling, and time is on his side. The 18-year-old Canadian has committed to the University of Michigan and will head to Ann Arbor next season. 
Nolan Foote, 20, LW (Binghamton Devils-AHL)
1 G, 3 A, 4 PTS in 5 GP
As part of the package New Jersey received in exchange for Blake Coleman in Feb. 2020, Nolan Foote has become a top prospect for the Devils and will likely be called up soon.
Foote has always been praised for his great shot and for being a physical player, but his poor skating had been his most glaring issue. However, he's improved significantly in that regard and continues to work on it.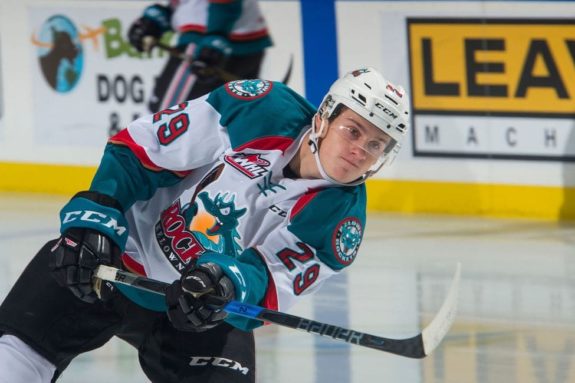 Because the AHL season began late, Foote has seen just five games of action so far, but has already impressed. He could see NHL action as soon as this season, but has an even stronger chance of making the team in 2021-22.
Arseny Gritsyuk, 19, LW (Avangard Omsk-KHL) 
Arseny Gritsyuk has had a hectic few months, bouncing around from club to club before landing in the KHL for the first time in his career.
He began the season with Omskie Yastreby of the MHL, where he recorded four goals and five assists for nine points in six games. He was then sent to Metallurg Novokuznetsk of the VHL, Russia's second-highest level of hockey. He played eight games there and registered two goals and four assists for six points. In 10 games so far in the KHL, Gritsyuk has one assist.
The Devils selected Gritsyuk in the fifth round of the 2019 Draft. He's very fast and is a good puck-handler. He represented Russia at the 2021 World Junior Championships, where he was noticeably good, recording four points in six games. He's a smaller player who needs to add muscle (something he's already worked on) and must work on his defensive game. Defense does improve with size, and the hope is that Gritsyuk can kill two birds with one stone.
Alexander Holtz, 19, RW (Djurgårdens IF-SHL)
7 G, 10 A, 17 PTS in 33 GP 
The best prospect in the Devils' pipeline and the best shooting talent in the 2020 NHL Draft, Alexander Holtz has garnered the attention of many. Unfortunately, there aren't many positive things to be said about Holtz's game at the moment.
He started off the season well, recording 13 points in his first 16 games, but has found himself in a slump: he has just four points (one goal) in his last 17. Holtz represented Sweden at the 2021 WJC, and although he played well, he didn't exactly meet expectations.
His performance there, the slump that he's in now, and the fact that he isn't shooting the puck (his biggest strength) as much as he usually does are all at least somewhat concerning factors.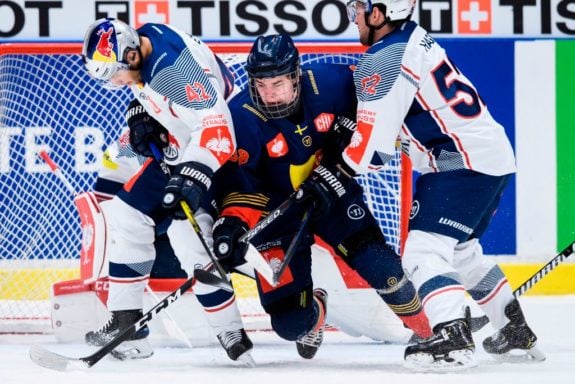 The Devils selected Holtz with the seventh overall pick in the 2020 Draft, and they're going to want to see much more from their number one youngster, who's expected to arrive in New Jersey next season. 
Dawson Mercer, 19, RW (Chicoutimi Saguenéens-QMJHL)
8 G, 6 A, 14 PTS in 11 GP
All Dawson Mercer has done since going 18th overall to the Devils in the 2020 Draft is prove why he deserved to be taken so high. He was one of the most impressive Canadian players at the 2021 WJC and hasn't slowed down since beginning his season with Chicoutimi of the QMJHL, where he is an alternate captain. He even scored a hat-trick last week.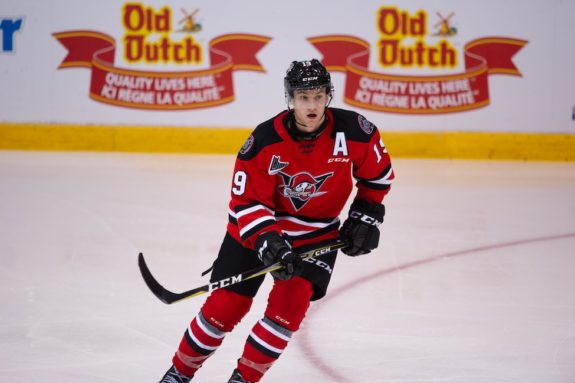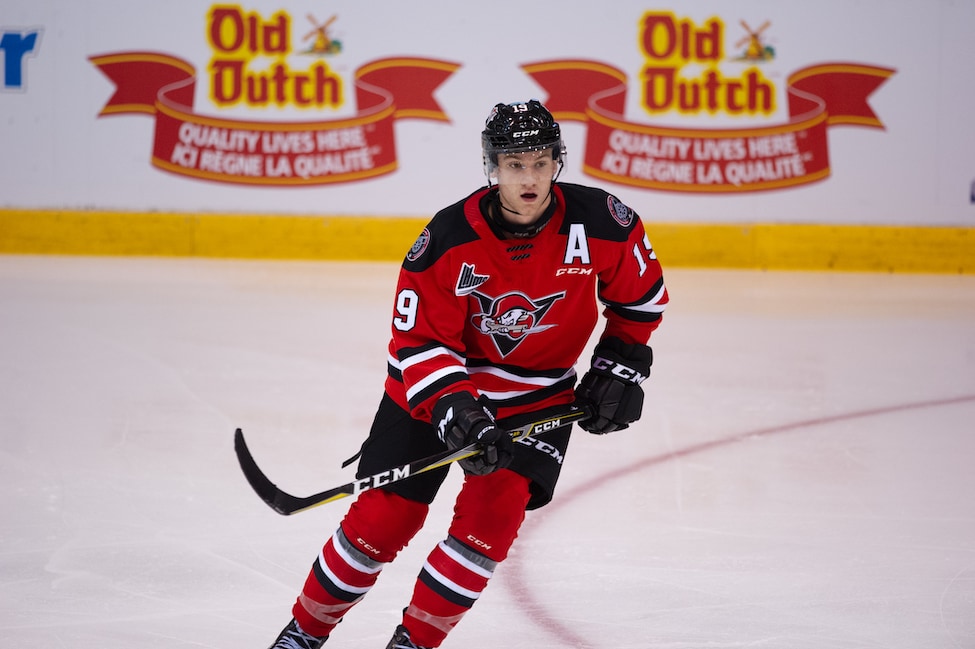 Mercer is a good two-way forward with very high hockey IQ who makes the players around him better. For these reasons, and because he's been so impressive on the ice since the draft, Mercer might find himself in New Jersey sooner rather than later. 
Shakir Mukhamadullin, 19, LHD (Salavat Yulaev Ufa-KHL) 
3 G, 7 A, 10 PTS in 39 GP
Arguably the most polarizing prospect in the Devils' pipeline, Shakir Mukhamadullin is going to spend his time in the KHL proving his worth and showing the world why the Devils were right to draft him 20th overall in 2020.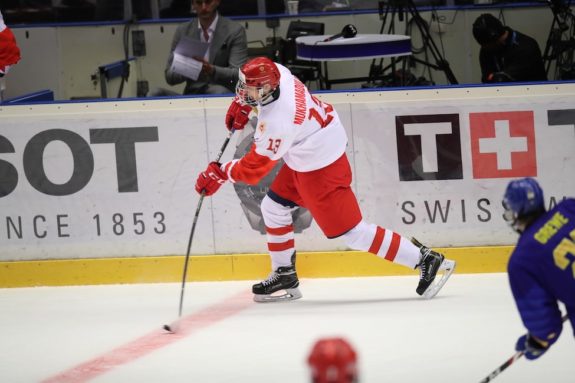 Mukhamadullin is currently injured and might miss the beginning of his playoffs but will see some postseason action, which should be very good for him. He has a very nice shot but must add muscle to his 6-foot-3 frame and refine his game, especially defensively, before being considered even close to NHL-ready. Luckily for him, he has time to do that. 
Nikola Pašić, 20, F (Linköping HC-SHL)
7 G, 6 A, 13 PTS in 44 GP
Nikola Pašić has gone from being a prospect with low expectations to one who might have a good future in the NHL. The Devils selected Pašić in the seventh round of the 2019 Draft, and it's impressive that he's already made it to the SHL.
However, as his point totals indicate, he's going to need time to develop there. It does look like he's getting acclimated — three of his goals and two of his assists have come in his last seven games — but the Devils won't rush him. He's a bad skater who needs to improve that part of his game, but he is a very good playmaker, puck-handler, and passer. 
Aarne Talvitie, 22, F (Penn State University-NCAA)
7 G, 6 A, 13 PTS in 17 GP
Aarne Talvitie, who the Devils drafted in the sixth round of the 2017 Draft, was beginning to look like a steal and a promising future NHL-er during his freshman year at Penn State. He scored five goals and tallied 11 assists for 16 points in 17 games. Unfortunately, the 2019-20 season didn't go nearly as well for him.
In the 2019 WJC gold medal game, where he was Finland's captain and played well (four goals, three assists, seven points in seven games), he tore his ACL. It was clear that he was dealing with the aftermath of the injury and trying to recover the next season when he recorded just six goals and 13 assists in 30 games at Penn State. He was also dealing with a "personal issue" during the season.
Even so, Talvitie has shown too much promise for the Devils and the fanbase to give up on him. While he currently isn't playing as well as he was his freshman year, Penn State's alternate captain has looked much better than he did a year ago.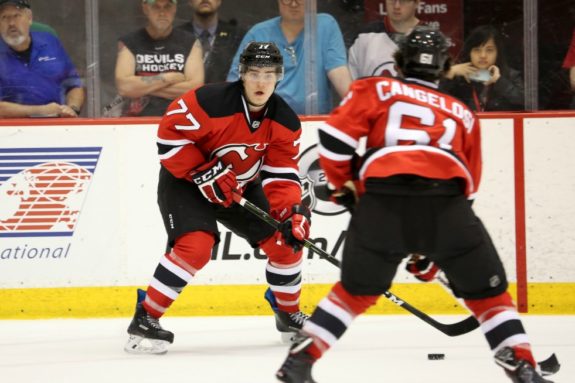 Talvitie's future is interesting: he could join the Binghamton Devils as soon as Penn State's season comes to an end and can even forego his senior year by signing with the Devils. 
Tyce Thompson, 21, F (Providence College-NCAA)
8 G, 12 A, 20 PTS in 19 GP
One of the best players in the NCAA last season, Tyce Thompson hasn't really slowed down. The Devils selected the Providence College captain in the fourth round of the 2019 Draft, and he could end up becoming a steal.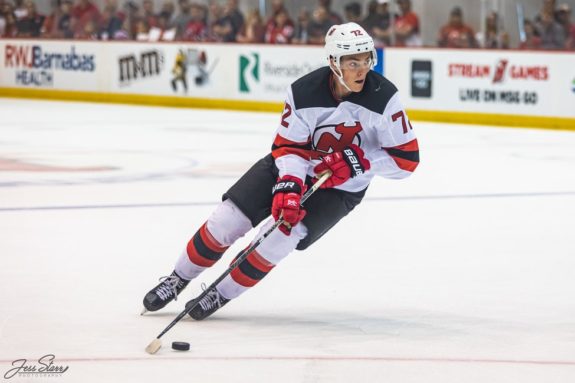 Providence's coaching staff has decided to try Thompson at center this season, which is good for his versatility, but the 21-year-old is probably destined to be a winger. He's another Devils prospect who needs to add some muscle before he's considered NHL-ready. Like Talvitie, Thompson also has the chance to skip his senior year of college and go to the AHL.
Reilly Walsh, 21, RHD (Binghamton Devils-AHL)
2 G, 1 A, 3 PTS in 5 GP
One of the best offensive defensemen in the Devils organization, Reilly Walsh was invited to training camp and is close to making the team. A third-round pick in 2017, he must keep getting stronger in order to improve his defense, but he's already garnering attention in Binghamton.
The consensus is that he can be a solid fourth or fifth NHL defenseman. Walsh has a shot at making the team in 2022 but could realistically make some appearances at the NHL level as soon as this season.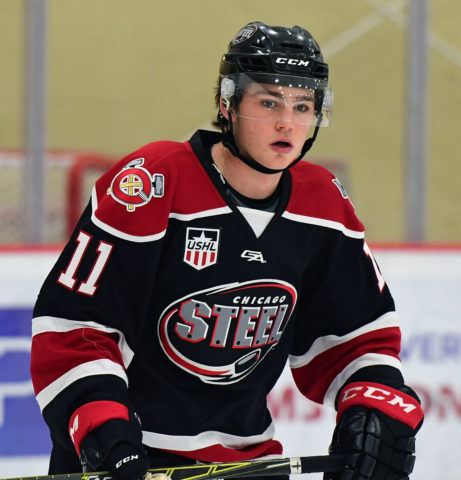 Which prospects are you most excited about? Are you concerned about any of them? Do you want to know more about any specific youngster? Please share your thoughts in the comment section!
---
---
THE Ohio State University Class of 2017. Lead NHL writer for Elite Sports New York. New Jersey Devils Contributor for The Hockey Writers.