Things weren't looking great for the New Jersey Devils a week ago. They lost the first two games of their first-round series on home ice, but now, they have the New York Rangers on the brink of elimination. With a win tonight, they'll advance to the second round to take on the Carolina Hurricanes, who eliminated the New York Islanders with a 2-1 overtime win yesterday evening. Here's what to watch as the Devils look to win their first playoff series since 2012. 
Can Schmid Keep It Up?
Akira Schmid has been one of the great storylines of the NHL playoffs so far. After taking over for Vitek Vanecek in Game 3, the Devils have reeled off three straight wins to take the edge over the Rangers. And what he's done in a small sample has been nothing short of remarkable. He's only given up two goals on 82 shots, a save percentage of .976, while stopping five goals above expected.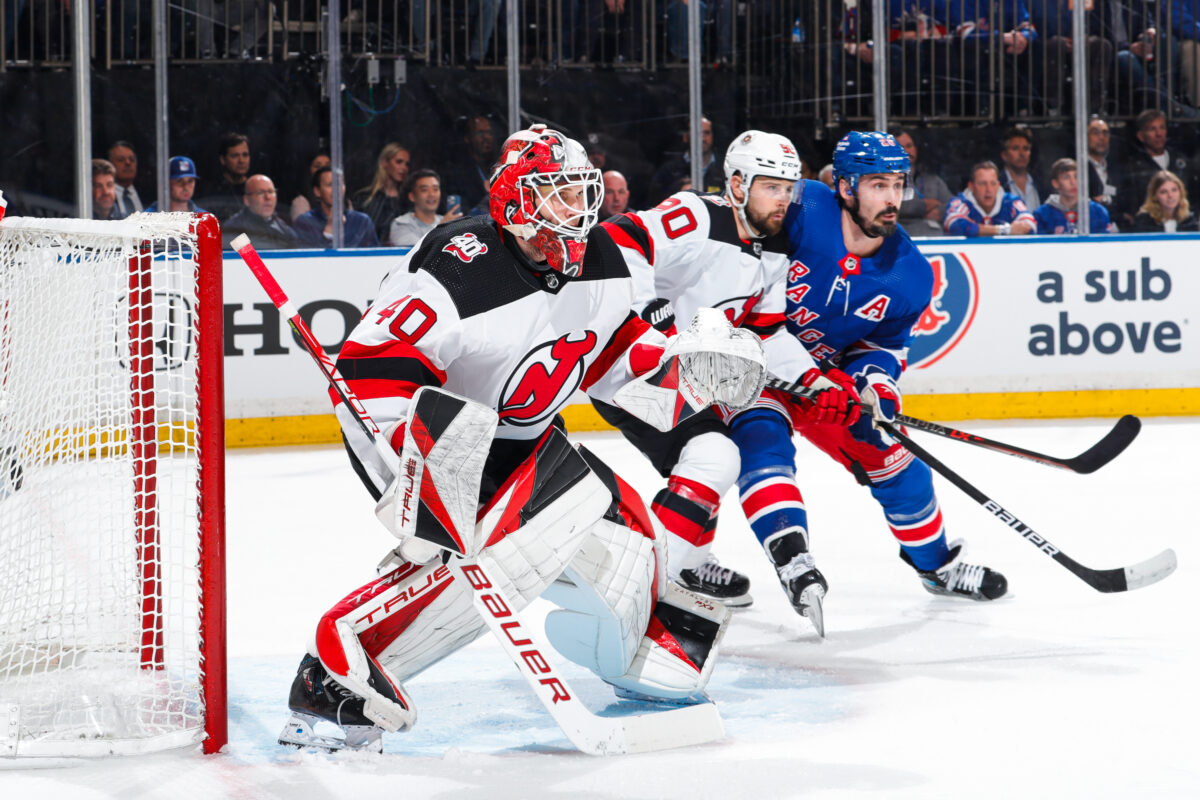 With that said, you don't need me to tell you that a .976 SV% isn't sustainable. The thing is, the Devils only need him to do it one more time in this series. And with how they've played defensively since Game 3, there's a possibility he can do it for only one more game. They're giving up just 9.42 high-danger chances per 60 minutes since Game 3, and they're allowing less than 30 shots on goal at all strengths. That kind of formula makes life easier for a goalie. 
The Rangers have missed the net quite a bit against Schmid, and that's not an accident. His size and positioning seem to have gotten in their heads, and to this point, they haven't found a solution. We'll see if that changes tonight in a game where the Rangers will leave everything on the ice to save their season. 
Devils Need to Make the Rangers Chase the Game
One way for the Devils to help Schmid is by getting off to a fast start. In Game 4, Jack Hughes scored on a breakaway less than three minutes into the first period to give the Devils a 1-0 lead. In Game 5, Ondrej Palát's goal 39 seconds into the first frame set the tone for a dominant 4-0 win. 
Related: 4 Takeaways From Devils' Game 5 Win vs. Rangers
---
Latest News & Highlight
---
Given the expectations placed on the Rangers before the season started, there will be plenty of pressure on them to force a Game 7, especially since they had a 2-0 series lead. If the Devils score a goal or two early on, they'll have the Rangers chasing the game, which could lead to mistakes and a lack of discipline on New York's end, much like what happened in Game 4 as it progressed. 
Claiming the fourth win in a playoff series is the toughest win to get. Nico Hischier mentioned it in his post-game media scrum after Game 5, as did head coach Lindy Ruff in his press conference. The best way to alleviate the pressure is by getting off to a fast start and early lead to put the pressure on the Rangers instead. The first ten minutes of the opening frame will be crucial, so getting on the board first not only puts the Rangers behind the eight-ball but it'd also helps Schmid give them that one more start they need to advance. 
Devils Could Exploit Rangers' New Top 6
Rangers head coach Gerard Gallant has to make adjustments for his team to come away with a win to force a Game 7. Based on practice yesterday, one change he appears to be making is shuffling his top three lines up front: 
A couple of notes here. The top line of Chris Kreider, Mika Zibanejad and Vladimir Tarasenko logged quite a bit of ice time during the regular season, and the results were not pretty. In 118 minutes, they posted a 42.44 xG% while only controlling 38.46 percent of the high-danger chances. That could be something for the Devils to exploit, especially if Hischier is still logging most of his minutes against Zibanejad.
The Rangers' second line of Alexis Lafreniere, Vincent Trocheck and Patrick Kane only played five minutes together during the regular season. It's not even worth talking about their numbers with a sample size that small, but there's reason to believe the Devils can exploit that line's defensive shortcomings too. 
Kane does not play defense, though that's not a secret at this point. But there's risk in trying a line that hasn't played together before. And since Lafreniere, Trocheck and Kane are all average to well below average defenders, there could be an opportunity for Jack Hughes' line to feast if that's a matchup the Devils can get.  
Hischier & Marino vs. Zibanejad
The Devils have gotten what they've wanted with Hischier and John Marino against Zibanejad's line this series. The results have been fantastic, as the Devils have a 68.24 expected goals percentage (xG%) with Hischier on the ice against Zibanejad. The results are similar with Marino, as they have a 54.96 xG% with him on the ice against Zibanejad.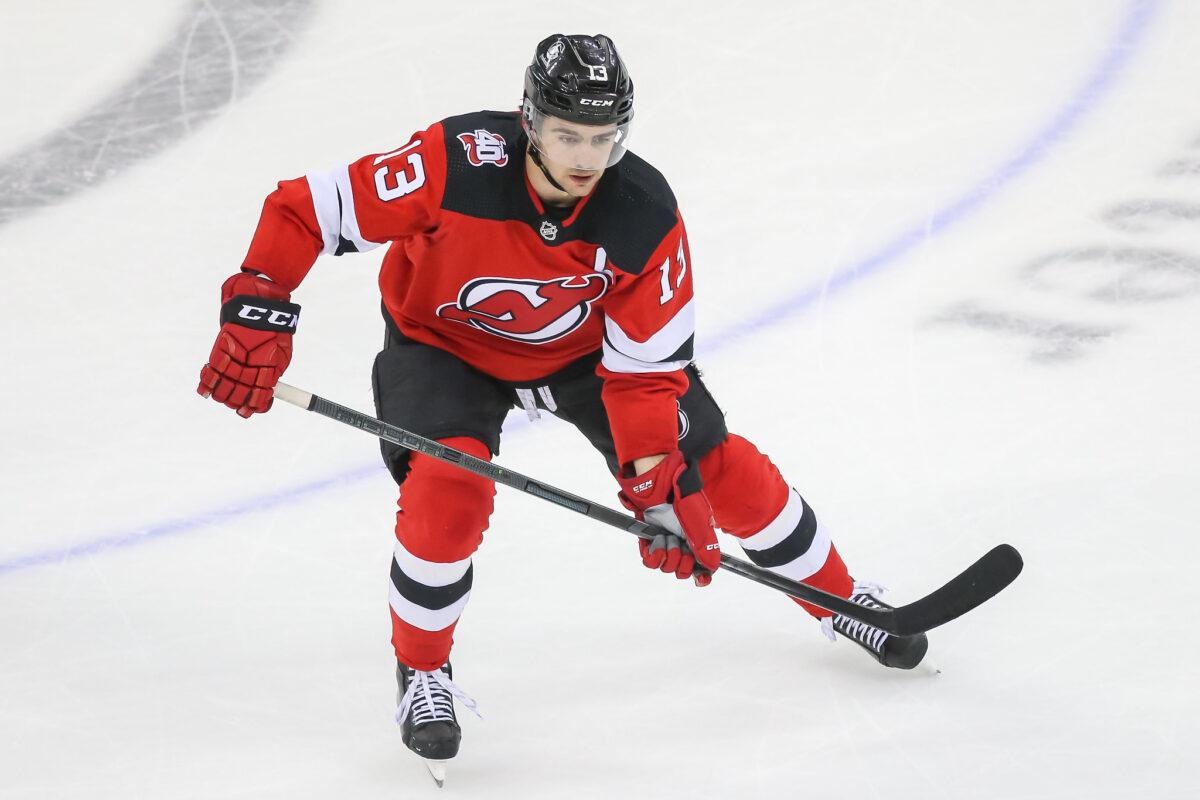 It's a bit tougher to get the matchups you want on the road since the home team has the last change. But since most shifts are on the fly, there are ways to get Hischier and Marino on the ice against Zibanejad, who has not scored a goal in this series. Based on the numbers presented above, that's a matchup the Devils should be looking to get. If they can keep him off the scoresheet again, they have good odds of advancing to the second round. 
Devils Quick Hits
Timo Meier hasn't scored a goal or recorded a point in this series, but he's certainly due. His 67.47 xG% is third on the team behind Hischier and Jesper Bratt. He has 19 shots on goal, 18 scoring chances and 13 high-danger chances at five-on-five to go along with an individual expected goals of 2.09. It's only a matter of time before he finds the back of the net, and Game 6 could be where he breaks out to score his first playoff goal as a member of the Devils. 
The Devils' third pair of Kevin Bahl and Damon Severson has been an X-factor in this series. Bahl has provided a heavy game that the team doesn't always get on the back end, while Severson's puck-moving ability is something the Rangers don't have on their third pair with Niko Mikkola and Braden Schneider. Don't be surprised if they find a way to make an impact tonight. 
Devils Projected Lineup
Tomáš Tatar – Hischier – Bratt
Palát – Hughes – Erik Haula
Meier – Dawson Mercer – Jesper Boqvist
Nathan Bastian – Michael McLeod – Curtis Lazar
Jonas Siegenthaler – Dougie Hamilton
Ryan Graves – Marino
Bahl – Severson
* * *
Advanced stats from Natural Stat Trick