Though it's November, it feels like the dog days of the NHL offseason in what'd usually be August. There hasn't been much New Jersey Devils news as of late, but there are some things to catch up on from the last week. The NHL revealed its reverse retro jersey series, and the Devils' reverse retro was generally received with rave reviews by fans and the rest of the hockey world. 
Plus, we'll take a look at Alexander Holtz, whose game is reaching new heights in Sweden, and how other Devils' prospects have fared over the last week.
Devils Unveil Reverse Retro Jerseys
On Monday, the Devils revealed their reverse retro jerseys, along with the rest of the league. Their uniforms pay homage to the team's red and green uniforms from 1982-92.
Related: Grading the NHL Reverse Retro Jerseys
I'm usually not one to make a big deal of new jerseys, but Adidas did a great job with the Devils' reverse retro. The team's original red and green color scheme came from legendary New Jersey folklore inspired by the Jersey Devil (red), who's said to have lived in the infamous Pine Barrens (green) in the southern part of the state. 
The reverse retro also marks the first time the Devils will wear a primarily green jersey. They'll wear them four times throughout next season, and they'll go on sale to the general public on Dec. 1. Given their color scheme, they could make for the perfect Christmas gift as well. 
Holtz Shining in the SHL
Holtz had one of the best U-18 seasons in SHL history in 2019-20, finishing with 16 points (9 goals, 7 assists) in 35 games. That's part of the reason why the Devils drafted him with the seventh overall pick at the 2020 Draft. Some folks, including myself, were a bit surprised they chose him over Marco Rossi.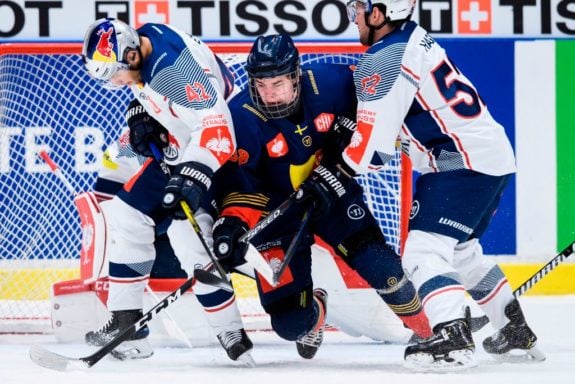 But Holtz's start to the SHL season should erase any second-guessing you had about the Devils drafting him. He finished this past week with four assists in three games and is now up to 11 points in 14 games; the latter ranks second-best on Djurgarden. He also has a Corsi share (CF%) of 52.72%, and keep in mind, he doesn't turn 19 until the end of January. 
What's been most impressive about Holtz this season has been his playmaking. Everyone knew how good his shot was, but his playmaking has gone up a level. It was an underrated part of his game as a draft-eligible prospect, but it now looks like it's becoming a main weapon of his. If this keeps up, he looks like he'll have all the tools to be a top-flight scoring winger in the NHL. 
Prospects Roundup
Holtz wasn't the only the Devils' prospect in action this past week, so let's check in on how everyone else fared. 
Janne Kuokkanen, who's on loan in the Liiga (Finland), had a solid week, finishing with a goal and two assists. He's up to six points in 14 games and has a CF% of 55.6%. 
Nick Merkley continues to be one of Ässät's top players over in the Liiga. He finished this past week with three assists in three games and is up to 13 points in 18 games. He has a CF% of 54.6%, so he's legitimately playing well. If his performance carries over into training camp, he should be in a prime position to land a spot on the Devils' roster for the 2020-21 season. 
Shakir Mukhamadullin, the 20th overall pick at the 2020 Draft, had gone nine games without registering a point before picking up two assists this past week. He was Salavat Yulaev's player of the game in a 2-1 shootout win against Spartak Moscow on Friday evening. And he made it on to Russia's preliminary roster for the 2021 World Junior Championship.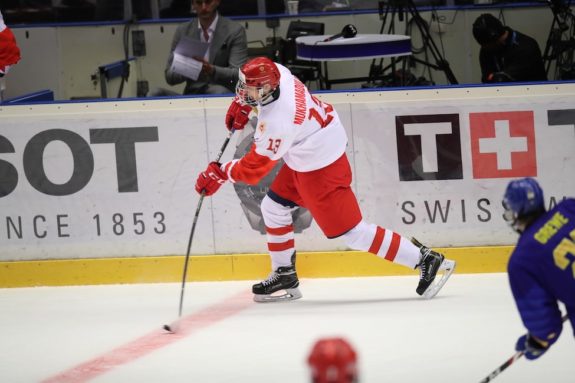 Eetu Päkkilä, who also plays in the Liiga but is not on loan, had a quietly good week, finishing with two assists in three games. He's up to two goals and six assists in 13 games, but he's starting to get hot as of late, with four points in five games in November. He's only 21 years old and needs time to develop, but he's a prospect worth monitoring moving forward. 
Nikola Pasic is starting to find his footing in the SHL after a slow start to the season. He had a smooth breakaway goal yesterday and has four goals in his last eight contests. His ice time has also increased a bit, as he's routinely playing 11-13 minutes a game on Linköping's third line. 
Related: Devils' Top 20 Prospects: Preseason 2020-21
Arseni Gritsyuk scored his first two goals in the VHL — the second division in Russia. He's up to six points in eight games in that league, and like Mukhamadullin, he's on Russia's preliminary roster for the 2021 WJC. 
Goaltender Cole Brady made his NCAA debut this past week, and it's gone quite well for him so far. He started in two games and played in three, posting a .929 save percentage (SV%) and 2.48 goals against average. He's just a freshman, but he could hold down Arizona State's starting job permanently if he continues to post those kinds of numbers. 
That concludes this week's Devils news and rumors roundup. If the NHL and NHLPA agree to a Jan. 1 start for the 2020-21 season, that means training camp could begin right after American Thanksgiving. We'll have that, and any other Devils news, covered when it happens. 
---
---