To say the previous two New Jersey Devils games were crucial would be an understatement. Coming off a 1-7-1 stretch, they had two divisional matchups against the Pittsburgh Penguins and Carolina Hurricanes, teams that have made up plenty of ground on them in the Metropolitan Division. In the Hurricanes' case, their heater has put them ahead of the Devils in the standings. 
New Jersey needed to get a positive result from each game. They did so with a win against the Penguins. And even though they lost 5-4 to the Hurricanes via the shootout in a Sunday matineé, it was a valiant effort to come away with a point. Here are four takeaways from the Devils' shootout loss to the Hurricanes. 
Blackwood Didn't Let Blunder Phase Him
It's a moment no player, especially a goalie, wants to happen in a game. A blunder that costs the team a goal. In Mackenzie Blackwood's case, his misfire on an attempt to play the puck while the Devils were on the power play put the team down 2-1 just moments after some Jack Hughes magic tied the game at 1-1 with a little less than four minutes remaining in the second period. 
But to Blackwood's credit, he didn't lose sight of the task ahead of him and stayed focused afterward. Sure, he gave up a couple more goals, but he handled quite a bit of work throughout the contest. There's a significant discrepancy between the stats sites and how much quality he faced; Natural Stat Trick had the Hurricanes at 4.01 expected goals at all strengths, while Money Puck had them at 6.48.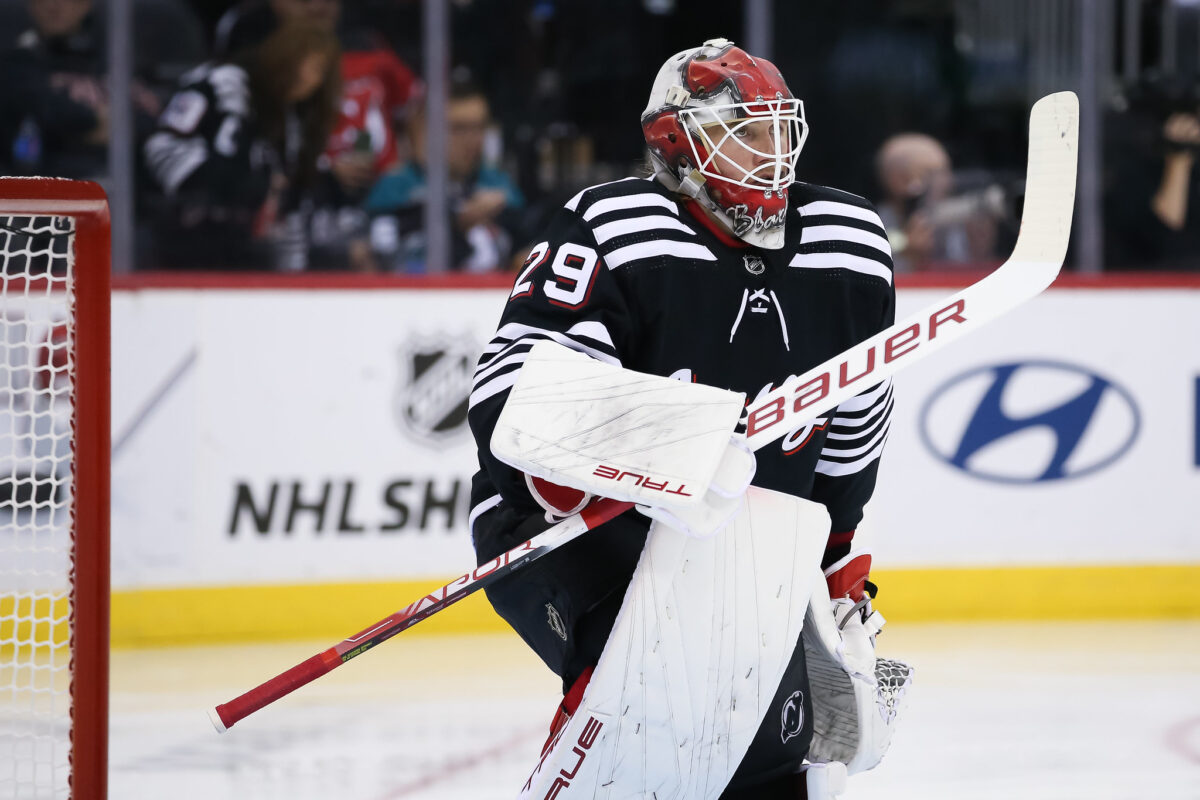 If you're going by Natural Stat Trick, Blackwood stopped what was expected of him. If by Money Puck, he saved 2.48 goals above expected. In the end, he finished the night by making 43 saves on 47 shots for a .915 save percentage. The only goal you could fault him for was his puck-handling blunder, but otherwise, the Devils don't come away with a point without his effort in net. 
Devils Battled Through Getting Outplayed at 5-on-5
The Devils have generally outplayed teams at five-on-five this season. They did so against the Hurricanes just a couple of weeks ago but couldn't get pucks past Pyotr Kochetkov, the NHL's rookie of the month for December. Last night was not the case, as the Hurricanes were the better team at full strength. 
However, the Devils only held the Hurricanes to 2.07 expected goals at five-on-five, even though Carolina had 62 shot attempts. Some of that is because of how head coach Rod Brind'Amour's team likes to play; they're not afraid to fire away low percentage point shots in search of rebounds in high-danger areas. 
Related: Devils' Scoring Depth Could Get Boost With Duclair
---
Latest News & Highlights
---
However, the Hurricanes neutralized the Devils' rush attack, primarily through the first 30 minutes of the game. New Jersey had only four shot attempts and 0.09 expected goals at five-on-five after the first period. They started to find their legs halfway through the second, and things really opened up for both teams after Hughes scored late in the second period. 
Once the pace got more to the Devils' liking, they started converting on the scoring chances they created. The result was their first four-goal game without adding an empty-netter since Dec. 9 in a 6-4 loss to the New York Islanders. They've been finding the back of the net more often in their last five games, so perhaps their shooting luck is starting to turn for the better. 
Devils Need to Stay More Disciplined
The Devils killed off nine penalties against the Penguins on Friday night, though a few of those probably shouldn't have been penalties; likewise, for the Penguins. They only took four minors yesterday against the Hurricanes, but they were undisciplined infractions, especially late in the game. 
Dawson Mercer took a high-sticking penalty just seconds after Jesper Bratt's second goal gave the Devils a 4-3 lead in the third period. And on the ensuing penalty kill, Ryan Graves launched a puck over the glass for a delay of game minor to put the Devils on an extended 3-on-4 kill. Not to mention, Jonas Siegenthaler was serving a questionable embellishment call just before Bratt scored the go-ahead goal.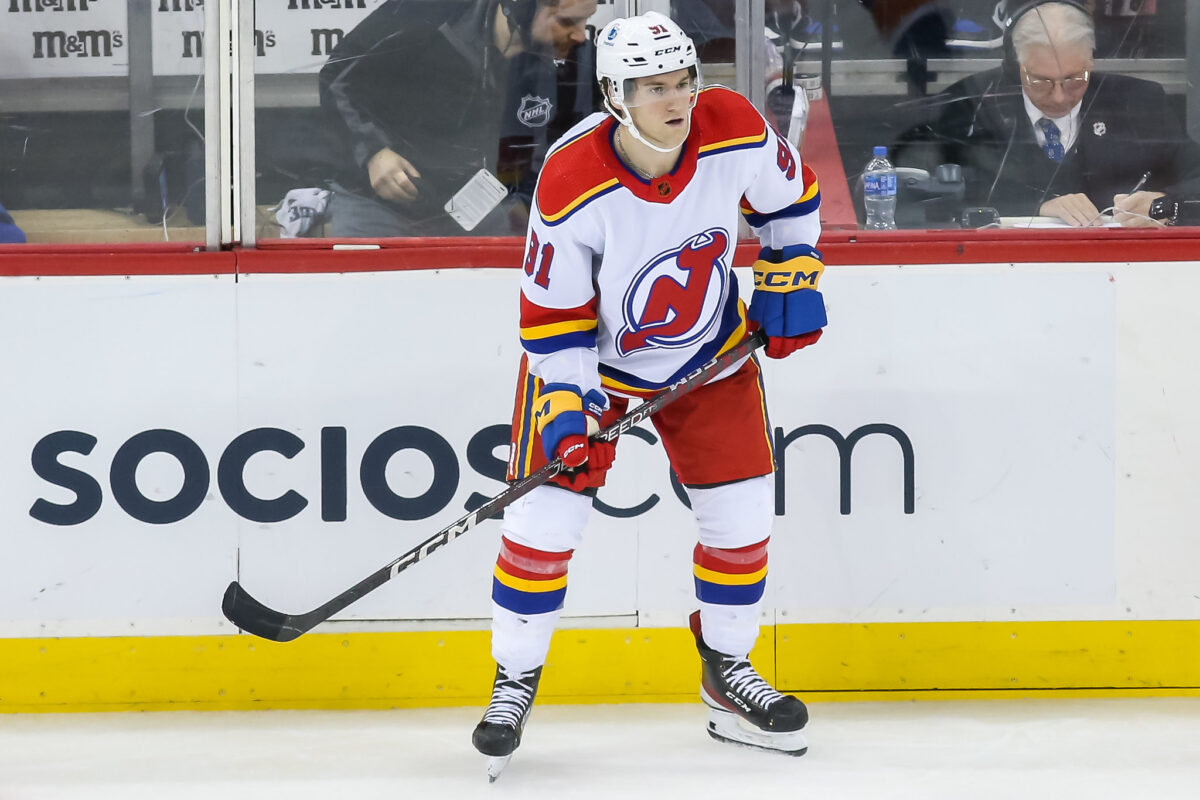 The Devils only gave up one power-play goal through all the chaos, moving them 12/13 on the penalty kill over the last two games. That's playing with fire, though, and eventually opponents will start converting more often if they keep parading to the box. Granted, the Devils have a top-five penalty kill in the NHL, but they need to stay more disciplined moving forward. Had they not taken some of the late penalties, they could've stolen the second point in regulation. 
Jack Hughes Put on a Show
Even on a night where Hughes' line didn't control play at five-on-five as they would've wanted to, Hughes still found a way to dazzle. His goal that made it a 1-1 game was of the highlight-reel variety, and he had a couple of quality chances beforehand in the first period when the Devils had two power-play opportunities. 
Hughes saved some of his best work for overtime when there was plenty of open ice at 3-on-3. He made a couple of razzle-dazzle dekes that almost fooled Antti Raanta, which would've given the Devils the win. Still, Hughes is now on pace for 46 goals this season. If you didn't think he was a goal-scorer before, it's time to take notice because he's pacing for 40-plus tallies for a second straight season. 
Devils Quick Hits
This probably changes with Ondrej Palát's return looming, but head coach Lindy Ruff needs to move Erik Haula off Hughes' wing. Haula had been playing well in that spot until yesterday, but he had an off-game. On the other hand, Yegor Sharangovich led the team with a 60.8 expected goals percentage. His game off the puck can be a mixed bag, but if it were that bad, it would show up in his on-ice numbers. It's something I'd like to see Ruff try again, given Sharangovich and Hughes' past success. 
Bratt has gone through some hot and cold streaks lately. But when he's hot, he's hot. His first goal came on a sneaky move off the rush to get past Brady Skjei before he fired a quick wrister past Raanta. His second goal came with crafty work to create space for himself in the high slot to fire another wrister past Raanta. He was one of only a handful of Devils skaters with an xG% above water, and it showed in his play.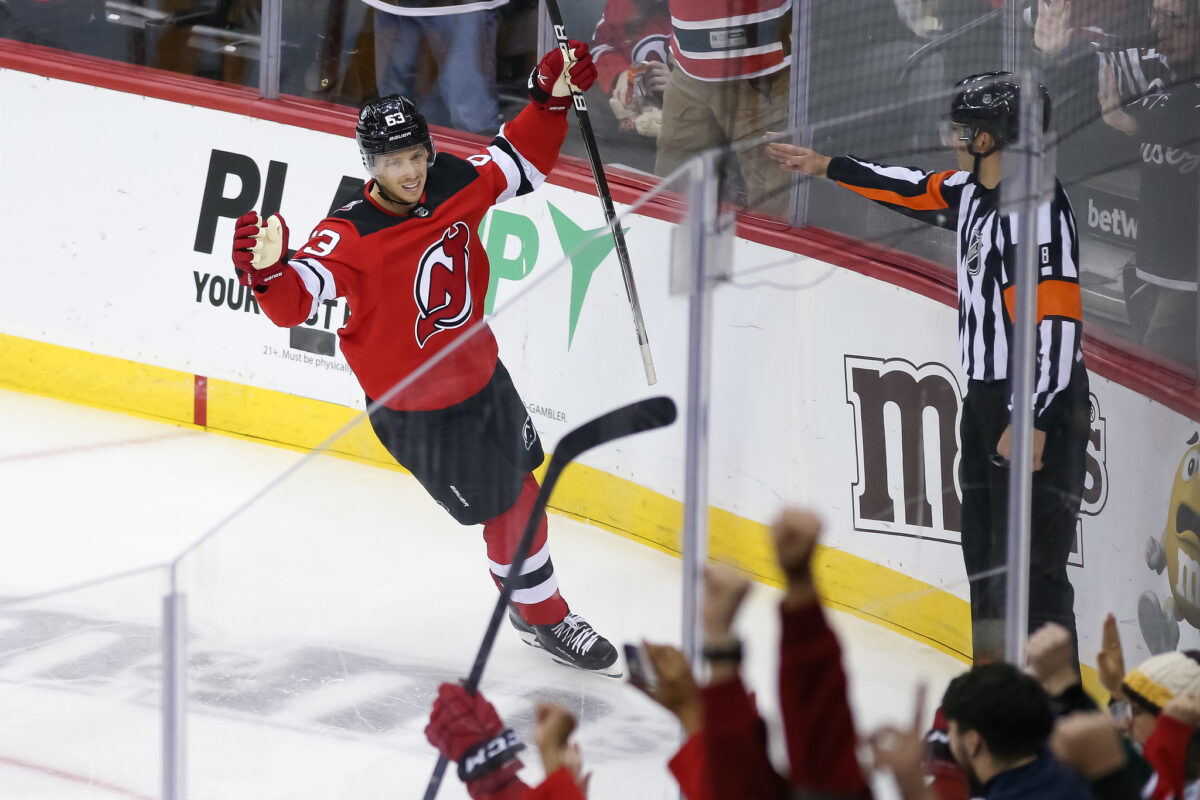 Kevin Bahl had some solid performances in a small sample earlier this season. But it hasn't gone well for him since getting regular time due to Graves and John Marino's injuries. He made a poor decision to pinch that led to the odd-man rush on the Hurricanes' first goal, and he got outworked by Derek Stepan on Carolina's third tally. Given the recent rough spell of games, I wouldn't be surprised if Nikita Okhotiuk checked back in when the Devils return to action on Wednesday against the Detroit Red Wings. 
Speaking of Graves, it was a surprise to see him back in action so soon after his injury against the Florida Panthers less than two weeks ago. He almost scored on his first shift when he rang a shot off the iron, but he had a relatively solid game considering it was his first time playing in 11 days without practicing. Given his injury looked much worse, the team's blue line should receive a boost getting him back as soon as they did. 
With the Red Wings and St. Louis Blues on tap for a back-to-back Wednesday and Thursday, the Devils need to find positive results against two teams they should be favored against. Three of four points would be ideal, but with a showdown against the New York Rangers on Saturday, securing four heading into that matineé should be the goal. 
* * *
Advanced stats from Natural Stat Trick except where noted