Training camp is officially open for the New Jersey Devils and just like all of the other 30 teams in the NHL, there is hope. Hope that this season will be better than last. Hope that promise and potential become reality. Hope that they will reach the goal that every professional player desires so much: winning the last game of the season and hoisting the Stanley Cup over their heads.
But first things first for the Devils, and that is making the playoffs for the first time since 2012 in addition to putting a team on the ice – as coach John Hynes said on media day to officially open the new season (and has said repeatedly during his tenure) – "We need to be a very difficult, tough team to play against."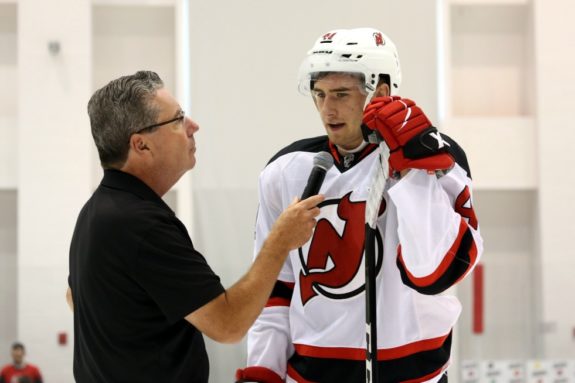 Too often last season New Jersey didn't make life difficult enough on the ice for their opponents. Whether that was lack of personnel, or failure to execute game plans, the point remains that more times than not other teams were able to do what they wanted and when they wanted when they played the Devils.
Hello, My Name Is:
After a summer that saw the departure of Michael Cammalleri, Beau Bennett, Jacob Josefson, Devante Smith-Pelly, Jon Merrill, Yohann Auvitu, Seth Helgeson, Luke Gazdic, Alexander Kerfoot and goaltending coach Chris Terreri there was some work to be done for GM Ray Shero. His efforts were buoyed by winning not one, but two lotteries that bookended his summer revamp.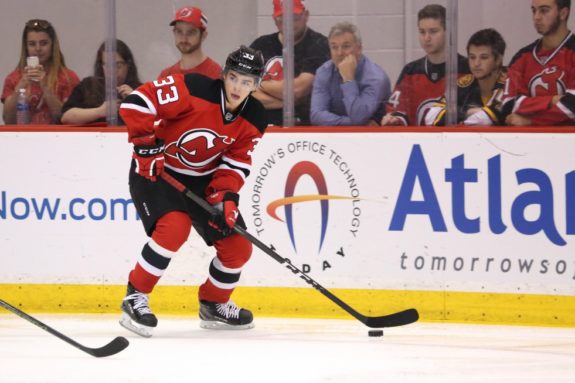 The Devils won the NHL Draft Lottery and instead of picking sixth they used the first overall pick to select Nico Hischier as everyone knows by now. A week before the actual draft they traded a pair of draft picks to San Jose for defenseman Mirco Mueller and at the draft, in addition to Hischier, they added ten new players to the organizational pipeline.
Once free agency began so did more additions, most notably the signing of Brian Boyle, the trade for Marcus Johansson, and the naming of Roland Melanson as new Goaltending Coach; and in organization news, they picked up an ECHL affiliate in the Adirondack Thunder and their AHL team has shifted from Albany to Binghamton.
Will Butcher #NJDevils pic.twitter.com/pvEWeWyI6z

— Dan Rice (@DRdiabloTHW) September 9, 2017
Then they won their second lottery of the offseason when Hobey Baker winning Denver University defenseman Will Butcher officially became a free agent after not signing with the team that drafted him (Colorado) and signed with New Jersey.
Burning Issues
Now as everyone gathers for the start of training camp coach Hynes said about filling out his roster for the season, "we have three, four, five spots that are open. It is going to be highly competitive." Here are some of the things that we'll be watching between now and the season/home opener on October 7.
Who will fill the void left by Travis Zajac at center? For now, at this present moment in time, Hynes says that Johansson, Adam Henrique, and Pavel Zacha will be those competing for the top line center aka Taylor Hall's centerman. Hischier will likely get some looks in certain situations at the center position, but with others capable on the roster already there is no need to force feed him. "Whatever spot he needs me to be in, I have no problem either way," said Henrique, who can also play LW. "We'll try different things, but it doesn't matter to me, whatever really works."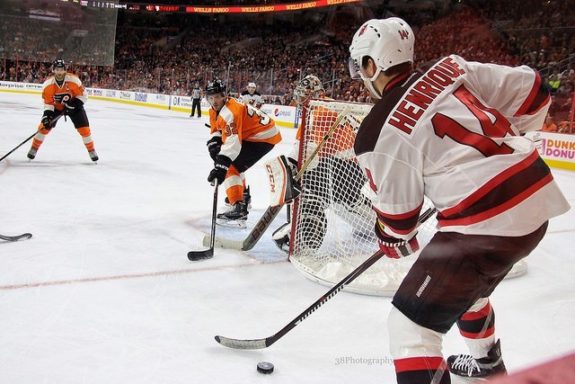 Is Will Butcher a lock to make the team? Saying it's a lock is reckless, but he will be given every opportunity to compete for and win a spot on the Devils' blueline, which is in the process of a makeover. Helping Butcher's cause will be his ability to play either the right or left side on a pairing, and he was his team's power play QB last season. It seems like that in a few years the hope (there's that word again) is that the defense will be anchored by Butcher, Steven Santini, Damon Severson, and possibly Mueller.
Can Cory Schneider rebound from the worst statistical year of his career? There should be no reason why he can't bounce back and return to being a top-10 goalie in the NHL. Schneider already has a previous relationship with Melanson from their days in Vancouver, and management is hoping that the two will be able to figure out why things went so wrong last season and correct them. "If they are making this move because they want me to get better as I get older than I think that's a positive. I don't take it as an indictment, or as a message," the Devils goaltender said in July. "I take it more as a 'hey we want you to be the best you can be in your next two or three years. We don't want you to go backward or to plateau.'"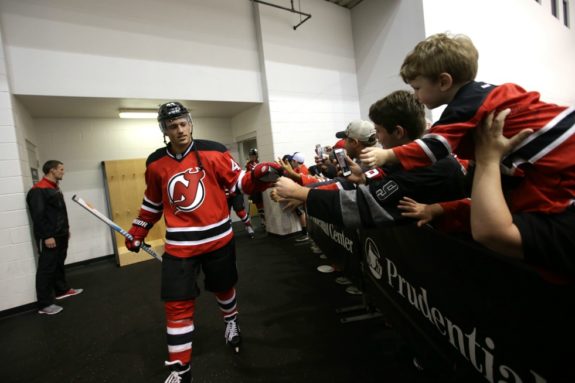 Are the kids alright? Miles Wood, John Quenneville, Zacha, and Santini among others, got a taste of what the NHL is all about last season and should be good to go for this upcoming season. But the competition is getting stiffer and others in contention for roster spots/ice time will include Mueller, Butcher, Hischier, Michael McLeod, Blake Speers, Stefan Noesen, Colton White, Nick Lappin, Michael Kapla and Kevin Rooney. "We have a lot of great young players," said Henrique. "It's time for guys to take a job instead of being given one."
What about the other new players that were brought in? With a clear hole at right wing and on defense when the offseason began those issues were somewhat addressed with youth, but Shero also added veteran winger Drew Stafford on a one-year deal and brought winger Jimmy Hayes and defenseman Tim Erixon to camp on PTO's. They could add necessary depth to the roster so that the kids A) don't think that a spot will just be given to them and B) won't get burned out by the rigors of an NHL season.
What are your biggest questions or concerns as camp begins? What are you most looking forward to? Sound off in the comments below.
Dan Rice is in his 9th year of reporting for THW & has covered NJ Devils home games for 15+ years at various websites. He began his journey working for legendary broadcaster/writer Stan Fischler from 2002-04 & completed an internship at the ECHL; he also has been writing features for the NWHL (nwhl.zone) website since 2016.