Despite missing nearly two months, Arizona Coyotes forward Max Domi says he did not miss a beat. True, Domi managed to skate with his teammates with a healing broken right hand, fractured in a fight with Calgary's Garnet Hathaway on Dec. 8.
While he continued on-ice drills and worked to strengthen his hand, there is no substitute for game action.
"It's not that much about skating, but just the timing," Domi told The Hockey Writers after practice Monday at the Gila River Arena. "You really can't simulate game conditions in practice. All I was able to do was watch a lot of hockey and get myself mentally ready to play. It takes a couple games obviously to get back."
Domi returned to the lineup Feb. 2 at home against the Chicago Blackhawks. He skated nearly 12 and a half minutes, and Tippett told The Hockey Writers, "I probably used him more than I would like."
After being down three goals to the Blackhawks early in the second period, the Coyotes made it a one-goal game going into the third. With the Coyotes playing catch up and looking for a spark, Domi had more ice time than normal for a player just returning from a two-month absence.
A Measured Return
Noting that Domi's second game back — a shoot-out win at San Jose last Saturday — was better, Tippett believes a player's development is a process. Domi's return to the Arizona lineup was no different.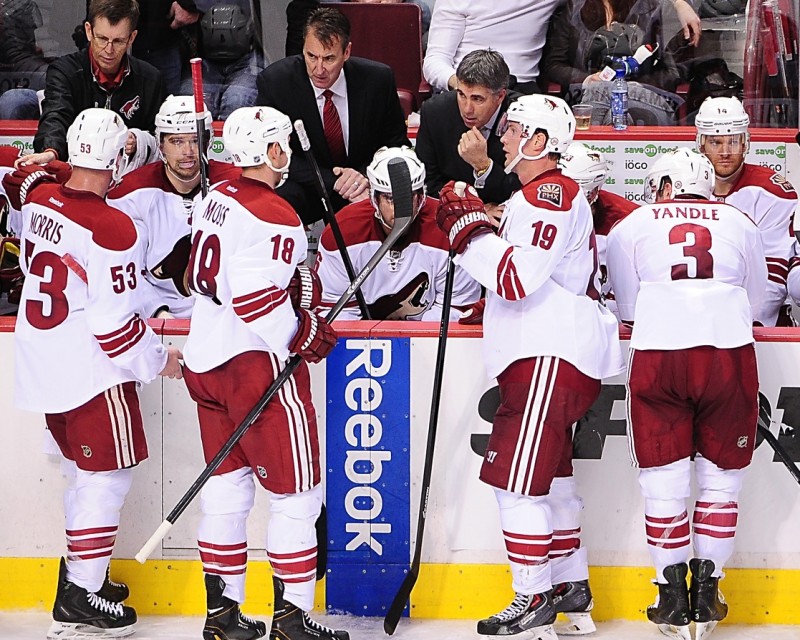 "It's slow coming back from any injury," Tippett said. "Max will continue to get minutes and work his way back. He looked better in the second game, and we'll see how things go from this point."
Coming off a 52 point season a year ago (18 goals and 34 assists), Domi was off to a slow start. He did not score his first goal until Nov. 8 against Colorado. In that game, he also picked up two assists and that represented only his second multi-point game this season. His other multi-point game (also two assists) came on Oct. 25 against the New Jersey Devils at the Prudential Center.
Coming into the home game last night against the Montreal Canadiens, Domi had scored five goals and 11 assists for 16 points in 28 games. He is averaging 16:58 of ice time in games this season.
Since his return, Tippett has Domi on the right-wing with Jamie McGinn on the left side and Alexander Burmistrov at center. Domi says the skills of each player on the line complement the other and they have chemistry.
"Playing with those guys has been pretty easy," Domi said. "We like to forecheck and also get the puck back. (McGinn) has a heavy shot and is a good goal scorer. With (Burmistrov), there's a lot of speed and you can find him anywhere on the ice. It's been pretty good playing with those guys and I try and help them out as much as possible."
Larry's In The House
After practice on Monday, Arizona Cardinals' wide receiver Larry Fitzgerald paid a visit to Coyotes' captain Shane Doan on the Gila River Arena ice. Fitzgerald showed up wearing a Sedona Red Coyotes sweater, with his number 11 and name adorned on the back.
Soon, he was swarmed by media, cameras and cell phones. Growing up in Minneapolis, Fitzgerald told The Hockey Writers he never put on a pair of skates until Monday – noting, "basketball was my game. Never had a chance to get on skates."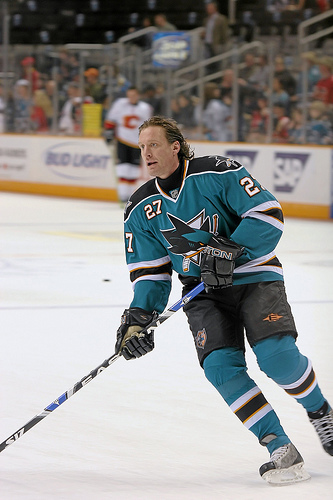 Still, Fitzgerald said he was a big fan of the Minnesota North Stars, followed Mike Modano and watched the team quite often. In the process, Fitzgerald offered, "I was able to know Jeremy Roenick pretty well, Brett Hull, a couple of other guys and Wayne Gretzky over the years. So, I was really a big fan. I really enjoy the speed of the game and just the skill and art of it."
For it being his first time on skates, Fitzgerald held up remarkably well. After exchanging soft passes with Doan, he fired a few at the net and connected once on four shots.
"Larry is such as amazing person, and one of the all-time greats," Doan said. "He is one of those people you want to meet. Just special."