The 2016 NHL Draft has entered Day 2, where 181 picks will be made in Rounds 2-7. Much of the attention this weekend has been directed at the top of the draft board and towards the numerous trades that have, and will continue, to occur throughout the draft.
As the spotlights begin to fade attention is sure to dwindle as the draft moves into the middle and later rounds this afternoon. While these late round selections may not be as glamorous as Friday night's first round picks, they can be equally as important – and here's why.
What the Data Says
Often in the NHL, early picks translate into regular fixtures on an NHL roster and elite talent. 14 of the top 20 point scorers this past season were all drafted in the 1st round, with five of them being #1 overall picks.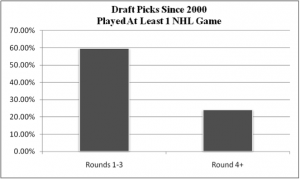 However, late round picks frequently struggle to find the same success their early round counterparts do.
Since 2000, 1804 players have been drafted in the 4th round or later. Of those, only 436 have played at least one NHL game (24%). That's a staggeringly low number when compared to Rounds 1-3, where just under 60% of draft picks have gone on to play at least one NHL game.
It's problematic finding late round picks capable of making an NHL roster – let alone ones that can develop into consistent contributors. Of all the forwards drafted since 2000, those drafted in the 4th round or later have accounted for just 19% of all points accumulated.
The most difficult aspect of late rounds picks may be the extended development process. While 120 players will be drafted in the 4th round or later this weekend, almost none of them will see ice time in the NHL for several years. Since 2012, just 8% of players drafted in the 4th round or later have played in at least one NHL gam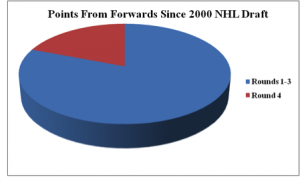 e. In fact, Colin Paquette of the Tampa Bay Lightning is the only one of these players to have scored more than ten goals for their entire career thus far.
Goalies haven't fared much better either. Of the 56 goalies drafted since 2012, only 6 have made an NHL appearance. Those 6 goalies have combined to start just 73 games – with 68 of them coming from three goalies.
Despite the odds being stacked against them, teams continue to stock pile late round picks hoping a few can prosper into NHL contributors. If front offices are looking to strike gold on Saturday afternoon, where should they look?
The chart below shows a distribution of the percentage of players drafted from various leagues that go on to make an NHL roster. The highest percentage belongs to the NCAA, with 35% drafted playing at least one NHL game. Second on the list is the OHL at 33%. Far behind the pack are players drafted out of American high schools – only 11% drafted in the fourth round or later go on to make an NHL roster.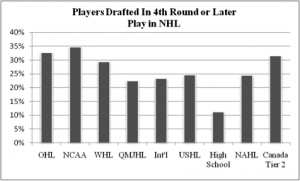 Good GM's and scouts can hit a home run on Day 1 of the NHL Draft, but great ones can find NHL quality talent late on Day 2. Teams that can draft well on Saturday are the ones that will be positioned to compete for the Stanley Cup for years to come.
All data in this article is courtesy of hockeydb.com.