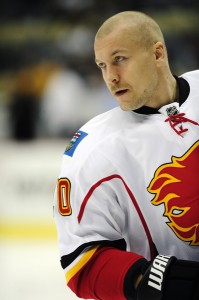 Yesterday the Anaheim Ducks claimed veteran Niklas Hagman off of re-entry waivers from the Calgary Flames. Hagman is 31 years old and has scored at least 20 goals in three different seasons in his 10 year NHL career,  scoring 25 goals in the 09′-10′ season split between Toronto, and Calgary. A big problem that the Ducks have had this season is their scoring depth, and the Ducks are hoping that Hagman can help to fill that void. It is not clear yet where Hagman will be in the line-up , but I think a good fit would be as the second line left-wing alongside fellow Finland forwards Saku Koivu, and Teemu Selanne. If coach Randy Carlye did decide to do this, it would allow him to move Center/Left Wing Andrew Cogliano back to the third line where he started the season and help spread the offense to all three lines.
In another move, the Ducks claimed forward Ben Maxwell off of wavers from the Winnipeg Jets on Nov. 10th. This move was made to add a little extra depth at forward. Maxwell has only played four games this season with Winnipeg after playing 12 games with Atlanta in 10′-11′ spending most of last season in the AHL. I really don't see Maxwell as an upgrade over anyone currently on the roster so I see this move as maybe giving a little more competition for the 4th line, or a "just in case" move if there are any more injuries any time soon.
The Ducks have also placed two players on the injured reserve this last week as enforcer George Parros will miss a month as he had laser eye surgery to repair a torn retina. He is expected to return the first week of December. Top offensive defenseman Lubomir Visnovsky will also miss a month due to a broken finger in his right hand.
In another move the Ducks sent 09′ first round draft pick Peter Holland down to the AHL yesterday. Holland had to be sent down to make room for Hagman, and Maxwell. He scored his first goal against Vancouver, and looked good in that game however in the next game against Minnesota he took a bad penalty in the first period and saw little action the rest of the game. It is clear that Holland has talent, and will likely be back in the NHL soon after he gets more experience at the pro level in Syracuse.
Lastly the Ducks called up 2 players from the AHL in forward Jean-Francois Jacques and defenseman Nate Guenin. Jacques will likely fill Parros spot as team enforcer. He is done serving hist 5 game suspension that he received in a pre-season game. Guenin was brought up to add some depth to the defense with the injury to Visnovsky. Guenin scored a goal in his first game as a Duck in europe before he was sent down when Kurtis Foster was available to play for the Ducks.
It is clear the Ducks needed some change as they have not played as well the last month as they did in the beginning of the season. Hopefully the additions of Hagman, and Maxwell as well as the other moves help the Ducks turn things around, and get them back to the winning ways that they are capable of. The first test with be today and tomorrow when the Ducks play back to back games against cross-town rivals the Kings.