Un-entertaining. Ruinous to hockey. A shameful resurrection of infamous 'Dead Puck'-era play.
Yup, the Tampa Bay Lightning's 1-3-1 defensive system has provoked some venomous claims, particularly in the wake of last week's bizarre play by the Philadelphia Flyers in Tampa – hockey's drama queen and NBC analyst Mike Milbury was so enraged by the Bolts' play that he stalked off set during the broadcast.
With all this ire hanging in the air, there can no better time than this to point out 10 reasons why the Bolts are clearly a better hockey club than your preferred NHL franchise.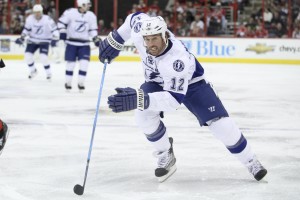 10. Their Head Coach's Scar is Bigger than Your Head Coach's
Guy Boucher, the mastermind behind the nefarious 1-3-1 system, boasts a scar running down the right side of his youthful face worthy of a James Bond villain.
"My kids don't even know." Guy Boucher on the origins of his scar
The scar has been described as a visual metaphor for playing tough, resilient hockey – a symbol of the 'relentless' style of play that Boucher espouses.
Boucher claims that the scar isn't hockey related, but its origins remain mysterious. As reported by Tom Jones of the St. Petersburg Times, Boucher said "I didn't tell anybody back home (what it's from), so it's like this little enigma. My kids don't even know."
And yes, there is a Facebook page dedicated to the scar. You can't beat that.
9. Steve Yzerman has Earned More Hockey Accolades Than Your GM
There is no shortage of capable General Managers running NHL teams, but none of those men are Mr. Yzerman. Architect of the gold-medal winning Men's Ice Hockey team at the 2010 Winter Olympic Games, multiple winner of the Stanley Cup (both as a player and as management), and longest-serving team captain in North American professional sports history. The man's hockey acumen is off the chart.
Arriving in Tampa, Yzerman immediatly began to put his stamp on the team. His first NHL daft pick as GM was Brett Connolly (6th overall) in the 2010 NHL draft. And young Connolly seems to working out alright, thank you very much.
Yzerman continued to remodel the team with multiple moves last year, setting the Lightning for an unbelievable playoff run. Which brings us to…

8. The Lightning Fared Better Than Your Team in the Playoffs Last Year
Unless you're a Boston Bruins fan, of course. And it's not like the Bolts were being tossed softballs. Powerhouse Pittsburgh Penguins? Not a problem – shut 'em out in game seven to take the series. Specifically-reconfigured-for-the-playoffs Washington Capitals? Ditto – with brooms on the ice. Forcing the eventual Stanley Cup champs to seven games and losing that deciding match by a only single goal? Double ditto.
If you're a Vancouver Canucks fans who's unhappy that your team wasn't mentioned alongside the Bruins as having performed better than the Bolts last year. It was just an oversight. Very sorry. Please don't burn any cars over it.

7. Owner Jeff Vinik Rocks
Vinik bought the floundering team in March 2010, and hasn't looked back. He installed a top-notch management team, spent to the salary cap ceiling on players salaries, believes strongly in community involvement, and coordinated the recently completed renovations to the St. Pete Times Forum to the tune of $40 million dollars. Those renovations actually included removing seats as part of improving the fan experience.
The best part of the renovations for Tampa Bay fans? They were paid for with private money – so no new taxes! Not every NHL team owner believes in privately funded arena deals. No names of course, but one of those owners might have a team in a city that rhymes with, um…'Bedmonton'.

6. Their Goalie is Way Older than Yours
Yzerman brought in Dwayne Roloson last New Year's Day in order to address the Lightning's need for improved goaltending. While there were many doubters, Roli shut out the Capitals in his first game as a Bolt, and was a key element of the team's deep playoff run.
These feats are all the more amazing considering that Roloson was born in the 1960s. Never mind being older than your goaltender, at 42, he's older than every other player in the league right now.
5. The Lightning Don't Actually Have a City
There is no city/town/hamlet/or whatever named 'Tampa Bay'. The term refers to a region that encompasses communities like St. Petersburg and Tampa. So while the team may harbor some deep-seated fears that opposing fans might forget where they are from (why else would they have 'Tampa Bay' on their away sweaters), but they are a very inclusive sort of NHL franchise.
4. The Lightning are Equal Opportunity Employers
And speaking of being inclusive, the Lightning are the only NHL franchise to put a female player on the ice – and they did it twice. Manon Rheaume, goaltender and 1998 Winter Olympic medalist, was signed by the Lightning and played in two exhibition games – once in 1992, with an encore in 1993.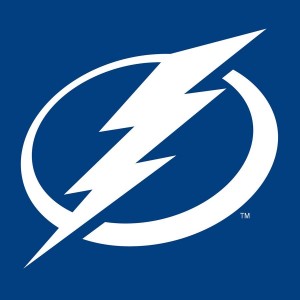 3. Their Uniforms are Now More "Classic" Than Your Team's Threads
The Lightning's recent make-over was made in an attempt to give the club a classic, more iconic look. In a traditional institution like the NHL, classic equals good, no exceptions.
With the new look, the Lightning became only the third NHL franchise in today's league to sport a two-color uniform, joining the Detroit Red Wings and the Toronto Maple Leafs – both Original Six clubs. Never mind for a moment that the Original Six weren't the NHL's original franchises, but in terms of tradition, the Lightning are in good (or at least venerable) company.
Even better, every season-ticket holder received one sweater for every seat they held (see reason number seven) complete with a microchip that gives discounts for merchandise and concessions. Ignore any rumor that suggests the chips also serve as tracking devices for management to keep tabs on their fans whereabouts.
2. The Lightning Are (Probably) a Hotter Ticket Than Your Club
The Lightning boast the biggest improvement in league attendance this year in the NHL, improving by more than 21%, according to the attendance-tracking website mib.org.
They've sold out all but one of their home games – not too shabby for the second-most southerly NHL franchise.
1. Despite Mr. Milbury and Co's Claims, the Lightning Do Not Play Boring Hockey
Quickly following the criticisms leveled at the Lightning and Boucher, several commentators pointed out that the Bolts had an extremely potent attack last year, having scored the seventh most goals in the league in 2010-11.
But last year was last year, and this year is this year, so what's the team done for the hockey entertainment cause this year?
The Lightning remain one of the most dangerous teams on ice, having scored the 10th most goals by a team this year with 47 (all stats as of 14 November). Not too shabby.
But wait, there's more…
While Tampa Bay fans may not relish the thought of their team giving up goals, this statistic speaks to how wide open the play is when the Lighting are on the ice. No doubt to Boucher's chagrin, the Lightning have given up a lot of goals this year – 53 to be exact, fifth worst in the league. So the Lightning aren't exactly the 1995-96 New Jersey Devils reborn.
Combining these two figures, goals for and goals against, it turns out that the Lightning are tied for eighth place in the league when it comes to total goals scored per game, with an average of 5.88 lit lamps per match. They trail the league-leading Caps by about a half a total goal per game, while fans will see an average of a goal-and-a-half more's worth of action over the course of a Bolts' game than during the league's least goal-friendly team (not that we want to point any fingers), the Minnesota Wild.
Well, there you have it, indisputable that the Lightning are the coolest team on ice.
No doubt you can all sleep better now that this thorny issue has been laid to rest. Unless you're like hockey's drama queen Mike Milbury, in which case you've probably taken all this far too seriously.
Brent's hockey writing has appeared in a variety of online and print media, including the Yahoo! Sports NHL blog, Puck Daddy, and USA Today magazines. He shoots left.