The "12 Days of Christmas" is a classic holiday song first published in its current form in 1908. In a nod to the classic carol, join The Hockey Writers as we count down the 12 Days of Hockeymas. Each day we will provide you with a piece of hockey history as we eagerly await the start of the 2020-21 NHL season.
Ducks Eleven
On the 11th day of Hockeymas, Corey Perry gave us 11 game-winning goals in 2010-11. According to an article for The Hockey Writers, Perry and Ryan Getzlaf, or the "twins," as they were affectionately known, led the Anaheim Ducks to the ultimate victory in 2006-07. In 2005, Perry was selected No. 28 in the draft and made a name for himself soon thereafter in the league. The winger was a hot commodity in Anaheim where he was a Stanley Cup Champion and aided in an era of winning.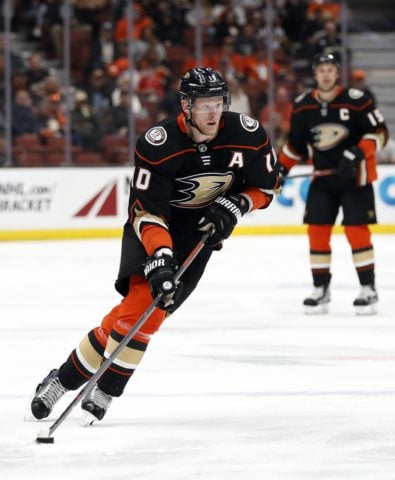 Perry's 2010-11 season was his best season to date. This landmark year for the winger saw his most goals and assists to that point and since. With 50 goals, his magical month from March through April brought attention to Perry and allowed Anaheim to end the season with 99 points in second place in the Pacific Division. The Ducks ended the 2010-11 season with an overall record of 47 wins 30 losses and 5 overtime games.
In 2011 during the NHL Awards, Perry became the first player from a California team to win the Hart Trophy since Hall-of-Famer Wayne Gretzky won with the Kings in 1989. According to the NHL, Perry became only the third player from a California team to win the Hart besides Joe Thornton and Wayne Gretzky. The right winger won this achievement as the league's most valuable player that year.
"Scorey" Perry
Out of Perry's 11 game-winning goals for Anaheim that fateful year, four of them happened in March 2011. On March 26, 2011, his hot-streak continued and yet again brought the Ducks to victory against the Blackhawks in a pivotal game where Anaheim jumped to 89 points. During this game, he displayed his skills, tying the score with 1:07 left in the third period. The goal gave the Ducks the opportunity to score in overtime, which was quickly becoming Perry's specialty that year.
The winger ended the 2010-11 season with the league's best 50 goals, 48 assists and 98 points overall. Perry's stellar performance through March and April is what led him to his most valuable player of the year Hart Trophy win. With 19 goals in those fateful two months, he continued to boast his "Scorey" Perry nickname given to him by adoring fans and take his team to victory.
From March 11, 2011 through April 6, 2011, the alternate captain had five game-winning goals and led Anaheim with six more game-winning goals that season.
Perry is the third overall leader for most points with 776 as a Duck and is second overall for most goals for Anaheim with 372 goals. The winger played 988 games for the Southern California organization second to only Getzlaf. Perry didn't only have 11 game winning goals through his tenure with Anaheim overall he boasts 64 game winning goals only second to Teemu Selanne.
In 2011 Perry also celebrated his 20th multi-goal game and further carved a name for himself in the league.
Perry had a flurry of game winning goals in 2010-11, and makes him a memorable player for most fans with his ability to win and bring the Ducks back from a deficit.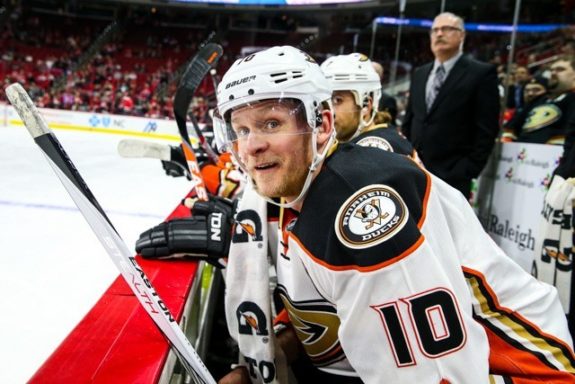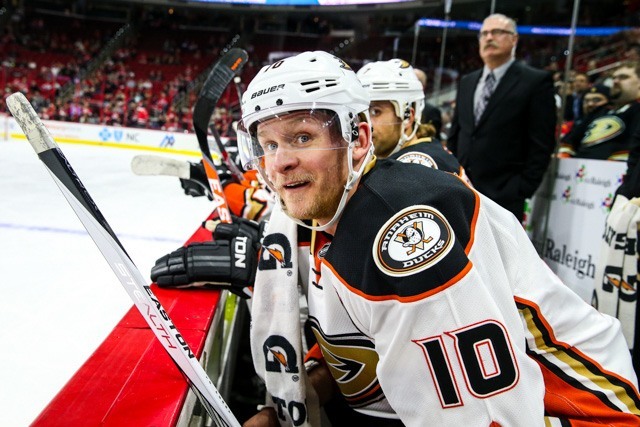 "He's one of those guys who gets the eyes of the defenseman because he's always around the crease, and he's always bumping the goalie," Anaheim defenseman Kevin Bieksa said in an interview with USA Today. "His stick drags behind him after the whistle. He does all the little things that make him effective."
Quacking Through Christmas
While Anaheim may no longer have Perry as an asset since he was traded to the Dallas Stars, our ability to have such energy and heart is because of our history with influential players such as Perry. He gave so much to the team and so on the 11th day of Hockeymas, the Ducks' beloved former alternate captain gave to us 11 game-winning goals in 2011.
---
---