Dustin Byfuglien may be the Winnipeg Jets standout at the All-Star game in Columbus, but there have been no shortage of great performances in Winnipeg this season. For the first time since moving north of the border, the Jets are clearly exceeding expectations at the midway point of the season.
This is due in part to the entire team buying into Paul Maurice's system and certain lines and duos developing great chemistry. It's also due to some solid individual performances. Here are three players who have been extremely valuable to the team so far.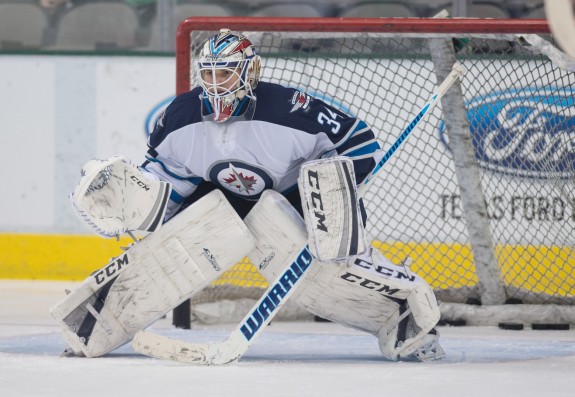 Michael Hutchinson
Ondrej Pavelec has 29 starts, while Hutchinson has 19. No one should be surprised if their work load is closer to a 50/50 split by season's end.
Hutchinson is an impressive — albeit surprising — 14-4-2 on the season. He has .935 save percentage, 1.90 goals-against average and two shutouts.
Michael Hutchinson's started the last 10 of 16 #NHLJets games. The numbers are looking pretty pretty good. pic.twitter.com/3ZiGMgsZJj

— Michael Remis (@mremis) January 23, 2015
There was some speculation that he could get into the All-Star game as a replacement. Sergei Bobrovsky was injured in the Jets' 4-0 win over Columbus, but ultimately it was Brian Elliott who was chosen to take his spot.
Hutchinson is on an amazing run. His positioning and poise in goal are top notch. His rebound control and side-to-side movement is consistent. He is playing like an All-Star. Now, the more important question is: Can he play at this level into the playoffs?
Andrew Ladd
Ladd is a leader and a difference-maker offensively for the Jets. He has been since he arrived in Atlanta and will continue to be for many years. The captain leads the team with 40 points in 48 games. No, he won't be a threat every time he's on the ice and he won't put up over 80 points in a season. But, for a player who sometimes figured into the bottom-six in Chicago, he's certainly proved his ability as a first line player.
#NHLJets top point getter, Andrew Ladd (17G, 23A) sits 25th in the NHL in scoring.

— Scott Billeck (@ScottBilleck) January 22, 2015
Ladd isn't quite an All-Star. He really doesn't get the attention he deserves from those outside Manitoba. If he continues to produce at this rate and the Jets make the playoffs, the media and fans alike should finally give him the credit he deserves.
Mathieu Perreault
He has exceeded all expectations. It wasn't that fans didn't appreciate the Jets signing Perreault in the offseason, it was that he was the only notable offseason transaction and it's becoming a bit of a tradition to not make any major transactions.
However, Perreault has been a major addition. An impact player in all three zones, he ranks fifth on the team with 15 goals and 14 assists for 29 points in 45 games. That includes a couple of game winners. Perreault has also been helpful in the faceoff circle, where he has won 51.6 percent of his draws. He's one of the few Jets players over 50 percent.
He's not a standout player in one area, instead he does a number of things well and he's willing to play whatever role he's assigned.