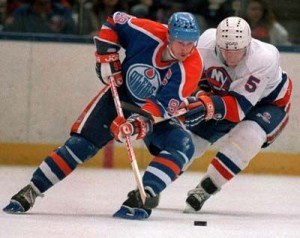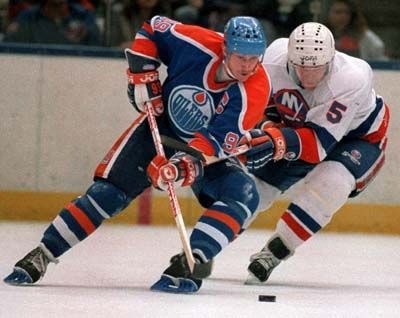 With the Edmonton Oilers previous season well over, and the upcoming season months (hopefully) away, Oiler fans are sitting, awaiting the next big Oiler news. They have had an eventful offseason already and fans and management alike are taking some time to catch their breath before their next move.
In watching current budding stars Jordan Eberle, Taylor Hall and Ryan Nugent-Hopkins not to mention looking forward to arriving potential talents like Nail Yakupov and Justin Schultz, it got me thinking about the Oiler greats of the past, the dynasty of the 80's and other stars that have suited up for the blue and orange.
With that in mind I set out to put together the best Oilers lineup of all time, and what that would look like spanning 30+ years.  Not just the mostly purely talented but the most balanced lineup in team history.
In the end the aforementioned trio of Eberle, Hall and Nugent-Hopkins were left off, based on simply too small a sample size to go up against the rest of the names on this list.  While I am quite confident their name will one day, and soon, be among the ones listed, they'll have to wait their turn.
Forwards:
| | | |
| --- | --- | --- |
| LW | C | RW |
| Glenn Anderson | Wayne Gretzky "C" | Jari Kurri |
| Ryan Smyth | Mark Messier "A" | Craig Simpson |
| Esa Tikkanen | Doug Weight | Ales Hemsky |
| Todd Marchant | Craig MacTavish | Kelly Buchberger |
When putting together the lineup, the first line was pretty easy to put down, with three Hall of Famers.  The legendary Wayne Gretzky, arguably hockey's greatest player was the first name down as #1 centre and team captain.  His wings were not that much more difficult with Anderson and Kurri, number two and three on the Oilers all time goals scored list.  Kurri is one of the most complete players in NHL history as well as being one of it's best goal scorers, and the chemistry between he and Gretzky was almost unstoppable.  One of the better power forwards of his time, Anderson went to the net hard and did the dirty work to be successful, a perfect complement on our 1st line.
Mark Messier is a no-brainer as #2 centre and assistant captain.  The Moose is second all-time in Oiler assist leaders and third in points, not to mention one of the best clutch players in history.  Ryan Smyth on the left side, leads in almost all offensive categories in terms of active Oilers including, goals, assists, points and penalty minutes, he's also a heart and soul type player that can play up and down a lineup.  Craig Simpson gets the nod on the right side, in his 7 seasons as an Oiler he averaged 31 goals per year with a total of 185 in those years, good for 7th on the all-time Oiler list.
Doug Weight is the third line centre.  An Oiler for 9 seasons, Weight lead the Oilers through some down years and still put up big numbers, averaging 0.98 points per game during that time.  Esa Tikkanen on left wing is a player that did a lot of things for the Oilers.  He was a pest, and hard to play against, but also very talented and scored 178 goals in his 7+seasons with the team.  Ales Hemsky gets the nod on the right side, for as much as he drives Oiler fans crazy with stretches of inconsistency, his talent is undeniable and he has put up numbers at a point per game pace when fully healthy.  The problem being he has had very few healthy seasons, but has still amassed 431 career points as an Oiler.
Defence:
| | |
| --- | --- |
| LD | RD |
| Paul Coffey "A" | Kevin Lowe |
| Charlie Huddy | Chris Pronger |
| Steve Smith | Jason Smith |
Again the first couple of names did not take a whole of effort to come up with.  Paul Coffey is not only one of the best Oilers of all-time but one of the best in all of hockey.  A pure skater, Coffey is second all-time in NHL scoring by defencemen, trailing only Ray Bourque.  He holds just about every Oilers offensive record by defencemen whether its regular season or playoff, all-time or single season.  The other name on the top pairing is Kevin Lowe, the current Oilers president is also the team's all-time leader in games played and is second behind Coffey in points.
On the second pairing, Charlie Huddy gets an automatic nod, another member of the Oilers '80's dynasty he joins Coffey and Lowe as being in the top 3 on the Oilers all-time list of goals (2nd), assists (3rd) and points (3rd) by defencemen.  Chris Pronger joins him, and while still considered Public Enemy #1 during his one season, it was one great season.  He helped lead the team from the 8th seed in the West all the way to game 7 of the Stanley Cup in 2006.  He lead the team with 21 points in the playoffs and a +10 rating.
Author of the infamous goal in his own net in '86 against the Flames, Steve Smith is remembered for much more than that as an Oiler.  A three time Cup champ with the Oilers, Smith is 4th on the Oilers all-time list of goals, assists and points.  Jason Smith is also on the third pair, a gritty, physical defenceman who can clear the front of the net.  He also brings leadership, as he is tied with Gretzky as the longest serving captain in team history.
Goaltenders:
Hall of Fame goaltender Grant Fuhr is #1 in our lineup, he backstopped the Oilers to four of their five championships and was a five time NHL all-star.  One of the best clutch goaltenders of all-time, he is also the Oilers all-time leader in wins.
The backup spot was more challenging and came down to a debate between Bill Ranford and Andy Moog.  In the end Moog got the nod.  While Ranford is the all-time leader in games played and second in wins, Moog has an Oilers record of 143-53 for a .730 winning percentage,  far better than that of Ranford's.  He also formed an impressive duo with Fuhr during a large portion of their '80's dynasty, he won three Stanley Cups with the team, one as the starter.
Coach:
Glen Sather
Perhaps an obvious choice, Sather's numbers and tenure speaks for itself.  "Slats" was the Oilers head coach for 14 seasons, coming over with the team from the WHA.  He coached a total of 842 games and had 464 wins which is tops all time amongst Oiler bench bosses.  He also led the team to 4 Stanley Cups and only missed the playoffs in one season as coach, which ended up being his last in 1993-94.
*stats courtesy of hockeydb.com
While this roster will no doubt spark much debate about players deserving to be added or removed, as it certainly did with me and my circle of colleagues, the fact is the Edmonton Oilers have had no shortage of star players throughout their history and ones that have made a lasting impression on the organization and fans.  Oiler fans are hoping that the new crop of blue chip youngsters will resemble past Oiler greats and will bring modern playoff success to Oil Country and look to re-write this roster with their names etched in.
That, however is a debate for another time, and the current young guns have a lot to prove before they can even enter that conversation.