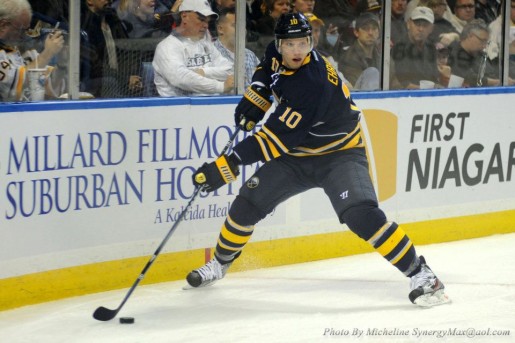 After scoring 14 goals in back-to-back seasons, and recording 94 points in two seasons for the Vancouver Canucks, big things were expected of Christian Ehrhoff going into last year's free-agency.
But rather than making it to free-agency, the Buffalo Sabres acquired his rights and signed Ehrhoff to a 10-year $40 million contract. When Ehrhoff signed that contract, those expectations only got higher, expectations that were not entirely lived up to.
Ehrhoff fell victim to the injury bug that found its way around the Sabres locker room, missing 16 games total last season, which contributed to his drop in offensive production.  Some people see this as a down season for Ehrhoff, but his play last season just needs to be looked at in a different light.
Despite having a low season, Ehrhoff was a consistent force on the Sabres' blue-line and in front of their net. He averaged 23:03 of playing time, a team high, and had more than 20 minutes of playing time in 58 of his 66 games played.
He was perhaps the Sabres' best defenseman last season; some argue that fact because of Ehrhoff's minus-2 rating last season. But, what needs to be taken into account is the Sabres' lack luster offense, that averaged just 2.57 goals last season, and how it influenced that statistic.
Staying on the subject of offense, Ehrhoff's five goals and 32 points was his second lowest total in his last five seasons.  While finishing the season with lower numbers, Ehrhoff still ranked number one in scoring among Sabres defensemen, and seventh among the entire team. For Ehrhoff to have a "low" season, and rank that high among the rest of his team needs to be a wake up call to both him and his teammates.
When you look at the team Ehrhoff came from, a team full of offensive prowess, where he was on the powerplay with the likes of the Sedin twins, a drop in points and powerplay production should not surprise anyone.
The Sabres though were a better team when Ehrhoff did produce. The Sabres were 20-4-1 when he tallied at least one point, and were 6-0-0 when Ehrhoff had a multi-point game. These numbers have to force Sabres' fans to give Ehrhoff a break, or at least buy him some time before he is on Ville Leino's level.
For a Sabres team under the rule of Lindy Ruff, a coach that likes his defenseman to play an offensively minded game and jump into the play, Ehrhoff is sure to rebound and see a jump in his offensive production.  However, if Ehrhoff does not rebound, his defensive play should tie over his critics and keep him out of the Sabres' doghouse.
But, if Ehrhoff does rebound, and is able to maintain his defensive presence, Ehrhoff could wreak havoc from the Sabres' blueline next season with the well rounded play he would bring to the Sabres' roster.