With three games remaining in the Edmonton Oilers' season, Connor McDavid is perched on top of the NHL scoring lead with 103 points. Tampa Bay Lightning winger Nikita Kucherov is second with 97 points. Pittsburgh Penguins center Evgeni Malkin is third with 96 points. Unless McDavid goes pointless and one of Kucherov and Malkin picks up seven or more points in the final stretch here, the Oilers forward should win back-to-back Art Ross trophies.
It'll be the first time that's happened in the NHL in 17 seasons. The last person to do that was Jaromir Jagr in 1999-00 and 2000-01. The last Oiler to do that was Wayne Gretzky in 1985-86 and 1986-87. The real question, though, is if McDavid will win the Hart Trophy. There have been a lot of arguments that are against McDavid taking home the Hart in back-to-back years.
NHL Scoring Race 2017-18 (April 2)

Player
Team
GP
G
A
PTS
Connor McDavid
Edmonton
79
41
62
103
Nikita Kucherov
Tampa Bay
77
38
59
97
Evgeni Malkin
Pittsburgh
76
42
54
96
Claude Giroux
Philadelphia
79
29
66
95
Nathan MacKinnon
Colorado
82
38
56
94
Most of those arguments are centered around the fact that the Oilers are a non-playoff team. The last time a player won the Hart while playing for a non-playoff team was Mario Lemieux in 1987-88. The Pittsburgh Penguins missed the playoffs by one point that year. Edmonton is already 19 points outside the playoffs this season.
Hart Trophy Winners from Non-Playoff Teams
Lemieux wasn't the only player to have ever won the Hart Trophy while playing for a non-playoff team. Before that, it was Andy Bathgate with the New York Rangers in 1958-59. Once again, the Rangers (in a six-team league) missed the playoffs by a point. The others are Al Rollins (Chicago, 1953-54), Tom Anderson (Brooklyn, 1941-42), and Billy Burch (Hamilton, 1924-25).
All in all, only five players have ever won the Hart Trophy while playing for non-playoff teams. That's just five players in the 93 seasons the Hart Trophy has ever been awarded. Four of those players were a part of the Original-Six years, and the other (Lemieux) won when the league had just 21 teams.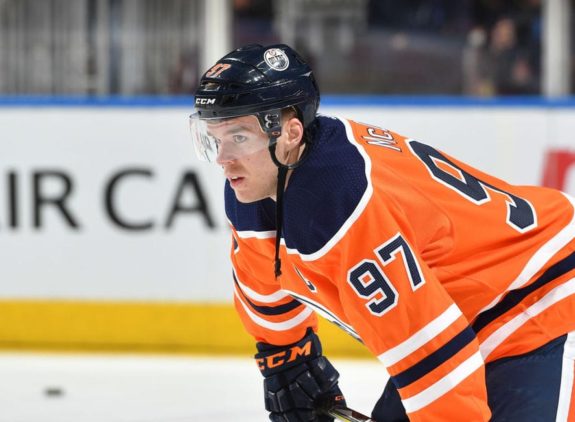 With the introduction of parity and expansion to 31 teams, it's harder to make a case for a player from a non-playoff team to win the trophy. If McDavid and the Oilers were in the playoffs, it's unlikely we'd even be having this debate. With them not in the playoffs, it's hard to ignore the seasons guys like Kucherov, Malkin, Claude Giroux, Nathan MacKinnon, and even Taylor Hall have had in 2017-18.
Related: Penguins' Evgeni Malkin Should Win MVP
Last week, E.J. Hradek from the NHL Network tweeted something similar, adding the key part that "winning matters." The rebuttal to that is that at the time of Hradek's tweet, two of the nine players (MacKinnon, and Aleksander Barkov) weren't in playoff spots. So if winning matters, why would those two be considered? MacKinnon's Colorado Avalanche have since rebounded.
McDavid's Hart Trophy Case by the Numbers
Without getting too in-depth into the statistics, the quick and easy argument is that McDavid, with little to no supporting cast, has still managed to lead the league in scoring while playing on a team that's currently ranked 24th in the NHL. He's also playing on a team with the worst power play (PP) in the league and he himself ranks 81st in the league in PP points (18).
That means McDavid is getting nearly all his points at five-on-five. It's not even close between McDavid (81 even-strength points) and MacKinnon (62), who sits in second place. That's a whopping 19-point difference between first and second. To put that into perspective, 19 points is what separates MacKinnon from Mikael Granlund, who ranks 55th in the league.
There are a few selfish things to point out from an Oilers perspective that shouldn't factor into the Professional Hockey Writers Association's final vote, but we'll name them anyway. McDavid's the first Edmonton player to score 40 goals since Petr Klima in the 1990-91 season. He's also the first Oiler to record 100 points in back-to-back years since Mark Messier and Wayne Gretzky each did it in 1986-87 and 1987-88.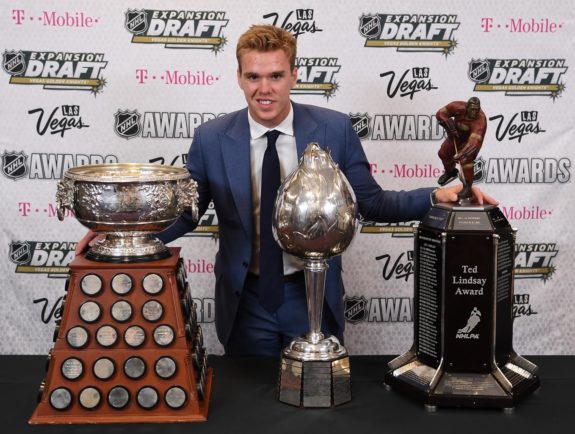 From an NHL perspective, he's the first player to register 100 points in back-to-back years since Sidney Crosby and Alexander Ovechkin each did so in 2008-09 and 2009-10. His 1.30 points-per-game this season sits third behind just MacKinnon (1.32), and Brad Marchand (1.31). Judging based on points share, McDavid's factored into 103 of Edmonton's 227 goals (45.4 percent).
Related: Why McDavid Shouldn't Win the Hart Trophy
By comparison, Giroux (39.9 percent), MacKinnon (37.8 percent), Hall (37.4 percent), Malkin (36.5 percent), and Kucherov (34.3 percent) don't come close to the impact McDavid's had on the Oilers. Remove McDavid and that team is hardpressed to score goals. If that's not the definition of most valuable player to his team, what is? Circling back to Hradek's comments, he said McDavid would have to lap the field to win the Hart trophy.
On Feb. 1, McDavid was 13th in the NHL scoring race with 54 points in 49 games. He was 10 points behind Kucherov (64) for the lead. McDavid's since managed to pick up 49 points in 30 games and is now six points up on Kucherov for the lead. If that's not lapping the field, what is?
Possible 2017-18 Hart Trophy Finalists
Unfortunately (or fortunately depending on which side of the fence you're on), I don't get a vote as I'm not a member of the PHWA. Maybe one day. Until then, I can only speculate and give an opinion as to whom I think the four most deserving candidates are to be finalists for the Hart Trophy. If I were to pick the four finalists, here's who I would pick aside from McDavid: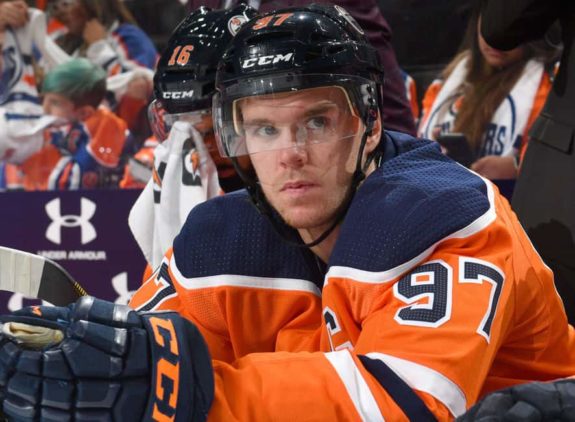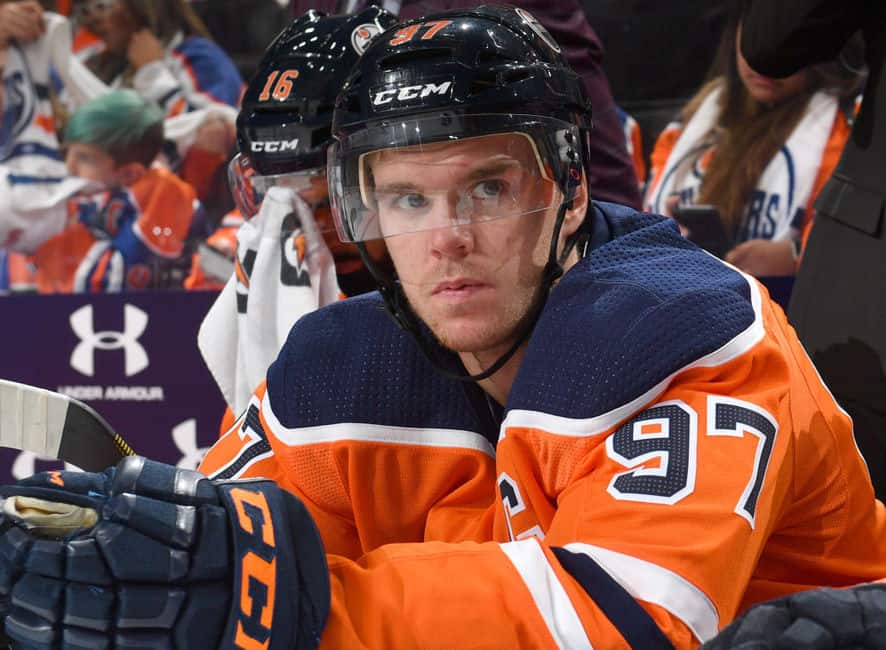 Related: Kings' Kopitar Should Win Hart Trophy
Nathan MacKinnon (Colorado Avalanche) – The 20-year-old is in his fourth NHL season and is enjoying a breakout season. It just so happens the 38 goals and 94 points MacKinnon has piled up are potentially leading the Avalanche towards their first postseason berth since 2013-14. That was MacKinnon's rookie year in the league. His 37.8-percent point share is the third-highest in the NHL behind McDavid and Giroux.
Nikita Kucherov (Tampa Bay Lightning) – Before being overtaken on March 25 by McDavid, Kucherov has virtually been first in the Art Ross race since Oct. 18. From that point on it was either him or teammate Steven Stamkos in first place. That's an impressive feat in itself and speaks to his consistency through the season. His 97 points this season are a career-high.
Taylor Hall (New Jersey Devils) – Hall might be seventh in league scoring, but he's been the driving force of the offense in New Jersey this season. The 26-year-old has 37 goals and 89 points and has helped turn the Devils around from picking first in the draft to clinching a playoff spot in one year. He has a commanding 38-point lead over Nico Hischier, who is second in team scoring.