The new additions to the Edmonton Oilers' lineup paid dividends in their season opener and historic first game at the new Rogers Place. The Oilers beat their provincial rival, the Calgary Flames, 7-4, despite getting outshot 41-28. A huge part has to do with the play of Adam Larsson, Kris Russell, Milan Lucic and Jesse Puljujarvi.
Whether acquired via trade, free agency or the draft, the four are going to be keys to the Oilers success this season with the biggest expected impact coming from Larsson and Lucic. Normally game recaps aren't very noteworthy, but the play of the four significant additions to the Oilers lineup are showing a glimpse into what Edmonton fans can expect from the team all year. It's a brand new look on the ice and a change in style.
The Oilers will still be considered a highly skilled offensive team, but the additions of Larsson and Russell are penciled in to help assist the team in transition. Both are underrated puck movers and one of Edmonton's Achilles heels in previous years was their inability to move the puck up to their skilled forwards. The team would thus get pinned in their defensive zone until the opposition eventually scored. Wash, rinse, repeat.
Up front, Lucic and Puljujarvi give the Oilers an interesting identity among their forward crop. Lucic changes the dynamic of the top line, giving them a bruising power forward that opens space for his linemates in Connor McDavid and Jordan Eberle. He's also heavy on the forecheck, which should hopefully create more turnovers and scoring chances for the line. Puljujarvi is a rookie, and the jury is still out on if he stays for the year or not, but his addition gives the Oilers three balanced scoring lines.
So, how did the new additions to the Oilers lineup do in their debuts?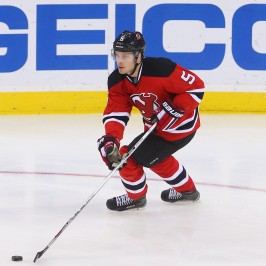 ---
D Adam Larsson
https://twitter.com/AdamLarsson3/status/786446652345167872
A case can be made for Russell, but Larsson was the Oilers' best defender on opening night. That's exactly what the Oilers want him to be; he's just going to have to show this game after game now. What stood out was his ability to make that first pass out of the Oilers zone up to the offense. Outside of a few turnovers, he was steadily in position all night and gave the Flames' top duo of Sean Monahan and Johnny Gaudreau all sorts of trouble.
The move for Taylor Hall will always be a dent in the armor of Larsson, but the fans should focus more on what they have than what they lost. With Larsson, the Oilers have the closest thing to a top pairing with him next to Oscar Klefbom. He wasn't overly active in the offensive zone, but he helped the Oilers transition and was able to shut down the Flames' cycle in Edmonton's defensive zone.
Related: What are the Oilers Getting in Larsson?
It might take some time for Oilers fans to appreciate the nuance of Larsson on defense but he'll be a stabilizing force for Edmonton all season.
| | | | | | | |
| --- | --- | --- | --- | --- | --- | --- |
| G | A | PTS | +/- | SOG | PIM | TOI |
| 0 | 1 | 1 | 2 | 0 | 0 | 21:20 (2nd D) |
---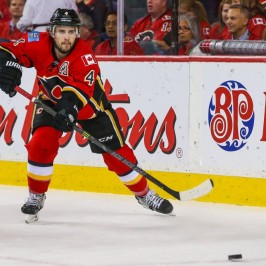 D Kris Russell
Two points for Kris Russell in his Oilers debut. Simple yet effective game so far in my opinion.

— Dustin Nielson (@nielsonTSN1260) October 13, 2016
Russell was steady and displayed minimal mistakes, making the nice, easy plays. Russell has a very underrated game; he does a lot of small things right, and from time to time they help him stand out. The game seemed to slow down on his stick in a good way; he brings a calming presence to the Oilers' breakout.
He had a couple of solid moments defensively including cutting off a breakaway that could've made it 5-4 early in the third. The pairing with Andrej Sekera has some natural chemistry, and the two read off of each other pretty well. In years past, you'd see the Oilers defense make some questionable passes that would cause careless turnovers for the opposition to capitalize on. Russell's impact in his first game minimized that and the Oilers defense suddenly has some mobility that'll allow head coach Todd McLellan to get creative in how he deploys the breakout, something that is still a work in progress.
Related: Russell Signing a Win-Win for Oilers
Russell led all Oilers defensemen in scoring in his debut with the team and played surprisingly well for someone with just one preseason game under their belt.
| | | | | | | |
| --- | --- | --- | --- | --- | --- | --- |
| G | A | PTS | +/- | SOG | PIM | TOI |
| 0 | 2 | 2 | 3 | 1 | 0 | 20:09 (4th D) |
---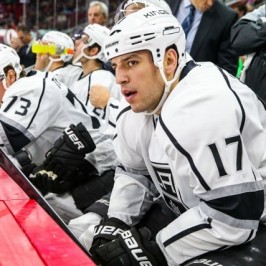 LW Milan Lucic
His bodyguard: Milan Lucic leads Oilers with 6 hits, fights to protect Connor McDavid in first game. #oilers #yeg #Globe_Hockey #nhl

— Marty Klinkenberg (@globemartyk) October 13, 2016
Lucic stood out in his Oilers debut in a big way outside the scoresheet. The Oilers' prized free-agent signing was heavy on the forecheck and made his presence known in the Flames' defensive zone. There was a moment early in the game when Flames defenseman Derek Engelland stood up McDavid with a huge hit. The difference between this year and last? Engelland knew he had to answer to Lucic and the two ended up fighting.
That said, if he's going to ride shotgun to McDavid all year, he's got to find a better way to get up the ice quicker and capitalize on his chances. McDavid is the kind of player that makes everyone around him better, finds openings and will get you the puck when you least expect it. Lucic looked surprised to be getting the puck a few times, which might be more of a testament to the overall playmaking abilities than a knock on Lucic.
Related: Lucic Signing Helps Soften Hall's Loss
Playing with McDavid and Jordan Eberle, Lucic finds himself on the Oilers' top line. In their regular season debut, at least one member of that line helped contribute on the scoresheet for four of Edmonton's seven goals, three of which were scored by McDavid (2) and Eberle (1). Lucic's first is coming, but until then, if he keeps bringing that physical element, he'll continue to make space for the other two to express their offensive creativity.
| | | | | | | |
| --- | --- | --- | --- | --- | --- | --- |
| G | A | PTS | +/- | SOG | PIM | TOI |
| 0 | 0 | 0 | 0 | 2 | 5 | 18:48 (3rd F) |
---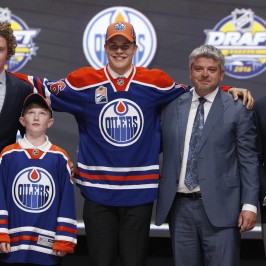 RW Jesse Puljujarvi
https://twitter.com/Sun_Tychkowski/status/786431181302607872
Puljujarvi, 18, decided to change his number for the regular season and will officially wear No.98 for the Oilers. He's the first Oilers skater to ever wear the number and only the second player in NHL history to wear it. The other? Brian Lawton.
In regards to Puljujarvi's debut with the Oilers, he didn't stand out much at all, until he capitalized on a Flames turnover midway through the third and put the Oilers up 6-3 for his first career goal. He got a few looks on the second power-play unit, but the third-line unit of him with Leon Draisaitl and Patrick Maroon looked lost and didn't have much chemistry at times.
Related: Door Opened for Puljujarvi
Through the first two periods, he didn't have many strong moments with the puck, outside a few successful zone entries. The Puljujarvi watch will continue for now. Don't be surprised if it takes Puljujarvi a few games to win over his detractors. If Edmonton decides to shuffle their lines, they could swap him with Anton Slepyshev between the second and third units.
| | | | | | | |
| --- | --- | --- | --- | --- | --- | --- |
| G | A | PTS | +/- | SOG | PIM | TOI |
| 1 | 0 | 1 | 1 | 2 | 0 | 12:52 (9th F) |
Edmonton Oilers regular contributor providing insight on all things Oilers including club history, prospect profiles, trade breakdowns, and everything else in between. Check back regularly for new and exciting content. Follow on Twitter @SanderTHW.