The Edmonton Oilers will be in an interesting position heading into the 2017-18 NHL season. After exceeding expectations during the 2016-17 campaign and pushing the Anaheim Ducks to a seventh game in their second playoff series, simply qualifying for the post-season will no longer be good enough. With that being the case, Peter Chiarelli will need to ensure he doesn't allow the moment to cloud his better judgment.
.@Bob_Stauffer goes 1-on-1 with @EdmontonOilers GM Peter Chiarelli next on Oilers Now. https://t.co/ZpLTPykYIc

— Oilers Now with Bob Stauffer (@OilersNow) May 16, 2017
With Leon Draisaitl set to receive a healthy increase on his base salary for the coming season and Connor McDavid a year away from becoming one of the highest-paid players in the game, cap space is going to become an issue in the Alberta capital. However, with the potential of defenceman Andrej Sekera being out of action until next February, the Oilers will have a massive hole on their backend that wasn't supposed to be part of the equation but will need to be addressed.
In the minds of some, the scenario should open the door to seriously consider bringing back Kris Russell on a multi-year extension, if the price were in the $3 million range. Signing the veteran rearguard as a stopgap solution last October was a smart play by the organization and worked out quite well, regardless of his shortcomings. That aside, tying up cash and term on 30-year old bottom pairing defenceman would be a panic move and could greatly complicate things moving forward.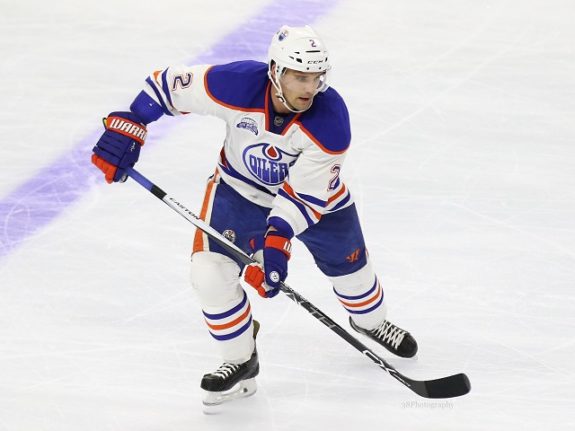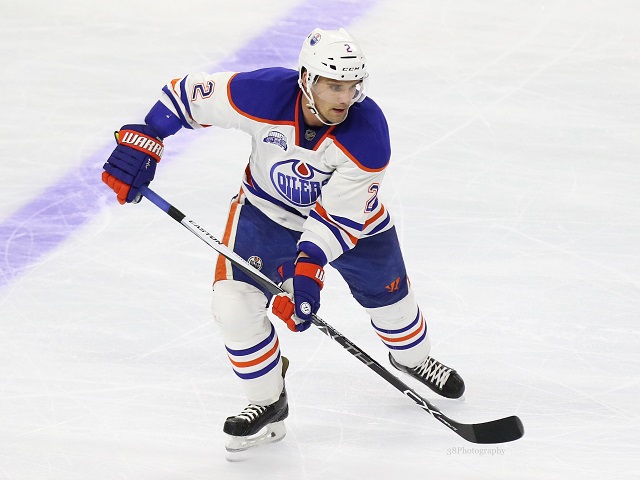 Sekera Injury Changes Everything
In my mind, unless we are talking a bargain basement price or another one-year deal, Chiarelli won't put much effort into signing the Red Deer native and nor should he. In a perfect world, working out a side deal with the Vegas Golden Knights in which the Oilers would give up a prospect and/or pick for an actual NHL defenceman would be ideal. Adding a mid-20's blueliner from a team like the Ducks or Florida Panthers would be exactly what the doctor ordered and likely doable.
While it would seem unlikely Edmonton would have much interest in moving the likes of an Ethan Bear or Caleb Jones, never say never. If the right deal presents itself, there is no question Chiarelli would have to think long and hard about making such a deal. After all, there is no guarantee either one turns into a legitimate top-four defenceman at this level, as it's not every day that we see fourth and fifth round picks develop into impact guys…especially within the same organization. Possible yes but not likely.
The chances of going out on the free agent market and not overpaying for an older defenceman is almost non-existent unless the plan is to wait and see if there could be another Russell-type situation to take advantage of. The problem with that line of thinking, is with Sekera out of the equation the quartet of Oscar Klefbom, Adam Larsson, Matt Benning and Darnell Nurse are going to need help. Leaving it to the very end could prove problematic and cost the Oilers more than a few points in the standings.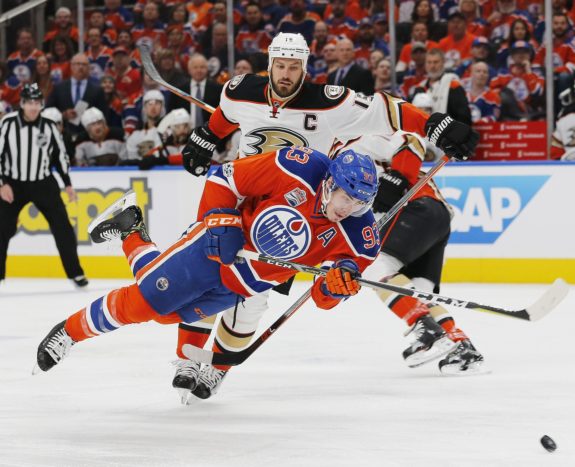 The Nugent-Hopkins Angle
Obviously, until teams have submitted their protected lists for the upcoming expansion draft this is nothing more than guesswork and who knows, perhaps Chiarelli works out a deal of his own prior to with a club looking to move a defenceman. Where things could become a little tricky is with regards to Jordan Eberle and Ryan Nugent-Hopkins. Though much of Oil Country feel the time has come to part with one or both in hopes of improving the roster, such a move could have the opposite effect.
While both players failed to live up to expectations in 2016-17, it is not as if Edmonton has replacements waiting in the wings. When it comes to Nugent-Hopkins, if he were to be moved to address the backend, a similar replacement is going to have to be brought in to fill his role. Let's not forget that the chances of McDavid and Draisaitl never playing on the same in 2017-18 are almost nil, though it is unlikely we see them play as often with one another at even strength, as they did over the past seven months.
In order for Todd McLellan to make such a move, be it as an in game switch or simply looking for a shakeup, having a run-of-the-mill third line centre won't cut it. Despite his recent struggles, the improvements in Nugent-Hopkins' overall game are obvious to anyone paying attention. Remember, the ask from the head coach was to become a better all-around player and he has done just that. Unfortunately, it has impacted his offence and now it is up to the kid to rediscover his scoring touch.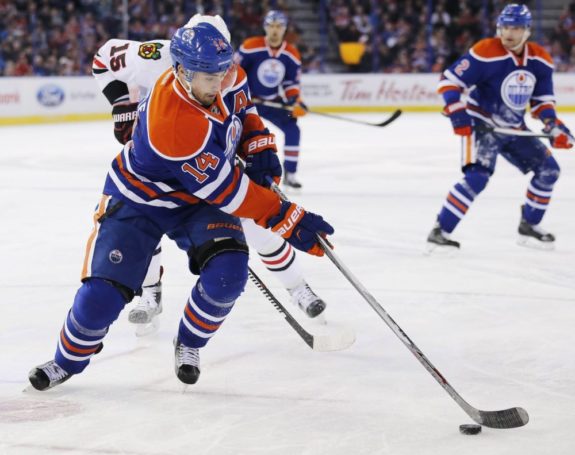 Eberle Not Easily Replaced
As far as Eberle goes, the Oilers do have three potential options on the right-side in Drake Caggiula, Jesse Puljujarvi and Anton Slepyshev but none have the resume of the 27-year old. In what was by far and away the worst season of his career, we are talking about a 20-goal and 50-point player. In today's NHL, those players do not grow on trees and tend to cost a pretty penny to acquire. As was mentioned in this very spot back in November, bad luck and lack of confidence played a big role in his struggles.
His body of work suggests we will see a bounce back in the coming year so why not have it happen in an Oilers uniform? Don't get me wrong, this organization is going to have to move one and possibly both prior to the start of the 2018-19 campaign. However, moving either one when they are coming off down years and their value on the open market is at an all-time low, would be a major blunder. This is not a Nail Yakupov situation, as both players have proven track records at this level.
Chiarelli speaks on Eberle and Nugent-Hopkins' future: https://t.co/wAoyYqZmVr pic.twitter.com/iNnDovVgbe

— TSN (@TSN_Sports) May 17, 2017
Peter Chiarelli made it abundantly clear that he had to give in order to get in swapping Taylor Hall for Adam Larsson. So the question becomes if you couldn't get a guy as good as Larsson in return for an Eberle or Nugnet-Hopkins last summer, what has changed? By all means, make the move but it has to improve the roster and not simply plug a hole to create another. Again, expectations will be for this team to compete for the Stanley Cup from here on in…anything short of that won't due and that changes everything.