There's been talk that the Buffalo Sabres should take advantage of the expansion draft in order to add a quality defenseman to its roster. While it would cost the Sabres an arm, or two, and possibly even a leg to try and trade for a top-pairing blueliner, it is true that the Sabres might be able to add some depth on defense, or acquire a bottom-6 forward, courtesy of teams looking to get value for players they would otherwise lose to expansion.
Of course, there are three pieces to an NHL roster: offense, defense and goaltending. The Sabres have good goaltending – but if the team ever wants to compete for Lord Stanley's Cup, it will take more than "good" goaltending to get it done.
As it happens, there is an exciting young goaltender who is ready to become someone's No.1 goalie thanks to the expansion draft. Let's take a look at why the Sabres should consider making an upgrade at the goalie position.
Robin Lehner: Solid, but Flawed
This piece is in no way going to lay the brunt of the blame for Buffalo's miserable 2016-17 season on the shoulders of Robin Lehner. Given the defensive corps he had playing in front of him this season, Lehner performed admirably.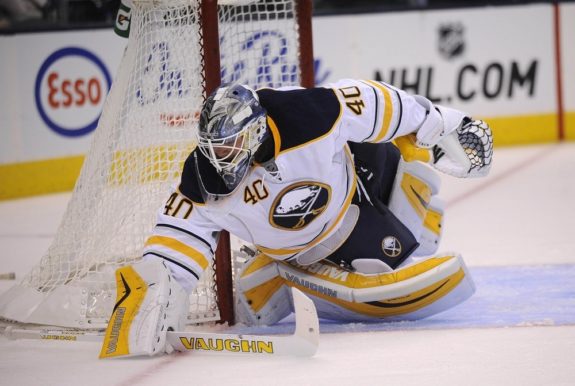 Although his GAA of 2.68 does not scream "No.1 goaltender," Lehner stopped 1758 of the 1910 shots he faced last season. Only two other goaltenders in the NHL faced more shots, and Lehner's save percentage of .920 ranked 26th in the NHL – and that includes 11 goalies who played less than 10 games in 2016-17.
It makes sense, then, that new GM Jason Botterill does not see the goaltending situation in Buffalo as a pressing matter, as he recently told Sportsnet:
I have no problem starting next season with [Lehner] in goal. There are more pressing needs. I liked what I saw from him when he won the Calder Cup.
Let's make it very clear: Lehner was NOT the problem for the Sabres in 2016-17.
Having said that, there is still good reason for Sabres fans to feel like Lehner is not the guy you want in net should they make the playoffs in the near future. For starters, he has been known to let his emotions get the best of him, and he often has a tough time getting out of his head. His 0-4 record in the shootout this season is not inspiring, but it gets worse: Lehner's save percentage in the shootout format was literally 0%. The man faced eight shots and surrendered eight goals. Fortunately, the NHL playoffs do not incorporate the shootout. . . but fans want to know that their goaltender has ice in his veins once the real season begins.
RELATED: Complete Sabres Salary Cap Information
Another factor that could erode the faith of fans and players: Lehner's penchant for allowing soft goals. There is nothing worse than watching a goaltender repeatedly surrender stoppable goals that kill momentum and suck the life out of the team and the crowd in the stands.
Super soft goal. Time to yank Robin Lehner.

— Bill Hoppe (@BillHoppeNHL) December 31, 2016
Long story short: it is true that the Sabres do not absolutely need to address goaltending this offseason. However, given the fact that Lehner only has one winning season on his resume and that his greatest claim to fame is winning the Calder Cup (is this seriously what Botterill decided to use in his defense of keeping Lehner?), it wouldn't hurt Botterill and company to consider making a play for a goaltender who may be better-suited to lead the Sabres to postseason success.
Enter Philipp Grubauer
There is no way to put this nicely: if the Las Vegas Golden Knights do not select Philipp Grubauer as the player they inherit from the Washington Capitals, everyone in the Golden Knights' front office should be fired on the spot.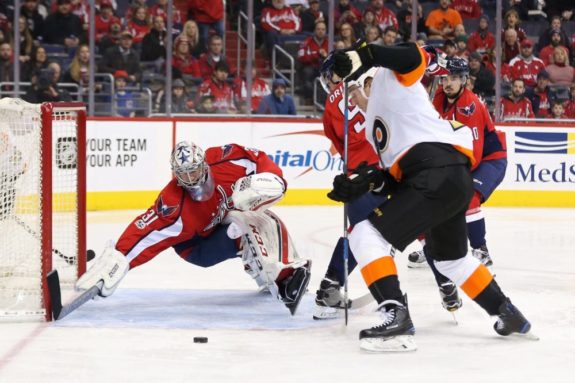 With Braden Holtby locked in as Washington's No.1 goaltender for the next three seasons, Grubauer will have a legitimate claim as the best goaltender in the expansion draft. The 25-year-old German has compiled a 28-21-8 record in Washington, with a career GAA of 2.25 and a save percentage of .926. He really came into his own in 2016-17, going 13-6-2 with career bests in GAA (2.06) and save percentage (.926). He also posted three shutouts last season, the first of what should be a long and successful career.
The most interesting aspect of Grubauer's 2016-17 campaign? His dependability when the Capitals were at even strength. According to Dave Stevenson over at Stars and Sticks, Grubauer held the third-best even strength save percentage among NHL goalies who had played at least 750 minutes last season, and, even better, he had the second-best goals against per 60 (GA60) at even strength, with a GA60 of 1.58. It's a smaller sample size than Lehner, to be sure, but those numbers are still pretty impressive.
As you would expect of someone with that much talent, Grubauer is not content to be Holtby's backup for the rest of this career, and is looking forward to becoming the No.1 goalie somewhere next season:
I would like to make a push or get a chance to start as a No. 1 goalie. I think that's the goal for anybody. Nobody wants to settle as a backup in this league. You want to go more, you want to play your own game, not sit on the bench. Hopefully, I've shown this year that I can be capable of doing that.
Sounds like the perfect candidate for the Las Vegas Golden Knights. . . unless a team can come in and find a way to convince Washington GM Brian McLellan to trade Grubauer before the expansion draft. Since the Capitals are destined to lose Grubauer for nothing anyway, it won't take much for McLellan to part ways with him. Picks? The rights to pending free agent Anders Nilsson? A prospect who is exempt from the expansion draft? There is no harm in Botterill asking McLellan his price.
Go on and admit it Sabres fans: you would sleep easier at night knowing that the goaltender who made this save is in nets if the Sabres ever make the playoffs in your lifetime.
The Aftermath
Should the Sabres make a trade for Grubauer, they would obviously protect him from the expansion draft, leaving both Lehner and Ullmark exposed. You have to think that the Golden Knights would grab either of those two goaltenders, but if either is chosen the Sabres would be left with a quality backup for Grubauer. There is no risk involved in reaching out to McLellan to see what he would want for Grubauer, and even a slight upgrade at the goalie position is just that, an upgrade.
Of course, this is all speculation, there is nothing right now that suggests the Sabres are questioning whether Lehner is worthy of the No. 1 designation. Still, he is a product of Tim Murray's regime, and everyone knows that new GMs like to come in and make the roster their own. It would not surprise me if Botterill brings in a new goalie, and he would be hard-pressed to find a better available goaltender than Grubauer.