For the second straight year, the Pittsburgh Penguins have a goaltender controversy in the Eastern Conference Final.
Coach Mike Sullivan pulled Marc-Andre Fleury in a 5-1 loss during Game 3. Fleury gave up four goals in the first 13 minutes Wednesday, which allowed Matt Murray to make his first appearance of the postseason. Pittsburgh relied heavily upon Murray during the regular season, and he was expected to start in the playoffs, but a lower-body injury he suffered in warm ups before Game 1 in the first round opened the door for Fleury.
Although the veteran has taken advantage of the opportunity, after a poor performance Monday, there's still a question of who should start Game 4. Truth be told, though, unless the Penguins begin fixing defensive problems and start scoring more than a goal per game, it won't matter which goaltender starts in net.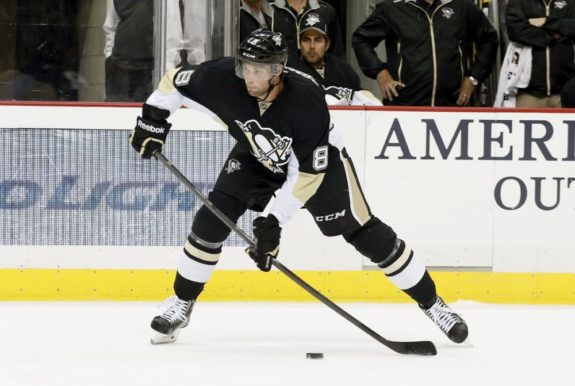 Defensive Breakdowns
All playoffs long, Pittsburgh has been a very slow starting team, as the first period hasn't been kind of the Penguins at all. And more recently, Pittsburgh hasn't possessed the proper energy level or desire needed in a playoff game. Wednesday was the third time in the last five games the Penguins were flat, and that's extremely concerning.
Just about everything went wrong in the first period for the Penguins on Monday. A bad bounce off the boards set up Mike Hoffman for an easy goal from a bad angle less than a minute into the game. Minutes later, defenseman Ian Cole accidentally deflected a puck into his own net. Fleury wasn't responsible for either but the rout was on.
The @Senators have scored two more since this one. #StanleyCup #PITvsOTT pic.twitter.com/wcG3BSI6zB

— NHL (@NHL) May 18, 2017
Failed clears and poor effort to the puck led to the next two goals, which both happened shortly thereafter. The fourth Senators tally was one Fleury might have been able to prevent had he been really sharp, but it was more the result of a bad defensive play from Brian Dumoulin.
With their third goal in 2:18, the @Senators have their fastest trio of tallies in franchise playoff history. #PITvsOTT #StanleyCup pic.twitter.com/HjoxipwWIO

— NHL (@NHL) May 18, 2017
Pittsburgh could have been facing this type of deficit routinely in the first two rounds if not for Fleury. Wednesday was a peak at what the Penguins now are if they don't get elite goaltending every night. And if those defensive problems aren't fixed, then it won't matter who plays in net. Both Fleury or Murray will be left out to dry.
Where Did the Goals Go?
All the sudden, the league's No. 1 offense has been reduced to just three goals in the last three games. Pittsburgh is just 1-for-14 on the power play in the last five contests, and the Penguins haven't scored more than two goals since Game 4 versus the Washington Capitals.
While injuries are certainly hurting play in the defensive zone, it's probably had a greater effect at the offensive end. Without Kris Letang and Justin Schultz out, the Penguins are missing their best two puck-moving defensemen, which is making it difficult to break out of the defensive zone cleanly and get out in transition. Trevor Daley, another usually strong puck-moving defenseman, is obviously less than 100 percent too.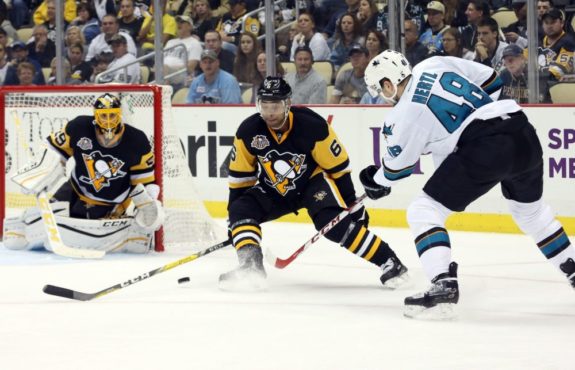 At forward, Pittsburgh is without Patric Hornqvist and Bryan Rust, both of whom are badly missed in an ugly-styled series such as this. Hornqvist is the Penguins' best net-front presence, which they need more of because Senators goaltender Craig Anderson is tracking the puck so well. Rust has a knack for clutch goals, so his services are badly needed in these next few games too.
With depleted depth, it's put even more pressure on the stars. Sidney Crosby, Evgeni Malkin and Phil Kessel have all scored, but only once each in the series, and no depth player has found the twine versus Ottawa. That must change if Pittsburgh is to win the series. Scoring is a much bigger issue than goaltending.
Fleury vs. Murray
Ok, but to answer everyone's biggest question — who should start in net for Game 4? Honestly, this isn't even a debate. It should be Fleury.
Last season, Sullivan turned to Fleury for Game 5 after Murray laid an egg in Game 4 versus the Tampa Bay Lightning. The argument then was that Fleury was the superior regular season goaltender in 2015-16 and played well in relief in Game 4.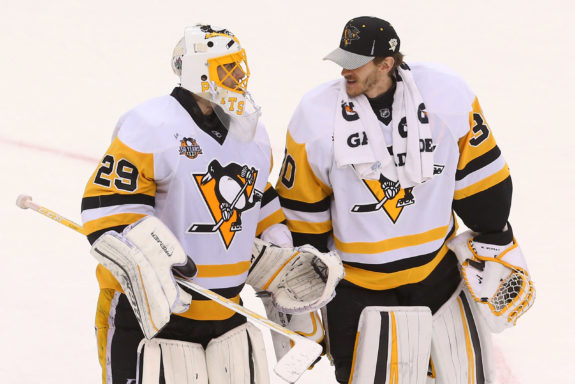 Well, it's virtually the same but in reverse. Murray came out to play well in relief Wednesday, but it's hard to really judge anything from that performance since the game was already over. Murray was the better regular-season goaltender, and Fleury was only playing because of injury.
Well, in Game 5 versus the Lightning last year, Fleury was spotty, and the Penguins lost in overtime. It turned out to be a mistake starting Murray. Sullivan would be making the same error turning to Murray for Game 4. Fleury is Pittsburgh's MVP this postseason, and it really isn't even close. He should receive the opportunity to prove Wednesday was a fluke.
Even if Sullivan goes with Murray, though, the Penguins can still win Game 4. Both goaltenders have led Pittsburgh to a Stanley Cup, so the team should have confidence in each netminder. However, neither can win if the Penguins don't clean up their defensive mistakes and begin scoring.