The popular discussion in Edmonton right now centers around trading forward Jordan Eberle, who's now the most polarizing player on the Edmonton Oilers. After a disastrous playoff, that saw the right winger post just two assists in 13 games, many are calling for his head and offering to drive him to the airport if that sweetens the deal to get him out of town.
Eberle's trade value is at an all-time low, and his inflated $6 million dollar cap hit doesn't help matters either. If the Oilers were to move Eberle, many believe they'd be receiving a negative value in return, retaining a substantial portion of his salary, and not getting anything close to equal value.
Regardless of Eberle's goalless drought through the playoffs, he still scored 20 goals in 2016-17 and had hit that plateau in each of his last five seasons. With goals getting harder to come by in today's NHL, believe it or not, there are aspects of his game that make him a desired commodity.
JORDAN EBERLE CAREER STATS

YEAR
GP
G
A
PTS
PTS/GP
+/-
PIM
S
TOI

2016-17

82

20

31

51

0.62

3

16

208

16:46

2015-16

69

25

22

47

0.68

-12

14

173

17:51

2014-15

81

24

39

63

0.78

-16

24

183

19:02

2013-14

80

28

37

65

0.81

-11

18

200

19:32

2012-13

48

16

21

37

0.77

-4

16

133

18:59

2011-12

78

34

42

76

0.97

4

10

180

17:35

2010-11

69

18

25

43

0.62

-12

22

158

17:40

TOTAL
507
165
217
382
0.75
-48
120
1235
–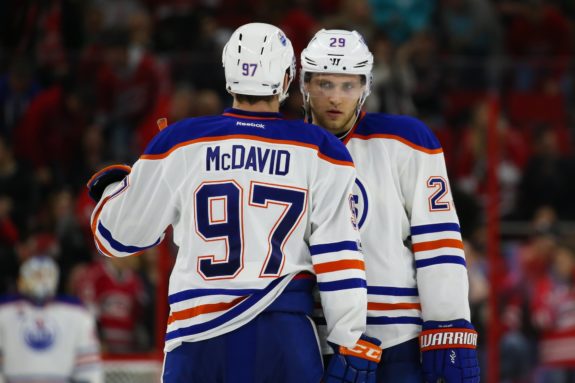 Mo' Money, Mo' Problems
With Connor McDavid (RFA, 2018) and Leon Draisaitl (RFA, 2017) needing extensions, Edmonton will be tight against the cap to retain everyone. Thus Eberle and Ryan Nugent-Hopkins may be on the way out, and it seems the favorable choice is to keep Nugent-Hopkins.
Keeping Nugent-Hopkins would give the Oilers a similar model to the Pittsburgh Penguins when they had Sidney Crosby, Evgeni Malkin, and Jordan Staal. They were able to create a different look up front against varying teams, either playing all three on separate lines or uniting two of the three on the same line periodically.
With Draisaitl swinging between the top line right wing spot with McDavid or anchoring his own line, Nugent-Hopkins creates for some favorable matchups for Edmonton.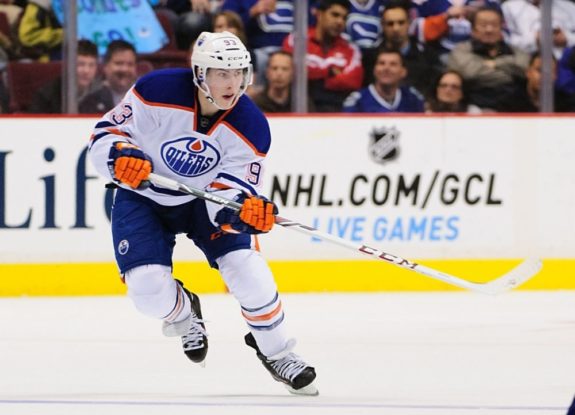 Eberle or Nugent-Hopkins?
Darren Dreger and Bob McKenzie of TSN reiterated the consensus talk about how much the Oilers valued Nugent-Hopkins, but the money for extensions to McDavid and Draisaitl has to come from somewhere.
Edmonton has roughly $22 million in cap space this summer, and it's really not much. If Draisaitl's next contract (approximately $7 million) and McDavid's extension (estimating $9 million, 2018) are accounted for, things get hairy for the team's cap situation.
PROJECTED LINEUP WITH CAP HITS

LEFT WING
CENTER

RIGHT WING

P. Maroon ($1.5M)

C. McDavid ($925K)

A. Slepyshev ($925K)

M. Lucic ($6.0M)

L. Draisaitl ($7.0M?)

Z. Kassian ($2.0M?)

D. Caggiula ($925K)

R. Nugent-Hopkins ($6.0M)

J. Eberle ($6.0M)

B. Pouliot ($4.0M)

M. Letestu ($1.8M)

T. Pitlick ($1M?)
The Oilers would have just $6 million to flesh out the remaining roster holes. McKenzie took it further by stating, point blank, that Edmonton can't be paying $6 million for a player who was almost a fourth-liner by the end of the Oilers' playoff run. At the end of the day, someone has to go.
If the Oilers covet Nugent-Hopkins as much as it's said they do, GM Peter Chiarelli will have to find creative ways to keep him. However, it's an exorbitant cost and luxury for a player of that caliber to anchor your third line.
Vegas & The Expansion Draft
One of the more wild scenarios is leaving Eberle unprotected for the expansion draft, giving the Vegas Golden Knights the chance to select him. Elliotte Friedman made this suggestion during an appearance on Oilers Now. The purpose is for cap flexibility and to create space for Draisaitl and McDavid's pay raises.
Jonathan Willis of Sportsnet took this one step further and thought that Golden Knights GM George McPhee should select him, only to flip him for a substantial return with Vegas retaining 50% of Eberle's salary for the remaining two years of the contract. It's an interesting scenario, but do the Oilers want to rid themselves of Eberle so badly that they'd be okay with losing him for nothing?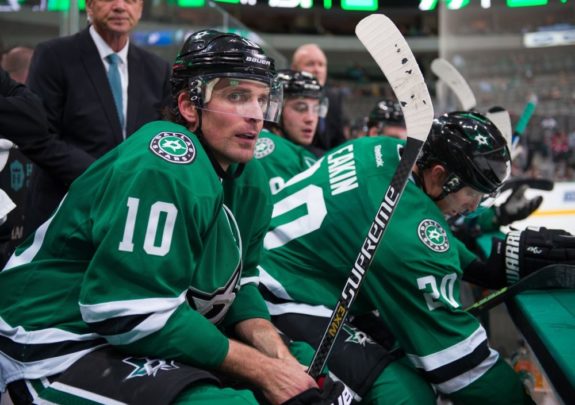 Potential Trade Partners
It's going to be difficult to move an expensive contract like Eberle's, but if Edmonton wants to maximize their return, they'll have several trade partners to negotiate with. Some teams Chiarelli should target are teams that need to reach the salary cap floor. David Staples of the Edmonton Journal suggested the Oilers target teams that one) have a hole at right wing and two) have the cap space to absorb a $6 million dollar salary.
Teams that come to mind are the Carolina Hurricanes, New Jersey Devils and eventually Vegas who would need to get over the NHL's salary cap floor for next season. Friedman also sees the Los Angeles Kings, NY Islanders and St. Louis Blues as trade partners. That said the Blues and Kings are tight against the cap and the Oilers would likely need to accept negative value or retain some of Eberle's salary in a trade.
POTENTIAL SUITORS FOR EBERLE

Buffalo Sabres

Carolina Hurricanes

Dallas Stars

Los Angeles Kings

New Jersey Devils

New York Islanders

St. Louis Blues

Vancouver Canucks

Vegas Golden Knights
One of the more sensible trade partners, as the Edmonton Journal's Jim Matheson puts it, is the Dallas Stars. After trading Patrick Eaves to Anaheim and with Patrick Sharp, Ales Hemsky and Jiri Hudler heading towards free agency, the Stars suddenly have a lack of depth on the right wing. Matheson also threw around the idea of swapping Eberle for Cody Eakin as a way of improving the Oilers' futile faceoff efforts. For what it's worth, there's merit to this.
Edmonton ranked last in faceoff wins (FOW%) with 47%, and Eakins' 52.3% was better than any of the Oilers centers this season. If Dallas thinks they'll lose Eakins in the expansion draft, why not work out a trade? Then again, there's always that wild scenario where Edmonton could reunite Eberle with former teammate Taylor Hall in New Jersey. Would the Oilers be interested in the now 34-year-old Ilya Kovalchuk who's returning from the KHL after a four-year absence from the NHL?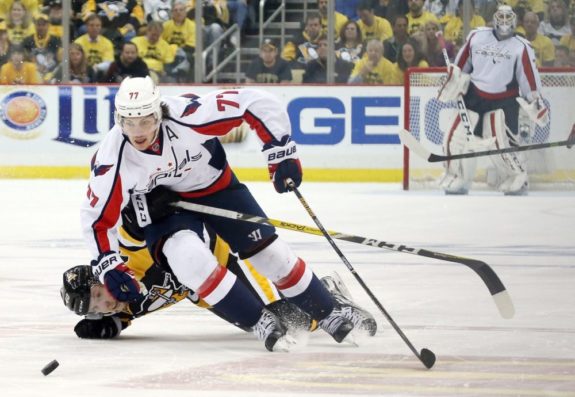 Parting Shots
A lot of Oilers players struggled during their playoff run, and right now Eberle is facing the most heat because the expectations were that much higher for him. That said, Edmonton can't keep McDavid, Draisaitl, Lucic, Nugent-Hopkins and Eberle together forever. Patrick Maroon should be getting a sizeable raise in two seasons from the paltry $1.5 million he's making now.
Exposing Benoit Pouliot in expansion or going through the buyout process gives the Oilers a minor relief of $4 million (or $2.6 million with a buyout). At the end of the day, if Edmonton wants to move Eberle, they need to find a way to replace or improve on the consistent 20-goal performances he's had year after year. One scenario could be targeting TJ Oshie who's likely headed towards free agency.
Oshie, 30, is coming off a 33 goal, 56 point season with the Washington Capitals. He's likely to get a long-term contract in free agency with a $6 million cap hit, which equals Eberle's, but there are creative ways for the Oilers to bring him on.
If the Oilers swap Eberle to the Stars for Eakin ($3.85 million) and then convince the Golden Knights to take Pouliot and a draft pick, they could find $6.2 million to fit Oshie in. That'd be an improvement on Eberle's 20 goals and gives the Oilers a bonafide playoff performer. Oshie's been one of Washington's best playoff performers (10 goals, 22 points in 25 games) over the last two seasons and would fill that need for Edmonton on the right side.
PROJECTED OILERS LINEUP

LEFT WING
CENTER

RIGHT WING

Patrick Maroon

Connor McDavid

TJ Oshie

Milan Lucic

Leon Draisaitl

Anton Slepyshev

Drake Caggiula

Cody Eakin

Zack Kassian

Jujhar Khaira

Mark Letestu

Tyler Pitlick
However, it would also mean that the Oilers would then have to move Nugent-Hopkins, regardless of how much they covet his two-way abilities. Eakins would fill some of that style, but you'd have to figure out what to do with Nugent-Hopkins and what the team needs, which is a right side offensive defenseman for the top four.
Edmonton must take advantage of the last entry-level (ELC) year of McDavid's contract, but going forward they will have to clear some of the mud around their salary cap problems. Teams can pay multiple players high salaries, but performance has to match those contracts, and there are too many players in Edmonton that aren't living up to their cost. If Chiarelli can replace the dollar value with players that are performing, it'll bring Edmonton that much closer to their first Stanley Cup since 1990.