After discussing the possible offseason changes to the Toronto Maple Leafs' defense, it only seems right to run through the rest of the team. Upgrading their defense is obviously a priority, but what about goaltending? Having depth is becoming more and more important in the NHL with how common injuries seem to be now. A team needs to be able to compete even without their star player in the lineup.
Frederik Andersen was, arguably, the Leafs' most important player this past season. He gave the team a chance to win every night and made up for their below-average defense. Andersen played 66 of the 82 regular season games while only missing a few games due to concussion concerns.
The rest of those games were mainly played by Curtis McElhinney, who played 10 games for the Leafs after being claimed off waivers from the Columbus Blue Jackets. He played well in those 10 games, but what if Andersen gets injured for an extended period of time? Can he be depended upon to play 20 or even 30 games?
[RELATED: Leafs Goaltenders Salary Cap & Contract Details]
Andersen played a lot this season, having played the second-most games this season for a goalie behind Cam Talbot. Coach Mike Babcock's use of a backup was just in the second game of a back-to-back. Otherwise, it was all on Andersen.
So the question for the Leafs is, who do they trust to back up Andersen?
Bringing Back McElhinney
With his contract expiring this summer, the easiest solution may be to just re-sign McElhinney. It may be the cheapest option when compared to any option in free agency, with his contract only being $800,000.
He's also put up some decent numbers as a career backup with a .914 save percentage and a 2.85 goals-against average during his time with the Leafs. There have been some seasons where he's had a save percentage below .900, but in recent years it's been around league average.
So the price is good and the stats are decent. The only question left is whether he can handle playing more games because of an injury to Andersen. The most games that McElhinney has started in a season was 28 with the Blue Jackets back in 2014-15. He also started 21 games the season before and had average numbers in both seasons. So it may be a small sample, but McElhinney has played well with a larger workload.
Bringing back McElhinney could work for the Leafs if they want to give Garret Sparks another year in the AHL. That's if management isn't ready for Sparks to make the jump to the NHL.
Time for Sparks?
It's only a matter of time for Sparks. He's at the point where there's not much else that he can do to prove himself. Sparks has played great and with consistency in his time with the Toronto Marlies.
This past season, Sparks played 31 games for the Marlies and finished with 21 wins, a 2.16 goals-against average and a .922 save percentage. His save percentage was also good enough for 10th in the AHL.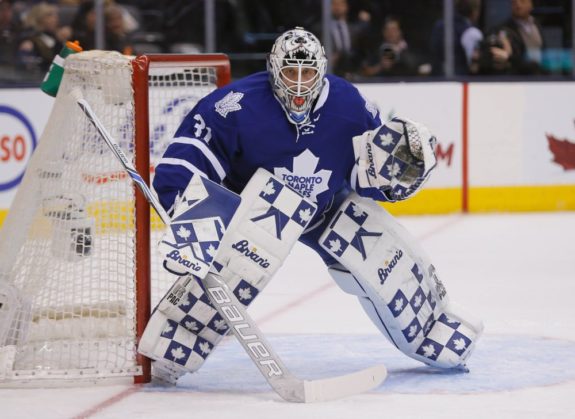 Sparks did have a stint in the NHL during the 2015-16 season, but it wasn't a good showcase of his ability. He played 17 games, had six wins, a goals-against average of 3.02 and a save percentage of .893. Although in defense of Sparks, that was the season when the Leafs finished dead-last in the NHL. So it's hard to hold him completely accountable for those awful stats.
With the way he's played in the AHL, it would at least be worth giving him another shot in the NHL. If for whatever reason the Leafs decide not to re-sign McElhinney, then Sparks could easily be a suitable replacement.
To the Goalie Market
Picking up a goalie from free agency is always an option, especially with how inexpensive the goalie market is at the moment. The only problem is that most of the goalies available have similar or worse numbers than McElhinney. His combined save percentage from his time this season with the Leafs and Blue Jackets puts him at .917—the second-best save percentage of unrestricted free agent goalies.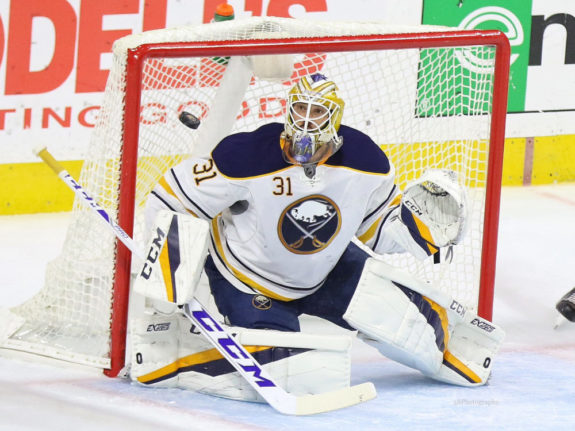 So in terms of stats, the Leafs are realistically fine with McElhinney. But if they wanted an upgrade then they might want to go after the Buffalo Sabres' Anders Nilsson. Appearing in 26 games this season, Nilsson had a .923 save percentage and a 2.67 goals-against average. His save percentage is good enough for 13th in the NHL out of goalies that have played at least 20 games.
The only problem with Nilsson is that with numbers like that, it's unlikely that Buffalo lets him go. Aside from Nilsson, the other free agent options aren't any better than McElhinney or even Sparks. The Leafs could potentially make a trade for a backup goalie, but with how McElhinney has played, it doesn't make sense to give up any assets for a goalie that would be just as good.
So ultimately, the backup goalie decision comes down to whether management feels that Sparks is ready to make the transition to the NHL. If they think he needs more time in the AHL, then McElhinney is the best choice to back up Andersen.