Ask any Buffalo Sabres fan what the number one job of the team's new GM should be (outside of hiring the right head coach, that is), and you are bound to get the following response:
Bring in a top-four defenseman.
It's the obvious response – after all, Buffalo allowed 2.82 goals per game, primarily because it allowed more shots per game than any other team in the NHL last season. Fans on Twitter, writers at this site, and professional journalists have been busy banging the drum, arguing that it is absolutely essential that the Sabres acquire an elite blue-liner in time for the 2017-18 season. Just last week, Mike Harrington over at The Buffalo News had this to say regarding the lucky guy who gets hired as the Sabres' new GM:
I don't care who ends up being the Sabres' new general manager. I've got the same message to all of them: Trade your first-round pick for an NHL-level defenseman. . . Putting the No. 8 pick in some sort of package with a defense-rich team like Anaheim or Minnesota, neither of which will be able to protect its entire back end in the expansion draft, is the obvious first move at hand and an immediate test for the man who claims Tim Murray's old chair.
Trading for an elite defenseman sure sounds like something the Buffalo Sabres should do this offseason, and Lord knows I have discussed this myself. . . but at the end of the day, the cost of trading for such a player will probably hurt the team far more than help.
True: the Sabres Have the Means to Make a Trade
This conversation would not even be worth having if the possibility of a trade that brought an elite defenseman into the 716 was slim to none, but on this point we can all agree: the Buffalo Sabres do have the means to make such a trade.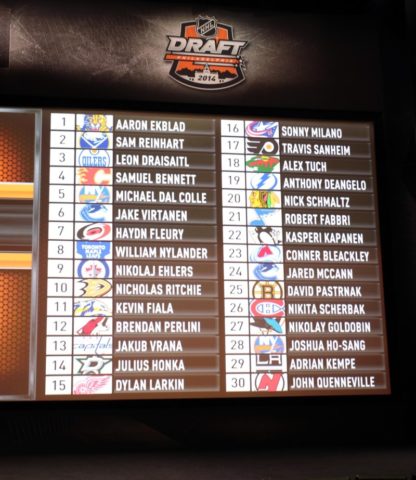 For starters, the expansion draft is going to force an awful lot of teams to make some tough decisions regarding some pretty good players, as our very own Ryan Wolfe pointed out. Anaheim, Columbus, Nashville, Minnesota – all of these teams have more defenseman than they can protect, and will be looking for ways to trade players rather than lose them for nothing via the expansion draft.
Add to this unique set of circumstances the fact that the Sabres own the eighth overall pick in the upcoming draft, plus a handful of players who appear to be ripe for trading in exchange for a stud at the blue line, and you have the perfect storm, right?
Well . . .
False: Elite Defensemen Will be Affordable due to the Expansion Draft
Yes: it is true that GMs around the league are going to be looking to get something for any quality player that might be exposed to the expansion draft.
No one wants to lose a quality player for nothing, especially a young defenseman who has top-4 potential. That goes without saying. Still, top-4 defensemen do not grow on trees, which is why the Sabres find themselves looking for one (or two, if they are being honest). A GM such as Bob Murray in Anaheim might not want to lose Josh Manson to expansion . . . but Murray's not going to hand him out for a handful of magic beans, either.
When the New Jersey Devils traded Adam Larsson to the Edmonton Oilers, they got former No.1 pick Taylor Hall in return. Think about that: Larsson, a defenseman who has never scored more than 24 points in an NHL season, cost the Oilers Hall, who has already scored 50+ points five times in his career, and who hit 80 points playing for the Oilers (67 points, third-to-last place in the NHL) in 2013-14.
Most recently, the St. Louis Blues shipped Kevin Shattenkirk to Washington in exchange for a 207 first-round draft pick, a conditional future second-round draft pick, and Zach Sanford, who was considered a top-20 prospect as recently as 2016. Remember: the Blues were about to lose Shattenkirk for nothing to free agency, much like all of the teams discussed earlier in this piece are about to lose players to nothing via the expansion draft.
Top-four defensemen are expensive, folks, even if a team is about to lose one for nothing.
Buffalo is too Thin All-Around to Survive Such a Trade
Having seen what it takes to trade for an elite defenseman, the question now becomes, "Can the Buffalo Sabres afford to make such a trade?"
The answer: technically, yes – if it wants to set itself back a few years.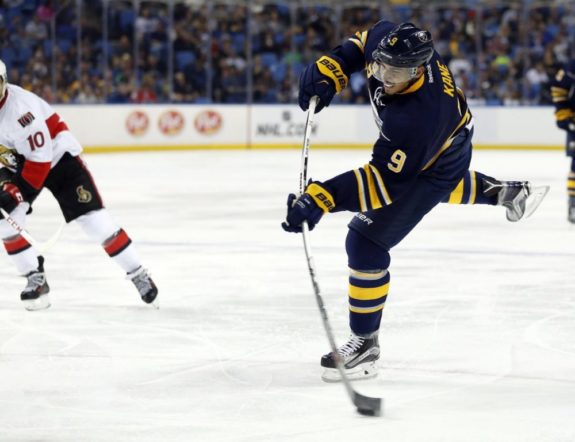 If the Sabres were looking to complete a straight-up, player-for-player trade, they would have to give up Jack Eichel, which we all know is not going to happen. Sorry, Sabres fans – Eichel is the only player on the team who could fetch a top-four defenseman by himself, so there go your dreams of trading Evander Kane straight-up for someone like Cam Fowler, Jonas Brodin or even Josh Manson.
Having ruled out a tit-for-tat deal, we find the Sabres are now in the same sort of situation that the Capitals found themselves in: trading many pieces simply to acquire one player. Again, it helps to remember that the Blues were able to flip Shattenkirk, a 28-year-old player who has never topped 50 points in a season, for a top-20 prospect and two additional picks, despite the fact that he is set to become a UFA in July. It stands to reason, then, that the Sabres are going to have to surrender a high pick, possibly a second or third round pick, AND a top-6 forward who is exempt from the draft in order to get a top-four blueliner.
Right off the bat, you can almost certainly rule Evander Kane out – most teams will be looking to add a player who is exempt from the draft, but since Kane is not exempt, he will need to be protected by whichever team acquires his services. It is true that there are some teams out there who might have the luxury of being able to protect Kane, but teams such as Anaheim, Nashville, Columbus and Minnesota – the teams most likely to be looking to move a potential top-four defenseman – do not. Even if there is a team out there who could afford to protect Kane, shipping him out of town deprives the Sabres of its leading goal-scorer last season – who in Buffalo's system is equipped to come in and replace Kane's 28 goals next season? Certainly no one in Buffalo's current pool of prospects.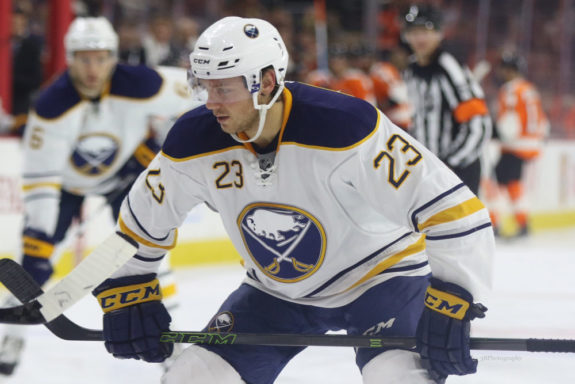 That leaves us with the other top-6 forward the Sabres could use as trade bait: Sam Reinhart. Now, while I did explain why the "Trade Reinhart" talk is not crazy, and while Reinhart is exempt from the expansion draft, making him very desirable to a team such as Anaheim, trading him is certainly is not a popular opinion, for obvious reasons. It is not like the Sabres are loaded with top-6 talent in their system; if Buffalo is ill-equipped to replace Evander Kane, they are even less equipped to replace Reinhart, whose ceiling is actually higher. Alexander Nylander appears to have promise, but he is still a year or two away from being NHL-ready, and besides: there are some who believe it would cost the Sabres Reinhart AND Nylander to acquire a truly elite blue-liner. Anyone a fan of trading not only Buffalo's third-leading scorer last season, but also the only guy who might be able to replace him, too? Didn't think so.
It is true that the looming expansion draft could result in some very young and talented defensemen who would not normally be traded getting relocated as teams try to protect their best interests. If a team is desperate enough to move a quality blue-liner at a reduced cost, then obviously the Buffalo Sabres should pounce. However, with all 30 teams looking to take advantage of such a unique situation, it is tough to envision a scenario in which the Sabres can afford to trade for a top-4 defenseman, without opening a large hole elsewhere in its roster.