No matter how things play out in their New Year's Eve tilt with the Vancouver Canucks, the Edmonton Oilers will close out 2016 as a playoff team in the Western Conference. For a franchise that has not come close to claiming a post-season berth since their run to the Stanley Cup Final in 2006, this can only be viewed as a step in the right direction and one that was long overdue. So much so that, if the Oilers were to miss out on qualifying for the playoffs by season's end, it would be viewed by most as a surprise.
EDM has won the last 3 games in which McDavid has been held off scoresheet. Hasn't been this far above .500 since March 2009 (35-27-9).

— Jack Michaels (@EdmontonJack) December 30, 2016
Instead of having to scrape and claw their way to stay in the hunt for a spot in the post-season, Edmonton has positioned themselves to be the hunted, instead of the hunter. So what gives? In order for a club that most picked to be at best a bubble team in the west, something has to have changed. Like most teams, the Oilers have had key players contribute throughout the year and it has led to more points in the standings.
Two-Headed Monster Upfront
There is no question the quartet of Leon Draisaitl, Connor McDavid, Andrej Sekera and Cam Talbot have done much of the heavy lifting over the course of the past two and half months but this team has far too many points for those individuals to be the sole reason. Where the biggest difference seems to be, is there are only a handful of guys who have performed well below expectations. Outside of Benoit Pouliot and backup goaltender Jonas Gustavsson, no player has been a hindrance to this lineup and they are far better off for it.
Mentioned that Jordan Eberle has been a strong 2nd half player. Check out these #'s courtesy @NateInVegas https://t.co/pRxnMX3KD5

— Bob Stauffer (@Bob_Stauffer) December 30, 2016
Have the likes of Jordan Eberle, Oscar Klefbom, Adam Larsson, Milan Lucic and Ryan Nugent-Hopkins been as effective as everyone had hoped? Not at all but they have still managed to contribute in one form or another.
At the other end of the spectrum, the group consisting of Matt Benning, Eric Gryba, Zack Kassian, Mark Letestu, Patrick Maroon, Darnell Nurse, Tyler Pitlick and Kris Russell have all been better than expected. With essentially three-quarters of the roster bringing something tangible to the table on most nights, opposing teams can no longer look at the Oilers as "guaranteed win night" on their schedules.
Despite still lacking a true top pairing on the back-end, this defence is equipped to at least give itself a fighting chance over the course of an 82-game regular season. Are there still issues? You could argue that outside of Sekera, the other supposed top-four blueliners on the roster have all had their fair share of ups and downs. However, where the blue line as a whole was not capable of dealing with any kind of slip in play in previous seasons, this group is far more resilient and adaptable to overcome shortfalls along the way.
Veteran Additions Have Helped
Has the play of Larsson warranted the price Peter Chiarelli had to pay in order to bring him on board? Not at all but the big Swede has brought a dimension this back-end has been lacking for ages. His ability to defend and play a nasty brand of hockey has been a welcome addition and subsequently allowed the coaching staff to lighten the load on their inexperienced defenders. Same goes for Russell, who tends to struggle on the analytics side of the equation but his presence has helped the group as a whole…despite what some will tell you.
https://twitter.com/SportsnetSpec/status/806361421823021056
Would they benefit from a few more guys who could transition the puck up ice more effectively and help out on the man advantage? Without question but this is still a work in progress and the defence has been far more effective than this writer thought they would be 2016-17.
Luckily, their netminder has been anywhere from solid to outstanding on most nights and has helped erase more than a few blunders along the way. Is that not part of the job description of being a No. 1, though? For me it is, and Talbot has held up his end of the bargain while carrying the heaviest workload of any goaltender in the league.
As far as the forwards go, it has been a mixed bag. The duo of Draisaitl and McDavid have been carrying the mail all year-long but almost everyone has contributed something along the way.
Even a guy like Pouliot who is in the midst of the worst year in his career has managed to chip with five goals and looked fantastic playing alongside a pair of rookies in Drake Caggiula and Jesse Puljujarvi on Friday night against the Los Angeles Kings. By no means has it been perfect but no one should have been expecting it to be.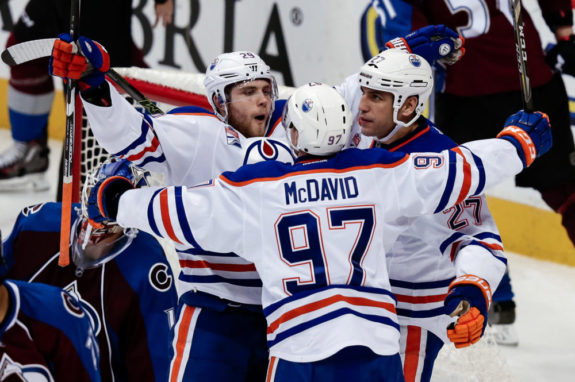 Oilers Still Lack Third Line Centre
Even if the club had decided to keep Taylor Hall, this team was still short a top-six winger or third-line centre. As yours truly has been driving the Draisaitl on the wing bus since the summer, simply to ensure he saw consistent time on one the top two lines, Chiarelli should have gone out and found a legit veteran third-line centre.
That never happened and there is a hole in this lineup because of it. Could it be filled by the trade deadline? Perhaps, and while it has made life difficult for his head coach from time to time, it hasn't cost them as many points in the standings as it could have.
"That's all stuff in the past. We're a new team… We're confident coming into these games." @ebs_14 on snapping rough streak vs. LA pic.twitter.com/qE6iYmOtB5

— Edmonton Oilers (@EdmontonOilers) December 30, 2016
Add to that a power play that has worked its way inside the top-ten in the league, even without a quarterback to anchor it along the blue line, a penalty kill that is just outside and their improvement in the standings seems a little more plausible. No matter how slice it, the fact the Edmonton Oilers are firmly entrenched in a battle for the Pacific Division crown with the Anaheim Ducks and San Jose Sharks on December 31 is awfully surprising. But what is even more shocking, is they deserve to be exactly where they are.