The Tampa Bay Lightning faceoff against the Carolina Hurricanes on Saturday, in the second of three matchups between the teams in the 2016-17 regular season.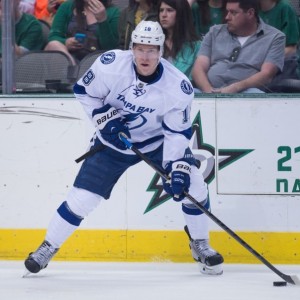 The Lightning have earned 10 points in their past eight games and are coming off of a 3-2 overtime loss against the Toronto Maple Leafs on Thursday. In the tail end of back-to-back games for Tampa Bay, they came back from a two-goal deficit to tie the game before falling in the extra session.
The Lightning had also been down by a pair of goals against the Montreal Canadiens the night before, but battled back to tie the game and secure the win in overtime, 4-3. Their ability to battle back and tie games after falling behind is an encouraging sign for a Lightning team that has struggled win games in December (just five of 13 contests) as they battle injuries to many key players as they approach the midway point of the season.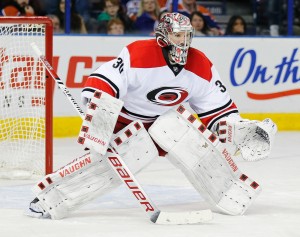 The Hurricanes enter Saturday's game having won five of their past eight games, including a big 3-2 win over the Chicago Blackhawks on Friday. Goaltender Cam Ward has been a major factor behind their success of late, as he's started all but one game in that span. He enters Saturday's game with a 13-9-6 record and a 2.26 goals-against average and .917 save percentage.
Despite their success lately, the Hurricanes have struggled on the road, posting just five wins in 20 games this season.
Both teams are seeking to earn a pair of points as they play their last game before the start of the new year.
---
Carolina Hurricanes at Tampa Bay Lightning
Amalie Arena – 7:00 p.m. EST
Broadcast Channels – Fox Sports Sun, FS-CR
2016-17 Season Series: Carolina leads 1-0-0 (Dec. 4: 1-0 OT)
Carolina Hurricanes – 16-12-7 – 39 Points
Road Record: 5-9-6
Hot Players: Sebastian Aho, Cam Ward
Key Injuries: Bryan Bickell (Multiple Sclerosis), Justin Faulk (lower-body)
Projected lines*:
Forwards
Jeff Skinner – Victor Rask – Derek Ryan
Joakim Nordstrom – Jordan Staal – Elias Lindholm**
Sebastian Aho – Teuvo Teravainen – Lee Stempniak
Brock McGinn – Jay McClement – Viktor Stalberg
Defense
Jaccob Slavin – Brett Pesce
Noah Hanifin – Ron Hainsey
Ryan Murphy – Klas Dahlbeck
Starting Goaltender
Cam Ward
*These line combinations are subject to change. If Ward does not start on tail end of the Hurricanes' back-to-back, goaltender Michael Leighton will get the call.
**Lindholm left Friday's game with an upper-body injury and did not return. There has not been an official announcement made about his status against the Lightning.
Tampa Bay Lightning – 18-15-4 – 40 Points
Home Record: 10-5-2
Hot Players: Jonathan Drouin, Victor Hedman, Ondrej Palat
Key Injuries: Ben Bishop (lower-body), Ryan Callahan (lower-body), Vladislav Namestnikov (upper-body), Cedric Paquette (lower-body), Brayden Point (upper-body), Steven Stamkos (right knee)
Projected lines***:
Forwards
Ondrej Palat – Vladislav Namestnikov**** – Nikita Kucherov
Brian Boyle – Valtteri Filppula – Jonathan Drouin
Alex Killorn – Matthew Peca – Yanni Gourde
Michael Bournival – J.T. Brown – Nikita Nesterov
Defense
Victor Hedman – Anton Stralman
Jason Garrison – Slater Koekkoek
Braydon-Coburn – Andrej Sustr
Starting Goaltender
Andrei Vasilevskiy
***These line combinations are based upon the team's morning skate on Saturday.
****Namestnikov skated with Kucherov and Palat at the morning skate as Johnson did not participate. Cooper said Johnson was not feeling well but "should be okay" for the game, according to the Tampa Bay Times' Joe Smith.
[irp]
---
Game Notes
[miptheme_dropcap style="normal" color="#222222″ background=""]1)[/miptheme_dropcap] The Lightning were 0-for-5 on the power play when they faced the Hurricanes back on Dec. 4. Tampa Bay boasts the third-best power play in the NHL, with a 22.6-percent success rate. However, they were held scoreless in five attempts against the Maple Leafs on Friday. The Hurricanes have the league's number one penalty-killing unit (90.7-percent), so if the Lightning are able are able to score with the man advantage, it could be a deciding factor in the game.
[miptheme_dropcap style="normal" color="#222222″ background=""]2)[/miptheme_dropcap] The Hurricanes are lead in scoring by forward Jeff Skinner who has tallied 13 goals and 14 assists in 34 games this season. He's especially dangerous on the power play, as he uses his speed to create opportunities with open ice and leads the team with 11 points in those situations.
[miptheme_dropcap style="normal" color="#222222″ background=""]3)[/miptheme_dropcap] Ward has been the difference for the Hurricanes' recent string of success, as the 32-year-old goaltender has yielded just nine goals in his past five starts. He's in his 12th season with the Hurricanes and has been a major factor in their highs and lows during that span, including a Conn Smythe performance when he backstopped the Hurricanes to a Stanley Cup in 2006.
[miptheme_dropcap style="normal" color="#222222″ background=""]4)[/miptheme_dropcap] The Lightning's Ondrej Palat has three points in the past two games since his return from injury on Wednesday. Palat has struggled offensively in the early part of the season despite working hard and continuing to play a reliable game on the defensive side of the puck. He's been reunited on a line with Tyler Johnson and Nikita Kucherov since his return and they have been the team's most productive unit the last two contests.
[miptheme_dropcap style="normal" color="#222222″ background=""]5)[/miptheme_dropcap] Tampa Bay Lightning forward Yanni Gourde made his season debut with the Lightning on Thursday. The 25-year-old forward was recalled by the Lightning from the Syracuse Crunch (American Hockey League) earlier that day and played just under 10 minutes and registered one shot on goal. He showed great speed and played with high energy during 14 shifts. He's lead the Crunch in goals (10) and is second with 26 points in 29 AHL this season, so he can be a scoring threat outside of Tampa Bay's usual offensive weapons.
---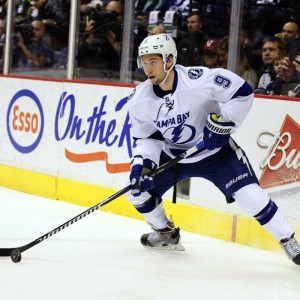 The Hurricanes enter Saturday's game on the back end of back-to-back games, having played at home against Chicago and traveled to Tampa on Friday night. The Lightning have not played since Thursday and had the day off Friday before the team's morning skate on Saturday. It will be important for the Lightning to take advantage of that extra rest in a strong start during the first period.
As good as Ward has been playing recently, the Lightning need to take a lot of shots on goal to test him often — 30 shots weren't enough last time around between the clubs, as they were unable to find the back of the net against him.
Despite Tampa Bay's strong power play, the Hurricanes' penalty-killing unit will be a tough one to score against, meaning even strength offensive opportunities may be what makes the difference in the game for the Lightning.