It's been a frustrating month for the Carolina Hurricanes captain.
Eric Staal, a four-time NHL All-Star, has struggled mightily thus far in the 2011-12 campaign, accumulating a mere three goals and two assists in nine games. His -9 plus/minus rating is the worst in the league, and his face-off percentage is a disappointing 43.2%. Perhaps most concerning is Staal's ineffectiveness at even-strength; all three of his goals have come on the power-play.
With a reserved personality, Staal has always led by example. You'll rarely see him yell or show much emotion; that's not who he is. A man of few words, the eldest brother of four is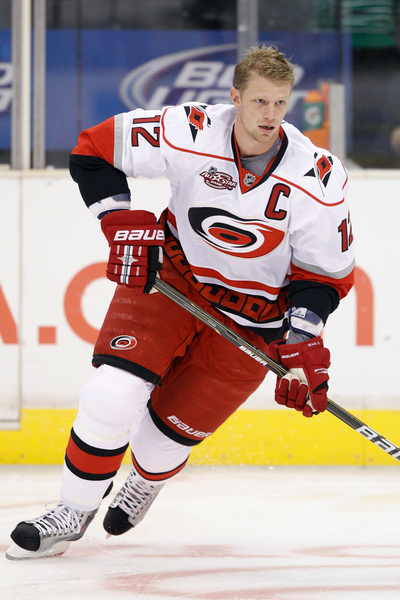 expected to inspire with his performance on the ice. While his work ethic cannot be questioned, effort alone is not enough at this point, especially with a difficult schedule on the horizon. If the former second overall draft pick doesn't start scoring goals at his usual pace, it could spell trouble for Carolina.
It's difficult to pinpoint what has caused the drop-off in Staal's production, but no change from last year has been more noticeable than the players skating alongside him. The absence of Erik Cole — who signed with Montreal in the off-season — has been conspicuous, and no one has been affected by his departure more than the Hurricane captain. The two had excellent chemistry, and Coach Paul Maurice has yet to find anyone on his roster capable of developing a similar rapport with Staal.
Without his former right-hand man, Staal has played with four different forwards in the past nine games: Alexei Ponikarovsky, Jeff Skinner, Chad LaRose and Tuomo Ruutu. Skinner is the only one in that group that truly deserves a spot on a scoring line, a testament to the Hurricanes' lack of depth up front. Ponikarovsky, who was signed to compensate for the loss of Cole, has given no indication he is worthy of the hefty contract he signed in the summer. With only five goals in 61 games last year and a paltry two points so far this season, it's clear the Ukraine native isn't fit for a top-six role. LaRose does not have the skill to play with Staal, and Ruutu — despite being a perfectly adequate NHL forward — is not an ideal solution. While Staal's inadequate play falls on himself first and foremost, he deserves a better supporting cast.
His slow start notwithstanding, there is reason to believe that Staal can turn his season around. His 30 shots on goal lead the Hurricanes and are good for ninth in the league. It would be far more concerning if Staal wasn't creating scoring chances, but he may just be snake-bitten. It is possible that he has a breakout game in the near future and returns to form, but his slow start is definitely reason to worry.
Staal will have a chance to redeem himself this Friday when the Chicago Blackhawks visit the RBC Center.
Follow me on Twitter: @andrewhirsh