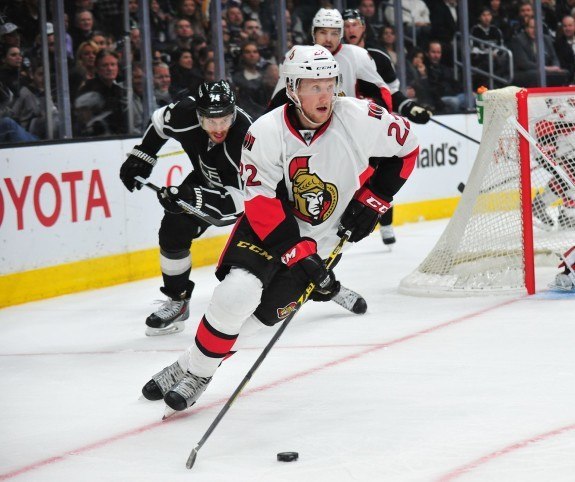 Former Ottawa Senator, Erik Condra, has signed a three-year, $1.25 million annual average deal with the Tampa Bay Lightning, according to Darren Dreger.
Condra to Tampa BAy 3 yrs. aav $1.25 mil.

— Darren Dreger (@DarrenDreger) July 1, 2015
The 28-year-old winger has spent his entire career in Canada's capital, but will now make his home in sunny Florida of the United States.
Condra has scored 87 points in 299 games with the Senators while earning a plus-26 rating. He averages 13:35 TOI a night and carries a 52.9% corsi to his credit. Given these statistics, the term and pay are quite fair to the Lightning organization.
While Condra played almost exclusively in Ottawa's bottom-six group, he still has the ability to make an impact in a game. Star players scoring is great, but it's fantastic depth that leads to championships. By adding Condra, the Lighting are one step closer to being the deepest team in the league.
The winger spent considerable time on the Senator's penalty kill, an area that Tampa Bay is looking to improve on next season. Although the club ranked ninth in the NHL in that PK%, they would like to move into the top-five in the league to help their chances of another deep run for Lord Stanley's Cup.
The Trenton, Michigan native was drafted 211th overall in the 2006 NHL Entry Draft. Against all odds, the late pick rose to the NHL level and established himself as a steady part of the Senators' lineup.
Follow today's free-agent action on THW Free Agent Tracker.
More Recent News
[catlist categorypage="yes" numberposts=3 excludeposts=this]