Barret Jackman is trading one Central Division team for another as the defenseman signed a two-year, $4 million deal deal according to Hockey Night in Canada and Sportsnet's Elliotte Friedman.
https://twitter.com/FriedgeHNIC/status/616294107170926592
The salary cap hit will be $2 million per season.
Jackman has played his entire 12-year NHL career with the St. Louis Blues and has a career total of 28 goals and 153 assists. Jackman generated 15 points in each of the last two seasons. He is the winner of the 2003 Calder Trophy for the top rookie.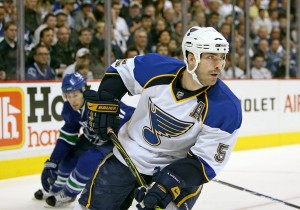 It looks like the Blues are going to continue to overhaul their defense as they sank a lot of money into Alex Pietrangelo. St. Louis is also trying to make sure it has enough money to get superstar Vladimir Tarasenko.
It looks like the Blues were prepared to move on from Jackman, who has gotten mixed reviews from fans in the last few years. However, there's no argument that he's done a lot for the St. Louis community, as he helps out with David Backes' Athletes for Animals charity among others.
The Predators add another strong defensive piece to a team that already boasts one of the better defensive groups in the league with Shea Weber, Roman Josi, Seth Jones and Ryan Ellis. The Predators do have to worry about re-signing Jones after his entry-level contract runs out.
Jackman is a stay-at-home defenseman that brings the body and he's also not afraid to drop the gloves when needed.
The meetings between the Predators and Blues could be fairly interesting with that added storyline of the Jackman vs. his old club thrown into the mix.
RELATED: Moving On from Barret Jackman
Follow all of Wednesday's free agent signings with The Hockey Writers' Free Agent Tracker.
Recent Predators Posts
[catlist categorypage="yes" numberposts=3 excludeposts=this]