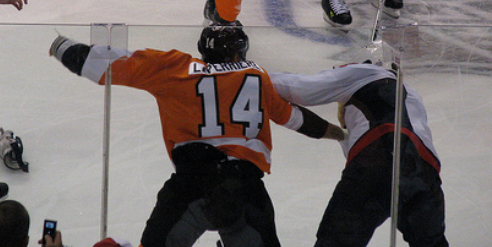 LOS ANGELES — Prior to their game against the New Jersey Devils on October 30 at Staples Center in Los Angeles, the Los Angeles Kings honored former Kings defenseman and team captain Mattias Norstrom, who was a stalwart warrior on the Kings' blue line for eleven seasons until he was traded to the Dallas Stars in a trade deadline deal on February 27, 2007.
Several of Norstrom's former Kings teammates were present for the pre-game ceremony, including defensemen Rob Blake and Mathieu Schneider, forwards Derek Armstrong, Nelson Emerson, Glen Murray and Luc Robitaille, and goaltender Jamie Storr.
Another was forward Ian Laperriere, who was acquired by the Kings in the same deal with the New York Rangers that sent Norstrom to the Kings.
"[The ceremony was a] great thing for a great player, a great teammate," said Laperriere, who was a fan favorite in Los Angeles and received a raucous ovation when he was introduced. "He's been a friend for years. I'm just glad I was able to make it."
Laperriere said that he played with very few players who could match Norstrom's work ethic, dedication or intensity, and added that such players seem to be a dying breed.
"In today's game, you see less and less of those guys," Laperriere lamented. "They're dinosaurs. I'm privileged to have been able to play a bunch of years with Matty."
Although the night, even for Laperriere, was supposed to be focused on Norstrom, at least for a few minutes, the concern was for Laperriere's health and well-being, not to mention his future.
Last season with the Philadelphia Flyers, he suffered a brain contusion, a fractured orbital bone above his right eye, and a concussion after blocking a shot with his face during the first round of the playoffs against the Devils.
He missed some games, but returned in the second round and played through the Stanley Cup finals, which he now says was a mistake.
"I got caught in the moment," he said. "I kind of lied to myself to be part of that Stanley Cup run, and I was lucky enough not to get hit again."
Laperriere sat out the Flyers' 2010 training camp and is not at all close to being healthy enough to even consider returning to action.
"[I'm] not that close," he explained. "The lights are what irritated me quite a bit. When you're out there, that's what it is, lights and movement, and that's what I can't deal with. Regular every day stuff—I'm fine with my kids at home."
"I'm all right," he elaborated. "Not that great, obviously, since I'm standing here in front of you [in Los Angeles while the Flyers were hosting the New York Islanders]. But it's part of the injury I had and I've got to deal with it."
Laperriere is working out, but has not been skating at all.
"I'm working out," said Laperriere. "I'm not skating—[the pre-game ceremony in which Norstrom's teammates skated onto the ice] was the first time on the ice for me today in a month-and-a-half."
"I've been working out because I'm a big believer that even with a concussion, I want to stay fit—if I put on thirty pounds I'm going to be dizzy," added Laperriere. "If I don't feel right, I don't work out. But I've been feeling pretty good working out."
Unlike last spring, Laperriere's priorities are different now.
"This year, I've got to be smarter," Laperriere stressed. "Right now, I just want to feel better. The truth is, I don't even think about hockey right now. I just want to feel [like] myself again for my family."
"I don't even miss the game right now because I know I don't feel right, and I'd be putting my life at risk being out there right now," Laperriere added. "I've got two little boys who need their Dad for a quite a bit of years. That's why I've got to be smart about this."
Given his physical, reckless style of play, Laperriere runs a greater risk of injury than many players. Fortunately, for his own sake, he knows that all too well.
"One of my biggest fears is not when, but if I get hit again, and the way I play, it's [just] a matter of time," he noted. "Punches or hits or anything, I have to be smart about that."
Acknowledging that his NHL career might be over, Laperriere changed his tune a bit, but said that he has no regrets.
"I miss [his teammates]," he said. "I still see them. I'm [living] in Philly, so I go to the rink pretty much every day. I get there when they leave and I get to talk to the boys."
"I miss it quite a bit," Laperriere admitted. "But it is what it is. It's tough, but I'll be 37 in January. It's not like I'm 22. I played a long time. I don't regret anything. If I was 22, I'd probably have a different speech right now. If this is it, I played a long time, I had a great time, and I met a lot of great people."
"I just go day by day right now. I just want to get better. We'll see where the future is going to take me."