The National Hockey League offseason has once again forced front offices to make hard choices and let go of some key personnel. The Chicago Blackhawks were once again forced to disassemble a Stanley Cup-winning team for the second time in five years because of the hard salary cap.
I was having a conversation with my good friend and fan Ryan Petrynka on how the cap has made life miserable for great drafters like Stan Bowman in Chicago. Petrynka wished there were a way teams could not get penalized for having good scouts.
Making decisions on who stays and who goes has been around since the inception of the game. However, it's even in the salary cap era. Teams that draft well, like Chicago, are often forced into these positions more often than not. Teams make all the right moves in the draft shouldn't be punished for it.
RELATED: Salary Cap Set for 2014-15 Season
However, what's the solution to this problem? The hard cap has forced large-market teams like the New York Rangers to actually develop talent instead of handing out checks to players that are past their prime. See: Markus Naslund.
Could the NHL take a page from the National Basketball Association and use cap exceptions so teams can keep their homegrown talent?
Explaining Exceptions
The world of the NBA salary cap exceptions is a hard one to delve into. Even the most versed cap-wizard can get tripped up on the number of exceptions that show how much money can be used (this chart provided by good friend Joe Manganiello, @thatjoemags, does a decent job at trying to break this down.)
The main exception hoops fans are familiar with is the "Larry Bird Exception" that allows a team to go over the cap to try to sign someone that's been there at least three years without going on waivers. The NHL Players Association proposed an NBA-like exception, but that was a "non-starter" according to the league and didn't make it into the most recent collective bargaining agreement.
The exception would allow teams to circumnavigate the rigid cap, and the owners weren't a fan of money being tied to players that aren't producing.
Applying the Exception – Big Market
The Blackhawks' scenario is similar to one the Oklahoma City Thunder of the NBA had when the team drafted Kevin Durant, Russell Westbrook and James Harden in consecutive years. The club made the decision to deal Harden because they didn't want to pay the NBA's luxury tax.
Harden was dealt to Houston and blossomed into one of the elite scorers in the NBA. Oklahoma City fell on hard times and missed the postseason and cost Coach Scott Brooks his job.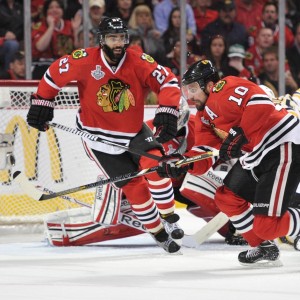 If there was a salary-cap exception, the Blackhawks could have done what the San Antonio Spurs did in free agency this offseason. The Spurs waited for the players on their roster to enter into free agency in order to sign Portland superstar LaMarcus Aldridge. San Antonio then used the exceptions to bring back Tim Duncan and Manu Ginobili by performing some cap gymnastics.
The Spurs have been so good for so long, that players are willing to take less money to win a title like David West did. He passed up $11 million that other clubs offered him to play in San Antonio and go for a league championship.
Imagine if the Blackhawks were allowed to use an exception to keep someone like Patrick Sharp or Johnny Oduya? Chicago still would've been able to trim some of the fat from their championship team, but the blow could've been softened. I'm sure a few players would take less money to go to a place like Chicago, New York or any other successful team.
Applying the Exception- Small Market
The exception wouldn't be used as a tool for big market teams to hoard all of their star players. One smaller market team that could use the exception is the Nashville Predators.
The Preds are going to face a bit of a quandary next offseason when three of their key players in Seth Jones, Filip Forsberg and Mattias Ekholm all come off of their entry-level deals and become restricted free agents. Nashville does have a decent amount of cap space, but aren't a team that likes to be up against the cap.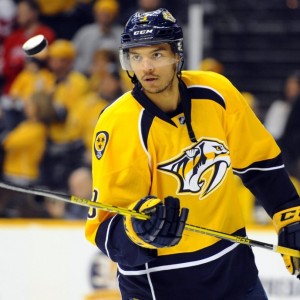 General manager David Poile has been shrewd on where the team spends its money, but there's going to be some hard decisions with all of the young talent champing at the bit. Being able to use an exception would be very helpful to the club.
Since there is no exception, there has been some, including yours truly, speculating on if the Predators should deal their captain, Shea Weber.
The Verdict
An exception seems like an easy fix for this situation, but it could open a whole can of worms. There is some fancy math that NBA teams have to do in order to stay cap compliant (the Spurs' cap people deserve a medal for their cap management).
If there's a way to keep the system simple, it might work. The NBA exceptions were very hard to follow, and I needed a couple of read-throughs to somewhat grasp it. However, the next CBA won't be until 2021-22 and a lot can change by then. The cap could keep going up and that could take care of some of these problems.
I'd like a way for teams to be rewarded for good drafting, but it's going to take some work from both the players and the owners to get a system that works for everyone.
What do you think? Leave your comments and suggestions below.
Dan Mount is a Nashville Predators staff writer for The Hockey Writers. You can follow him on Twitter, @DanMountSports.
Covered hockey since attending SUNY Oswego in Upstate New York in the early 2000s. Has written about college, major junior and professional hockey for the last five years.
Resides in Watertown, NY.