Previously, we took a look at which players might be on their way out of Boston at the NHL Trade Deadline.  This time around, we'll take a look at the players that could be joining the Boston Bruins.  If the Bruins choose to go the trade route, the primary area of focus will be a veteran, defensive defenseman that can log big minutes.  The Bruins have plenty of young, offensive defensemen, so the driving force behind a move would be to balance out the group.
Although there are plenty of players that would fit the bill, there are four key factors to keep in mind.  First, the Bruins have a tight budget for the rest of this season and next season, in spite of the fact that the salary cap is going up next year.  For this reason, a player on an expiring deal or short money going forward would be the preference.
Second, Peter Chiarelli does not intend to trade any of his current NHL roster.  This is somewhat limiting for the Bruins, but not enough to prevent a move from happening.
Third, the NHL's new playoff format has created more "contenders" than in years past.  The top three teams from each division are guaranteed a playoff spot, with two, additional wild card spots up for grabs in each conference.  By increasing the number of teams that have a shot at the playoffs, the league has reduced the number of sellers, and, in turn, the number of players available at the trade deadline.
Lastly, teams that are sellers are unlikely to sell players that could help beyond this year.  Players on multi-year deals are easier to move in the offseason, when teams have more cap flexibility and every team can be viewed as a contender.  This is why one year rentals are the most readily available commodities at the deadline.
With all of this in mind, here are the players most likely to be on the Bruins radar as the March 5th deadline approaches.
Henrik Tallinder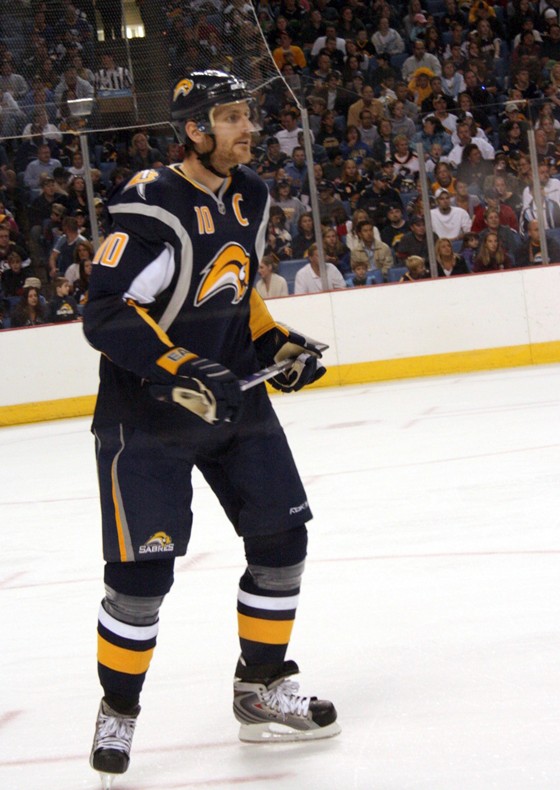 The Swedish defenseman is currently playing for the last place Buffalo Sabres.  At 35 years old, he is a pending unrestricted free agent, making it a near certainty that he will be moved before the trade deadline.  Tallinder has averaged more than 19 minutes per game this season, contributing valuable leadership and experience to a fairly young team in Buffalo.  In terms of fit, Tallinder could play on the left side with Dougie Hamilton, or if necessary, he could play his off side and pair with Torey Krug on the bottom pairing.  That would require Adam McQuaid to play a top 4 role, which might be extending him a bit too far.  Due to his age and his expiring contract, Tallinder's price tag should not be prohibitive.  He could likely be had for a mid-round draft pick and/or a lower tier prospect.
Andrew MacDonald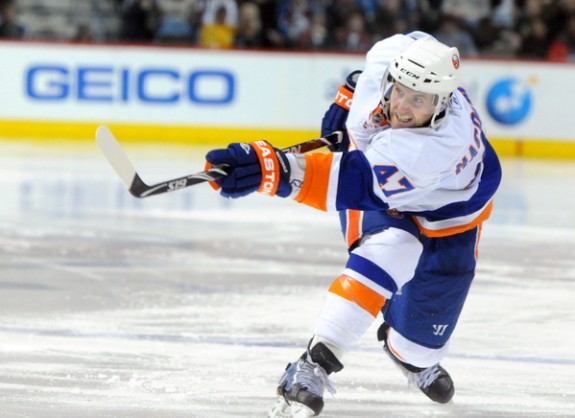 MacDonald will be the priciest option on the list.  He is just 27 years old and playing at the highest level of his career.  He's logging upwards of 26 minutes per game and playing against the top lines for the opposition.  In most situations, he would not be available, but the cash-strapped Islanders will be looking to get something for him before he departs in free agency.  MacDonald, like Tallinder, is also left-handed, although he would almost certainly be slotted on the left-side of the second pairing.  Whether he were to be paired with Johnny Boychuk or Dougie Hamilton, he would be in line for major minutes.  It's possible that the Islanders could net a first round pick for MacDonald, but more realistically, he'll go for a package of picks, the highest of which would be a second round pick.  If prices are as high as they were last season, it may take multiple second round picks, a price that Chiarelli should be able to stomach.
Andrej Meszaros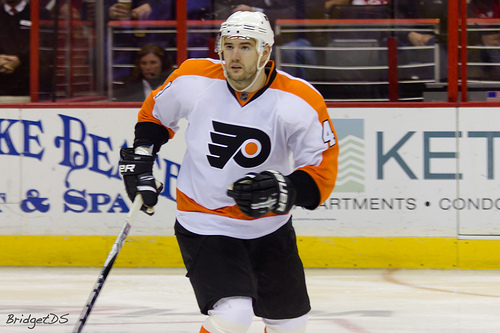 The 28 year old has had a season to forget for the Philadelphia Flyers.  After six consecutive seasons of playing more than 20 minutes per game, Meszaros ran into some injury problems last season, participating in only 11 contests.  This season, the injuries have not been as much of an issue, but he has not been in favor with the coaching staff.  He's been a healthy scratch for 24 of the Flyers games this year, averaging a career-low 17 minutes per game.  Although Meszaros is left-handed defenseman, he is more than capable of playing the right side.  That versatility makes him very appealing to the Bruins, as they can mix and match their defensive pairs to find the best fit heading into the playoffs.  Based on his limited playing time and his pending free agency, he should be extremely affordable.  Meszaros will likely carry a price tag similar to Tallinder, a mid-round pick and a non-top prospect, which for a player of his age is a great deal.  Philadelphia is very much in the hunt, but clearing Meszaros' cap space could allow them to add a bigger piece for the playoff push.  On the other side of that, the Flyers could value the depth Meszaros can provide, leading them to hold onto the Slovakian defenseman.  The few games following the Olympic Break and the NHL Trade Deadline could determine the fate of Andrej Meszaros.
Chris Phillips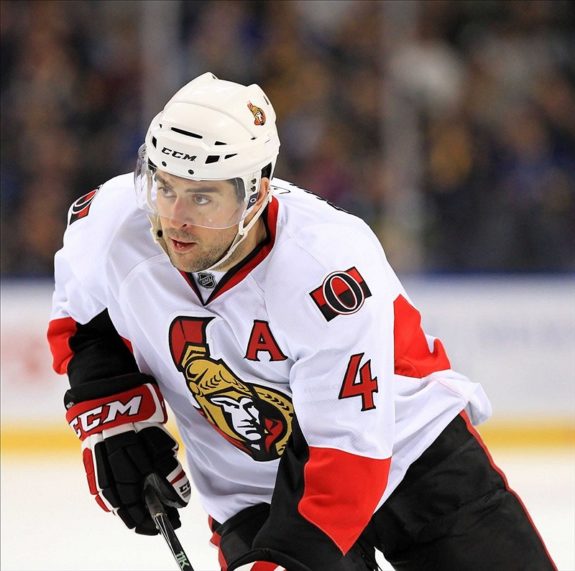 Could Peter Chiarelli go back to the well and acquire another player from his former organization?  If so, Chris Phillips is the most obvious target.  The former first overall pick is a steady veteran defenseman entering the final stage(s) of his career.  He'll be 36 a few days after the trade deadline, but he's still capable of playing big minutes.  He's still holding onto a top four role for the Senators, although he's been banged up recently.  Assuming he proves he's healthy, he could be a good fit for the Bruins.  He's left-handed, making him a good fit to play with Hamilton on the second pair.  As a defense-first defenseman, he would provide a good balance for the Bruins young guns in Hamilton, Torey Krug, and Matt Bartkowski, while also helping to lighten the workload of the veterans Zdeno Chara and Johnny Boychuk for the rest of the regular season.  Ottawa currently sits in a three way tie for ninth place in the Eastern Conference, leaving GM Bryan Murray on the fence about whether to move Phillips, a lifelong Senator.  If they decide to move him, his price tag would max out at a second round pick and a mid-level prospect.  At that cost, the Bruins could more than afford Phillips.
Will the Bruins will make a move for a defenseman at the deadline?  Will it be one of these four defensemen?  Let me know what you think in the comments below or on twitter @kirkvance.