A walk into the Hershey Bears' locker room Saturday after their fourth straight win overall and 12th straight home game brought a distinct sense of confidence. They escaped a severe collapse against the Wilkes-Barre/Scranton Penguins with their 5-4 victory, but even a team that has won 12 straight at their home rink can have a small letdown.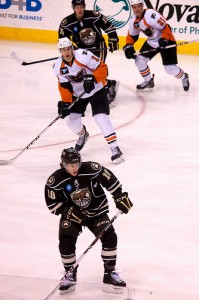 Hershey later went on to win Sunday night at the Mohegan Sun Arena in Wilkes-Barre/Scranton, squaring off against their biggest rival for the second consecutive night. The Bears' opening efforts of the contest Saturday night were contagious as the Chocolate and White battled the Pittsburgh's AHL affiliate. Hershey came out with a 3-1 win, paced by three third period goals and a strong performance from David Leggio (26 saves on 27 shots) in goal, his first start of the weekend.
The Bears recorded six out of a possible six points on a perfect weekend (3-0), which started with a road win in Atlantic City over the Albany Devils, AHL affiliate of the New Jersey Devils. The Bears have already eclipsed their home win total from last year this season and haven't lost a home game at Giant Center since 2013.
I love putting this stat out there: the Bears are now 7-0-0-0 when @DustinGazley_10 scores a goal.

— Scott Stuccio (@ScottStuccio) February 16, 2014
They feature strong depth at forward, sitting sixth in goals per game at 3.16, although they don't have one player in the top 20 for AHL scoring. Their power play isn't significantly dominant either, connecting at a 16.6% rate, 17th in the league. Their penalty kill has been superb all campaign, continuing Sunday night in Wilkes-Barre/Scranton with a 4-4 performance. The Bears' shorthanded unit is 7th in the AHL at 84.5%.
February 22nd and 23rd vs. Syracuse (18-23-3-5)
The Crunch were once in contention for a playoff spot have fallen off the map recently. They don't do a whole lot of things well than kill penalty penalties and there isn't much offense to find from their forwards with numerous recalls to the NHL this season. They have just four active skaters with 20 points or more which is rare considering the limited amount of games remaining on the schedule for the 2013-14 season. The Bears host the Crunch on Saturday, followed by a trip to Verizon Center in Washington D.C. on Sunday to play in an NHL rink. Sweeping this two game set should be an expectation for the Bears.
Power Play: 16.1% (21st)
Penalty Kill: 83.3% (12th)
Goals per Game: 2.51 (26th)
Goals Against per Game: 3.10 (23rd)
Goalies: Cedrick Desjardins (5-13-2, 2.73 GAA, .903 SV %) and Allen York (0-2-1, 3.86 GAA, .852 SV %)
Offensive Leaders: Cedric Paquette (32 points), Brett Connolly (31), Vladislav Namestnikov (30) and Evan Rankin (21)
Bears Links
The Hershey Junior Bears Quebec team picked up their first win of the International Peewee Tournament [Sweetest Hockey on Earth]
The Bears won their first game in Wilkes-Barre/Scranton on Sunday [Patriot News]
The ECHL's Reading Royals were purchased by a local businessman and will stay located in Reading [Reading Eagle]
You can follow Matthew on twitter @m_speck and email him at mspeck21@yahoo.com with any questions or comments.