In an up and down season marred by injuries, Mike Babcock could be forgiven for looking at this year's Olympic journey as a break from the stressful daily grind of an 82 game NHL season.
Luckily (for Canadians), it doesn't appear as though that's the case.
When asked the obvious question of whether he would have preferred to win in regulation (against Finland) in order to get a higher seeding, Babcock appeared a bit frustrated in responding, "Yeah but you think we didn't try to do that?" Here's the full press conference, where Babcock looks less than his normally relaxed self.
Despite not losing a single game in the preliminary round, Babcock's Team Canada has yet to fully reach its full potential in the eyes of many Canadian fans and media that considers any result short of a gold medal to be a disappointment. Such is the life of a member of Hockey Canada, the organization that handles and oversees hockey operations across the country, with an intelligence gathering modus operandi fit for a militia.
As of now, there look to be three main decisions for Babcock to make going forward: Who starts in goal, who gets the unfortunate designation of healthy scratch, and who plays with Sidney Crosby.
The first question seems to have been answered, and it appears as if Babcock is not about to let Roberto Luongo's past experience in Vancouver overshadow his gut feeling as to who's the better goaltender. After two games, (against the weak hockey nations of Norway and Austria), it was Luongo who had put up the better performance, shutting out the Austrians, while making several big time stops. While it's hard to criticize a performance where a goalie lets in only one goal, as was the case in Carey Price's win against Norway, he did misplay the puck behind the net, directly leading to the one shot that beat him. Yet despite what had happened in the two games prior, it was Price who got the nod against Finland, and logic dictates he will be Babcock's guy from here as we head to the elimination games. Price had been the much hotter goalie coming in to the tournament, and it appears that that's what is guiding Babcock, rather than Luongo's shutout, to go along with his gold medal as Canada's starter during the last Olympics.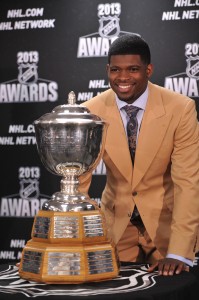 As for who should be left in the press box, it will be interesting to see where Babcock goes from here. On defense, it's been reigning Norris Trophy winning P.K. Subban who's been the healthy scratch for two of the three games. Subban has a reputation (rightfully deserved or not) as a risk taker, and it appears as though Babcock prefers the steady hand of Dan Hamhuis, who was the scratch for the game against Austria. While there is a legitimate argument to be made for P.K. Subban as Canada's best overall defenseman, it's not like Canada has had an issue generating offense from its blue line. It has, however, struggled to generate offense overall, and perhaps increased usage from the electrifying Subban would help in that regard. Based on Babcock's recent comments, it looks like neither Subban or Hamhuis will get much of a chance to make a mark, barring injury.
The last decision appears to be the most unsettled, as Babcock has continuously shuffled his lines, trying to find the ideal groupings for his collection of immensely talented forwards. Chris Kunitz was brought on (it can be assumed) because of his supposed chemistry with Crosby, yet so far the two haven't made much of an impact together. Given that his ability to play with Crosby was the main reason for his inclusion here, it would make sense for him to be the healthy scratch up front for now on. In the game against Finland, Crosby played on a line flanked by Patrice Bergeron and Jamie Benn. Bergeron and Crosby seemed to find each other nicely and it wouldn't surprise me to see them together going forward. The third member of that line will most likely need to be a shooter, and while putting Benn out there made a lot of sense in theory, he seemed a bit out of sync on the first line. Benn's ability to block shots and dish out hits leads me to believe he's more suited for a checking role on this team of superstars, not unlike his former teammate Brenden Morrow played four years ago. Someone like John Tavares might fit well there, although that might be a problem if Babcock wants a line with at least one natural winger. Nevertheless, you can be sure that Babcock will be looking to get Crosby, as well as the rest of his forwards, going before it's too late.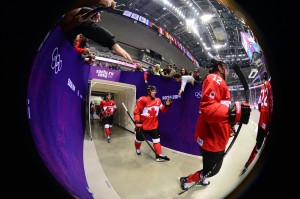 Many will tell you that Canada tends to get better as the tournament goes on. Such was the case in 2002, when after a sluggish preliminary round that saw win only one of its first three games. That start prompted this famous press conference, in which the team's clearly frustrated GM Wayne Gretzky gave a now famous speech. In Vancouver, it took the underdog Americans storming out to a two goal lead to get Canada to start playing the kind of desperate hockey needed to win at the game's highest level. As of now, the Canadians have yet to face the kind of adversity its two gold medal winning predecessors went through. All signs point to a matchup with the stingy Swiss in the quarterfinals, a matchup that hasn't been too kind to Canada in recent competitions.
At the NHL level, Babcock has had experience leading the heavy favourite, as he has done with the Red Wings for so many years, as well as coaching the underdog, something he did well with the Anaheim Ducks, taking them to a surprise Stanley Cup Finals run in 2003. Such experience figures to serve him well as he prepares his team to live up to their expectations, while playing teams that don't have any.
For Canada to defend its gold medal successfully, it will need to find its ideal lineup, and the spark that will ignite the players to play to their potential. Should they get by their quarterfinal matchup, a semifinal game against the U.S. seems likely. The Americans have looked like juggernauts so far, and while they gave Canada all they could handle in Vancouver, they look poised to do even more damage this time around. Babcock, and his talented roster better be ready.