In today's Fantasy Findings, we're looking at the growing injury list of valuable fantasy players. Still looking to fill some holes on your roster? This edition will help you find those depth players to keep you in the hunt.
Nearing the mid-point of the season, every fantasy owners has certainly had their share of ups and downs when it comes to injuries. There've been scares to your top players and you've likely sat back and enjoyed watching other owners scramble as their stars keep falling.
But where do you go when you're looking to stop the bleeding? What depth players are out there in your league that are worth the limited waiver claims you have each week? Or do you just switch out from week to week in the hopes of staying within reach of first place?
Ahead of his list of 250 ranked players in the league, Sean Allen over at ESPN took a look at the on-going epidemic of injured goalies. Carey Price. Marc-Andre Fleury. Jaroslav Halak. Sergei Bobrovsky. The list goes on with team's top tenders from around the league unable to make consistent starts thanks to the injury bug that seems to be hitting that position this season.
So if you're a sitting duck with these top-end-injury-ridden goalies, who's out there to fill the spots?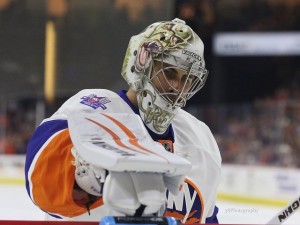 As Allen points out in his analysis of the league's fill-in goalies, it's time to look no further than the backups that seem to be getting the majority of the starts. Thomas Greiss, for example is a perfect candidate for a team looking for a solid netminder.
"The bigger reason for taking a look here is that even before Halak's injury, backup Thomas Greiss was earning more than a backup's share of the starts on merit," writes Allen. "In 15 starts and one relief appearance – which is no small sample size – Greiss has better ratios and only one fewer win than Halak in 20 starts."
But if Greiss is already gone, some other options Allen presents are Matt Murray and Jeff Zatkoff in Pittsburgh, Ben Scrivens in Montreal, Joonas Korpisalo in Columbus and Connor Hellebuyck in Winnipeg.
"Rookie Connor Hellebuyck has emerged as the clear best option in net ahead of Michael Hutchinson, but the Jets won't carry three goaltenders when Pavelec returns. Despite some hiccups along the way, Hellebuyck has been a clear No. 2 fantasy goalie for the past month, and his overall saver percentage of .926 and his 2.12 goals-against average are more than respectable," says Allen.
Fantasy Advice: Finding The No. 2
Sometimes when you see those injured players on your roster, your first reaction is to pick up the next highest scoring player at that position. With the juggling of goalies in the NHL this season, that isn't always the best move.
Instead, take a closer look at who's been hot over the past few scoring periods in your fantasy league. Look to the goalies that've been receiving the majority of the playing time. In Columbus for example, coming into the season many people believed Curtis McElhinney to be the backup. Instead, Korpisalo's taken on that role in the absence of Bobrovsky.
If you have minor eligibility in your pool, look to hold onto one of these young tenders for the future of your league (usually this is the case in keeper leagues). A John Gibson or Hellebuyck are likely going to be worth hanging onto. But take a look at Allen's piece for more fill-in options between the pipes.
---
Barry Leonard Jr. over at Fansided took a look at some of the key injuries outside of the crease. All the names on this list are names that've likely affected either your fantasy team or another team within your league. From Jeff Carter to David Krejci and Nick Foligno to Kris Letang, these are some of the top players on their respective teams.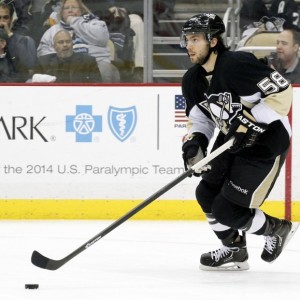 While Leonard's list doesn't offer up replacement possibilities for your injury troubles, he does provide you with an outlook on who might struggle this week thanks to the recovery process they might be dealing with.
This list might also help you make your own list of possbile trade targets. Sometimes people are handcuffed by the injured players on their roster and might be willing to move them for a cheaper price than they usually would.
Fantasy Advice: Target the Injured
As I mentioned, this article could make for a good target list if you're in the spot to acquire an short-term injured player and still have the ability to fill your roster (pending the return of this player). But what if you have one of these players – or worse, two of these players – on your roster at this point in time?
Firstly, don't panic. Take a deeper look at the stats that matter to your league. How've these players managed lately in those statistical categories? Filling in your roster spots in the midst of an injury epidemic can make or break your fantasy season. It's the diamonds in the rough on the waiver wire that will put you ahead of the teams that simply go for the 'top player' left on the wire.
If there's a player you're targeting, look at his last five games. Look at his last 10 games and see what kind of streak he's on. How's he been in the face-off circle? Is he seeing quality time on the powerplay? Picking up the right fill-in guys isn't as simple as just picking up the top guy on the wire. It takes a little effort, but it all starts with knowing who's injured and who can be targeted in possible mid-season trades.
For more fantasy news, be sure to check out THW's fantasy homepage or follow Andrew on Twitter at @AndrewGForbes.