With the stretch-run in full effect in most fantasy hockey leagues, managers have undoubtedly been looking for the best pick-ups that they can find in their respective leagues. Be it skaters or goalies, free agent pools have most likely been pillaged to the furthest extent at this point in time, but there are still several options that managers can consider this late in the fantasy season.
While some may not like the idea of looking in the depths of their free agent pools for a diamond in the rough, there are always surging players looking for a home – even if it's temporary. Looking at players under 25% owned, THW looks at some streaking forwards that could bolster one's offensive statistics while coming at a relatively low cost and risk.
Five For February
David Desharnais (Montreal Canadiens – C)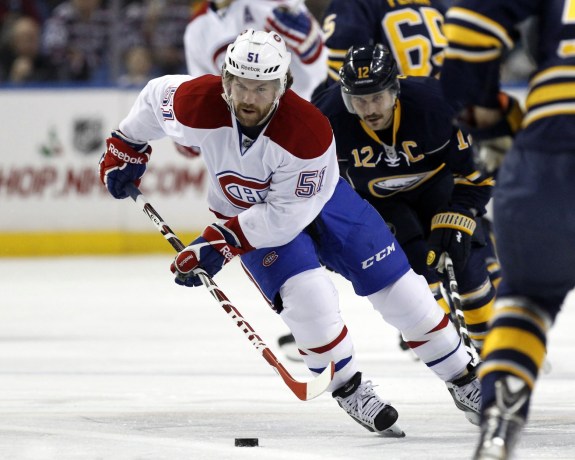 Sure, David Desharnais might have had a slow start to the '14-'15 NHL season, but the diminutive pivot has once again played his way onto the Canadiens' top line. Having bounced around multiple parts of Montreal's lineup, managers should definitely take note of Desharnais' recent play alongside Max Pacioretty and Dale Weise.
Over his last four games – he has recorded at least one point in each of those four games – Desharnais has registered seven points (1G, 7A), and as a result he has seen his ownership rate in Yahoo! leagues increase to 12%. If history is any indicator of Desharnais' potential, then it would indicate that the centerman should have no problem piling up the points while on the Canadiens' first line. Seeing as how Desharnais is no stranger to having ice-time on Montreal's top line, fantasy managers should add the centerman while he is available as he could be a steal of a player to have this late in the fantasy hockey season.
Aleksander Barkov (Florida Panthers – C)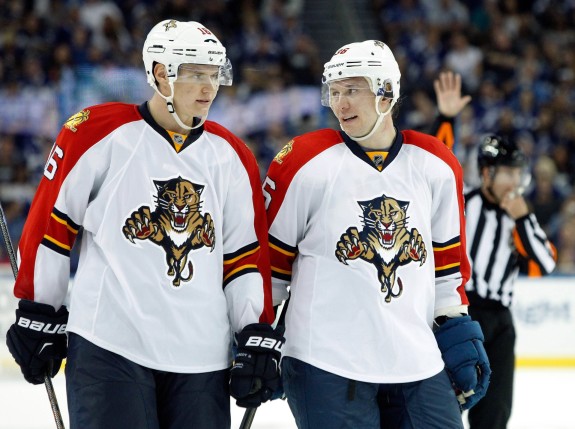 Much like Desharnais, Aleksander Barkov has found himself playing on the Big Cats' first line alongside Jonathan Huberdeau and Brad Boyes (who has also been producing well). Despite the fact that Barkov only has 24 points (7G, 17A) in 40 games played this season, it would be worth it to look at the fact that the center has scored eight (4G, 4A) of his points over the Panthers' last 10 games.
Barkov, who is owned in only 9% of Yahoo! leagues, could come at a very low cost to fantasy managers at this point in the season. Since the forward has recorded a third of his total points in the last 10 games, it wouldn't be a bad idea to give the center an add as fantasy managers would be hard-pressed to find too many players in the depths of their free agent pools that are receiving first-line assignments. Given the quality of Barkov's play and the fact that Florida is scratching and clawing its way toward a playoff spot, the Panthers will need Barkov to maintain his current scoring pace – and that could potentially yield tremendous results for fantasy managers that take a chance on the center.
Reilly Smith (Boston Bruins – W)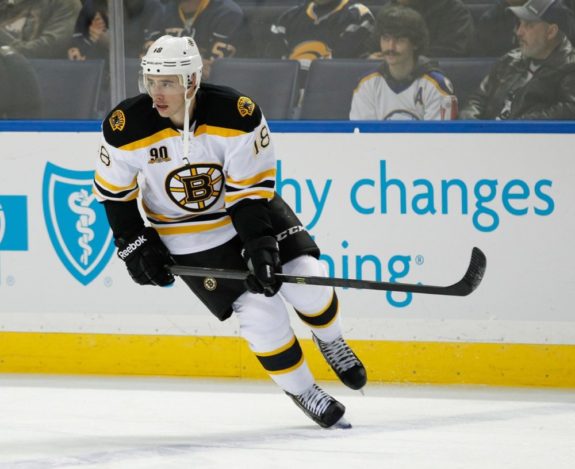 Reilly Smith has been skating alongside Milan Lucic and David Krejci as of late, and that has been great news for fantasy managers. Smith, who is only 18% owned in Yahoo! leagues has registered six points (1G, 5A) in his last seven games played, and is worth an add in most formats – especially since he is playing on the Bruins' top line, and producing.
Smith only has 27 points (10G, 17A) in 53 games played this season, but the winger has definitely stepped his game up since being promoted to Boston's first line. Smith has been receiving anywhere from 13 to 18 minutes of ice-time per night over his last ten games, so fantasy managers should take that as a sign of the forward's responsibilities increasing. Smith might not be available in all leagues, but he is definitely worth an add as he could provide production from the depths of one's free agent pool.
Cam Atkinson (Columbus Blue Jackets – W)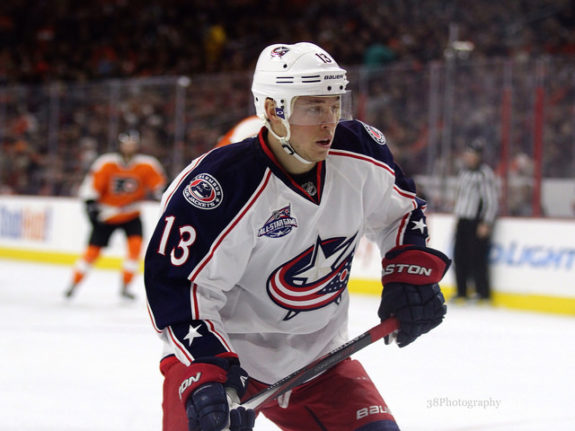 Sitting at a 9% ownership rate, Cam Atkinson has definitely done his best to draw some attention his way this late in the fantasy season. Even though Atkinson only has 21 points (11G, 10A) in 48 games played this season, the winger has scored a third of his points (3G, 4A) in his last ten games played for the Blue Jackets.
What is even better about Atkinson's recent production is that it has given him an opportunity to play top-line minutes alongside Ryan Johansen and Scott Hartnell. Consistently receiving 16 to 20 minutes of ice-time per night, Atkinson is definitely worth a look in most formats – and could be an absolute steal in deeper leagues. Fantasy managers should absolutely look into Atkinson's availability as he finds himself playing with two talented linemates that have the ability to further increase the winger's point totals.
Brandon Pirri (Florida Panthers – C)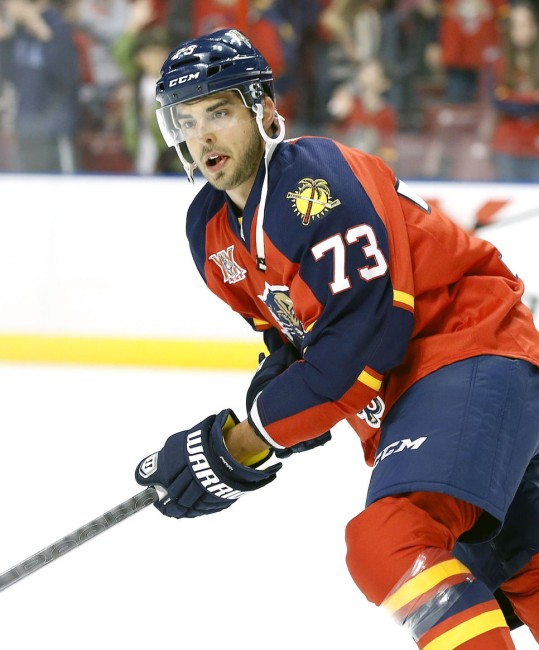 Brandon Pirri might only have 11 points (9G, 2A) in 27 games played this season, but the third liner has certainly picked a perfect time to rack up the points. With seven points (6G, 1A) in his last 10 games played, Pirri has managed to score more than half of his points in his last several contests with the Panthers.
Although Pirri's overall totals might not inspire much faith in fantasy managers, the centerman has been producing for the Panthers in a bottom-six role. Being only 4% owned in Yahoo! leagues, now would be a great time for managers to add the center, but it wouldn't hurt to wait a few games to see if Pirri's recent scoring streak is legitimate. For now, fantasy managers should watch from afar, but should be ready to add Pirri if he keeps up his goal-scoring ways over the next several games.
Just As Hot
Cedric Paquette (Tampa Bay Lightning – C)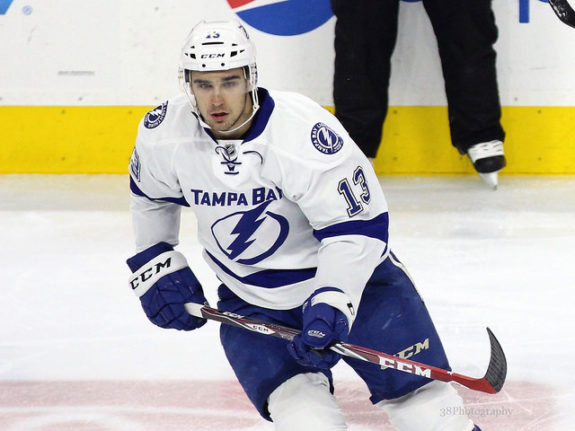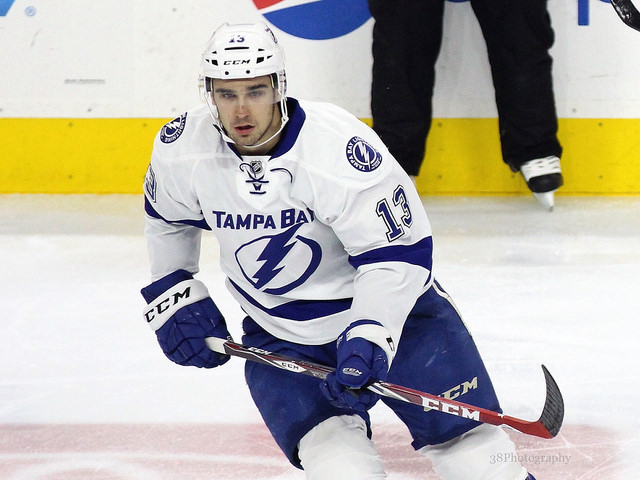 Cedric who?
Cedric Paquette only has 17 points (11G, 6A) scored in 45 games played this season, but the forward has enjoyed a coming-out party of sorts since late January. Scoring six goals in a span of four games, Paquette quickly caught the eye of fantasy managers and was added in quick fashion.
As a matter of fact, Paquette's ownership rate skyrocketed to 7% in Yahoo! leagues after his goal-scoring feats, so there is definitely reason enough to pay attention to the sparsely-owned forward. Playing on Tampa Bay's third line and seeing anywhere between 12 to 14 minutes of ice-time per night, fantasy managers should keep track of Paquette to see how he reacts after not scoring in three straight games. It could very well be that Paquette enjoyed a goal-scoring streak that has passed, so fantasy managers should give the forward a couple of more games to see how he rebounds from his current three-game point drought.
Chris Stewart (Buffalo Sabres – W)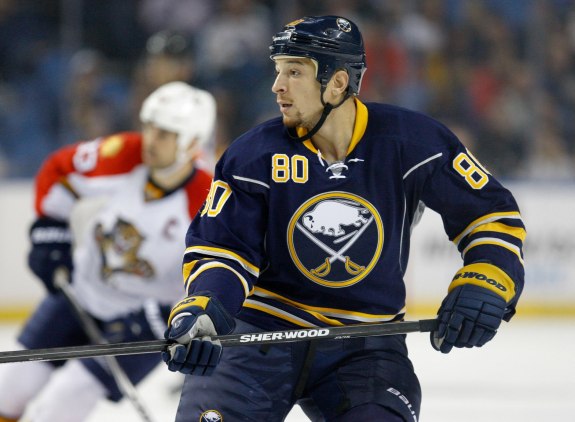 With March 2nd almost upon us, it seems as though Chris Stewart has upped his level of play. Whether or not this is being done in order to increase his own trade value is anyone's best guess, but with Stewart set to be one of the prime targets at this year's deadline it wouldn't be a bad idea for fantasy managers to add the 8% owned (Yahoo! leagues) winger.
While Stewart has continued to take consistent hits in the +/- department on a nightly basis, he has managed to score three goals and three assists in his last seven games played, and is also playing on Buffalo's top line alongside Zemgus Girgensons and Tyler Ennis. Stewart was relatively unheard from for the majority of the current season and only has 21 points (9G, 12A) in 52 games played for the Sabres, but the forward has tallied nine of his total points (4G, 5A) in his last ten games played, so there is a definite reason to keep an eye on the forward. Fantasy managers shouldn't rush to add Stewart, but should definitely keep him on a close watch-list as he could provide some good production while trying to increase his stock in time for this year's trade deadline.
Alex Killorn (Tampa Bay Lightning – C/W)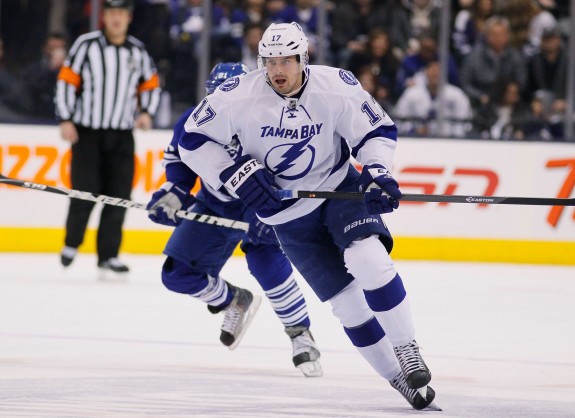 Alex Killorn has been on an assist binge since January 29th as he has tallied five helpers in his last seven games. Only 7% owned in Yahoo! leagues, Killorn has been picking up those helpers while playing alongside a goal-scoring machine, Cedric Paquette.
While Paquette might have been tacking on to his goals-scored total, Killorn hasn't been a slouch by any means either. Over his last ten games, Killorn has managed to collect eight points (2G, 6A), and could be useful to managers in deeper settings. Playing on the Lightning's third line, Killorn has seen anywhere between 12 to almost 17 minutes of ice-time per night, so fantasy managers in need of some help in the assists department should definitely give some consideration to Killorn.
Patrick Eaves (Dallas Stars – W)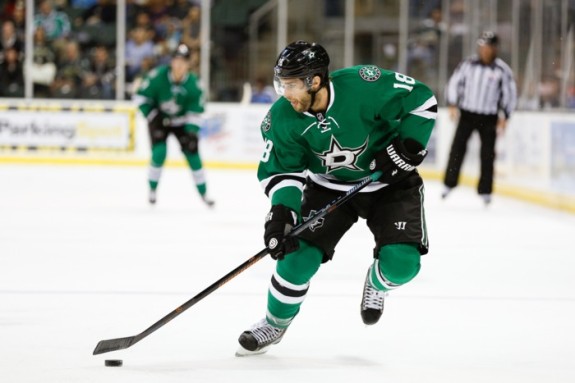 Despite the fact that Eaves has been pointless in his last three games, he has been playing on Dallas' top line with Tyler Seguin and Jamie Benn. Showing no ill effects since returning from an injury, Eaves promptly went on a four-game point streak (3G, 1A) since coming back to Dallas' lineup on January 27th.
In the seven games that he has played since January 27th, Eaves has registered 20 shots on goal for the Stars and has even added 11 hits to his offensive totals. Only 4% owned in Yahoo! leagues, fantasy managers likely won't find a first-line winger that sparsely-owned in any of their leagues. As long as Eaves keeps his top-line assignment, he is definitely worth a look or an add in both shallower and deeper leagues, but those with some roster flexibility should give the winger a couple more games to see how he reacts to his current point drought.