The fantasy hockey season might only be several weeks old, but there have definitely been some significant injuries that have probably caused managers to go ballistic on their computer or TV screen. While replacing a forward might be a bit of an easier task for fantasy hockey managers, finding a suitable backup option for a defender is another story.
With players such as Zdeno Chara sidelined without a timetable for return, there are undoubtedly some managers that are scrambling to replace the production that they have lost. Despite the fact that some might not want to turn to the free agent pool or waiver wire for a potential replacement at this point of the season, there are certainly some defensemen that are still waiting to be snagged – and the best part is that they're owned by less than a quarter of managers in Yahoo! leagues.
Blueline Bargains
Olli Maatta (D – Pittsburgh Penguins)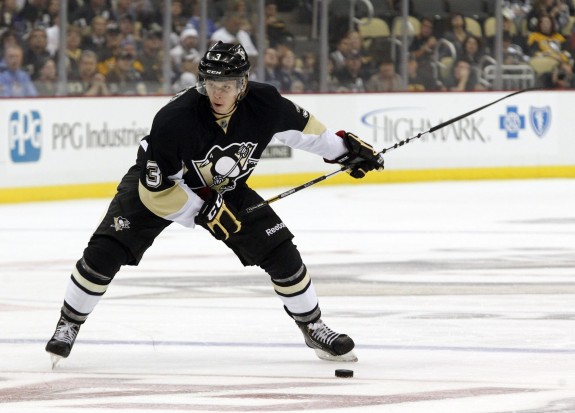 Olli Maatta sure did have a good rookie campaign with the Pittsburgh Penguins last year as he scored 29 points (9 Goals, 20 Assists). Factor in Maatta's 112 blocked shots from last season, and one has a defenseman that would probably find a spot on any fantasy hockey roster.
However, that just isn't the case. Maatta is only owned in 20% of all Yahoo! leagues, and now would certainly be the time to add the rearguard to your roster. Coming back from having a cancerous tumor surgically removed from his thyroid, Maatta returned and logged 20:14 of ice-time against the Montreal Canadiens. Maatta currently has one goal and five assists in 11 games played, but he is averaging 20 minutes of ice-time per night, so fantasy managers should definitely keep track of his progress over these next few games as the defender can be an absolute steal.
Jared Spurgeon (D – Minnesota Wild)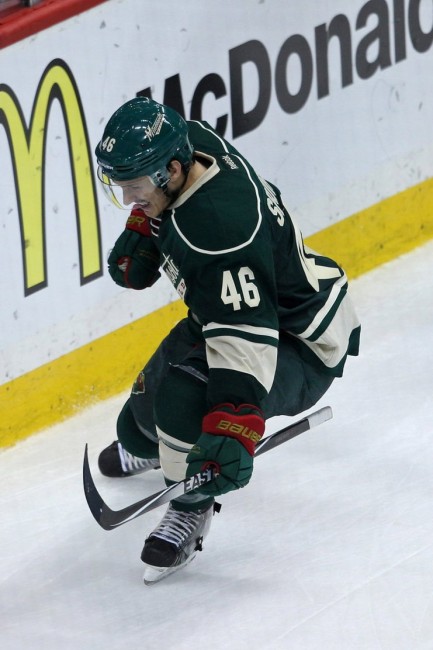 Jared Spurgeon might not be the typical defenseman that fantasy managers would jump to own in any fantasy hockey format, but he does bring some value to the table. Standing under 6'0″, Spurgeon is a good puck-moving defenseman that is capable of making a good outlet pass and potting or assisting a goal.
Last season, Spurgeon finished with a career high 26 points (5 Goals, 21 Assists) in 67 games played, and he is certainly not letting up this season. In the 12 games that Spurgeon (17% owned in Yahoo! leagues) has played for the Wild, he has scored three goals and added five assists – all while averaging a shade under 24 minutes of ice-time per night. With Jonas Brodin sidelined, Spurgeon and the rest of the Wild defense have been tasked with some added responsibilities, but fantasy managers should absolutely keep track of Spurgeon's play over the next few games as he looks poised to set career-highs in goals scored this season.
Dan Girardi (D – New York Rangers)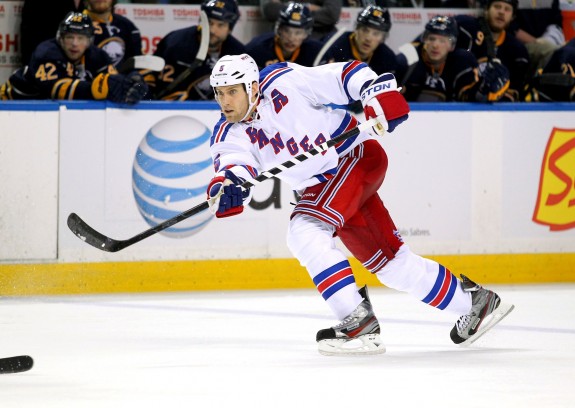 Despite the fact that he was crushed by Evgeni Malkin several days ago, Dan Girardi shrugged off the hit and has gone about business as usual. The defenseman – who is only owned in 16% of Yahoo! leagues – has been a veteran defender for the Rangers and consistently scores around the 24-30 point mark for a given season.
Girardi currently has six points (1G, 5A) in 18 games played this season, but the value of the blueliner lies in his ability to contribute in other categories. Racking up nearly 200 hits and blocks last season in 81 games, it wouldn't be surprising to see Girardi hit comparable numbers in the two aforementioned stat categories by the end of the regular season. Playing an all around game, Girardi will tally the occasional assist or goal, but his value lies in the fact that he could contribute in multiple categories – something that could make a world of a difference in a tight weekly matchup.
Alec Martinez (D – Los Angeles Kings)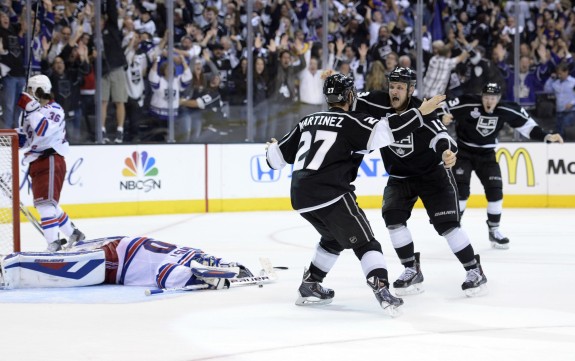 A Conference Finals clinching goal. A Stanley Cup winning goal. Registering a career-high in points (22 pts, 11G, 11A). You'd think that Alec Martinez would be owned in more than 14% of Yahoo! leagues, right? Wrong!
While Martinez recently injured his finger, the loss of Slava Voynov will likely create a situation where the Kings will have to possibly give their other defensemen more ice-time. In the three games before his injury, Martinez was averaging over 23 minutes of ice-time per game, and there is no reason to suspect that the defender won't be able to repeat that kind of production once he comes back from his injury. While Martinez might not stand out tremendously in any particular stat category, he has played long enough with the Kings to earn some added responsibilities in the form of ice-time – something that could definitely boost his ownership and production numbers.
Dennis Seidenberg (D – Boston Bruins)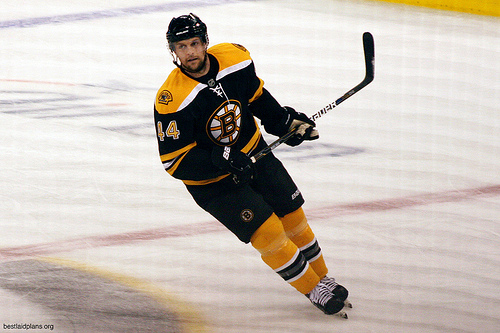 Aside from his injury-riddled 34 game campaign last season, Dennis Seidenberg has proven himself to be a very reliable defender. So far this year, Seidenberg has scored six points (2G, 4A) in 20 games and is only owned in 9% of Yahoo! leagues.
Much like the Kings' situation on defense, the Boston Bruins will be without two of their defenders (Chara & McQuaid) for the next several weeks. As a result, the rest of the Boston defensive core will probably have to fill in for the void resulting from Chara's injury. Seidenberg has been averaging 22:12 of ice-time per night this season and if he keeps producing at the rate that he has been, then he could very well wind up with at least 24 points by the end of the season – as well as 150 hits and blocked shots. Fantasy managers should definitely consider adding Seidenberg as he can also contribute in a variety of fantasy categories.
Keeping A Close Eye
Andy Greene (D – New Jersey Devils)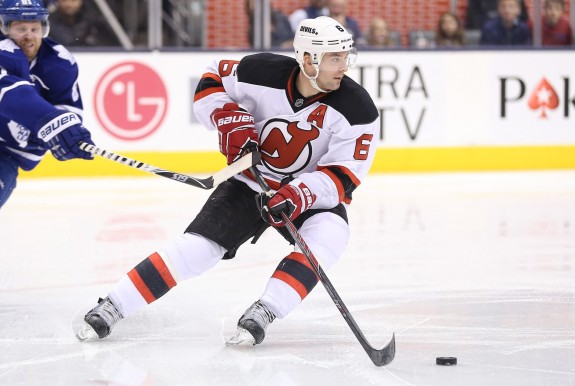 Last year, Andy Greene set a career-high for himself with eight goals scored. The Devils' defenseman also recorded 13 powerplay points (3G, 10A) and even had two shorthanded helpers.
So far this season, Greene has amassed six assists for New Jersey and is averaging just under 23 minutes of ice-time per game. Seeing as how Greene has been one of New Jersey's more reliable defensemen over the last several years, it wouldn't be farfetched to see the d-man record somewhere between 24-32 points this season, if he stays healthy. Fantasy managers – especially those in deeper leagues – should look into Greene's availability as he is only owned in one-tenth of all Yahoo! leagues.
Kris Russell (D – Calgary Flames)
Last season, Kris Russell scored 29 points (7 Goals, 22 Assists) in 68 games for the Calgary Flames – with 12 of those points (4G, 8A) coming on the Flames' man-advantage. Russell's +/- probably scared some owners away from adding the defenseman to their rosters, but Russell has been better in that one specific stat category during the early portion of the '14-'15 NHL season.
In 19 games played this season, Russell has registered eight assists (four on the powerplay), a +5 rating and 56 blocked shots. While Russell is currently day-to-day with an injury, he should be back in the Flames' lineup in short time and back to averaging 22:38 of ice-time per night. Fantasy managers in need of some offense should definitely look at the 12% owned defender as he could definitely help out in a pinch.