Pascal Dupuis Out For Six Months
It was announced today that Pascal Dupuis would be out of action for a minimum of six months with a blood clot in his lung.  The unfortunate news comes after a dominant showing in Montreal, defeating the Canadiens 4-0 and ending the Habs six-game winning streak.  Dupuis did not make the trip to Montreal and for good reason.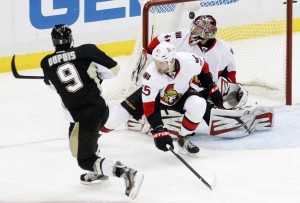 While the news is shocking and certainly puts a damper on the day, the Penguins are left with the question of, "Who steps up for the Penguins?"  It is a valid question and one that must be answered seeing as Dupuis' injury will force him out of action until at the earliest May, shortly before an expected playoff run.
Who Steps Up?
The Penguins have been in this position before, dating back to last season where Dupuis was sidelined from December 23rd on with a torn ACL and missed the remainder of the season.  While they brought in Lee Stempniak and Marcel Goc through trades and continued to work with depth forwards like Jayson Megna and Brian Gibbons, to name a few, the Penguins ultimately fell to the New York Rangers in the second round of the playoffs.
With a much different line-up compared to last year, the Penguins will still be searching for forwards to replace Dupuis' combination of speed, skill, and leadership.  Below is a look at five forwards on the main roster and in the minor league affiliate Wilkes-Barre/Scranton Penguins that could potentially fill that role and step up their games for the next six months.
5. Andrew Ebbett
Andrew Ebbett currently leads the Wilkes-Barre/Scranton Penguins in points with 12 (4G, 8A) in thirteen tilts this season and spent nine games in Pittsburgh last season, accumulating one assist.  Ebbett, who has played with five other NHL teams, is a veteran that is quick on the puck, works hard along the boards and can chip in offensively when need be.  He also brings a defensive minded game as he can play on the penalty kill either on a second or third unit.
In 200 career NHL games, Ebbett has amassed 65 points (20G, 45A).
4. Marcel Goc
Goc has proven to be a strong resigning by General Manager Jim Rutherford, centering the fourth line alongside Craig Adams and Zach Sill.  Goc was acquired last season from the Florida Panthers on March 5th in exchange for a 3rd and 5th round pick and played 12 games for the Penguins.  He had two assists in those contests.
He was resigned in the offseason to a one-year deal valued at $1.2 million dollars.  In 17 games this season, the German-born centerman has one goal, that coming against the Philadelphia Flyers in October.  Goc is a strong penalty killer and defensive forward who will need to be able to utilize his minutes in a more offensive role while on the ice.
3. Nick Spaling
Coming over in the James Neal trade, Patric Hornqvist and Nick Spaling have made a mark in Pittsburgh already, just one has made a bigger mark.  Hornqvist has scored nine goals for the Penguins and added a net front presence that has not been seen in Pittsburgh since the Ryan Malone days.  Spaling, on the other hand, has been more defensively responsible, spending a majority of his time on the third line until recently when he was promoted to the second line with Evgeni Malkin.
Spaling, who spends some time on the penalty kill, has amassed five points (2G, 3A) in 17 games with the Penguins.  Now on a line with a two-time Art Ross Trophy winner and former league MVP, Spaling will need to be able to put up some points playing alongside Malkin to make a potent second line.
2. Jayson Megna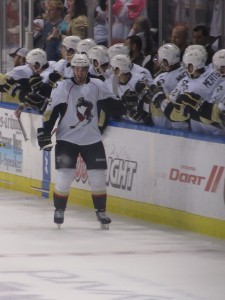 If you look down the line of the Penguins best forward prospects, Jayson Megna will rank pretty high on that list.  He spent 36 games with Penguins in the 2013-14 season, picking up five goals and four assists.  The Florida-native currently ranks third in points for the Wilkes-Barre/Scranton Penguins with eight goals and two assists.
Megna, in a similar vein as Beau Bennett, is crafty with the puck and has a good shot.  His offensive ability is not in question, rather it is his consistency and if he can provide offensively on a regular basis.  I would expect that any other forward injury will warrant a Megna call-up at some point during the season.
1. Zach Sill
Zach Sill is currently the only forward on the main roster to not register a point on the season.  In 35 career NHL contests, Sill is a minus-3, but provides a toughness and grit to the line-up that had been missing for quite some time.  His ability and willingness to fight infuses a spark in a feisty Penguins team, but his lack of offensive production is something to take into consideration going down the road.  Yes, he's pretty solid defensively and if need be, he can jump in on the penalty kill, but if he does not rack up points any time soon, does that warrant a demotion?
Zach Sill may not be the make-or-break player in the loss of Pascal Dupuis, but he does need to contribute and the sooner, the better.
Closing Thoughts
It is inevitable and almost predictable to say that Chris Kunitz, Patric Hornqvist, Brandon Sutter, and Blake Comeau will need to play more aggressively and take on different responsibilities in Pascal Dupuis' six month absence.  Sidney Crosby and Evgeni Malkin will need to continue to play like the superstars they are.  Defensively, Kris Letang, Paul Martin, Olli Maatta, Christian Ehrhoff, Rob Scuderi, and the combination of Simon Despres and Robert Bortuzzo will need to keep up their defensive standards and add offense whenever possible.  Marc-Andre Fleury and Thomas Greiss, whoever is in net on any given night, will need to make the stops needed to secure victories.
The five players mentioned above, while not superstars, are important spokes on the wheel of the Pittsburgh Penguins organization.  They may not be the ones one directly looks at to make an impact, but their depth is a needed commodity if the Penguins are going to remain as successful as they have been in the first 17 games of the season.
One thing is for certain, Pascal Dupuis is an important member of the Pittsburgh Penguins team.  He brings everything to the table every night, but to survive in the NHL is to adapt and the Penguins, being one of the most injury plagued teams in the past five years, need to take on that challenge one more time.