This weekend, the University of North Dakota hockey team has a bye week. Looking at the Fighting Hawks' lineup, it couldn't have come at a better time. With their recent injuries, a weekend off is just what the trainer ordered. This will be a good opportunity to allow the walking wounded to heal, rest and reload.
On Wednesday, the senior captain, defenseman Gage Ausmus was asked if he'd be watching any college hockey games this weekend?
"Of course."
Hawks are Nicked Up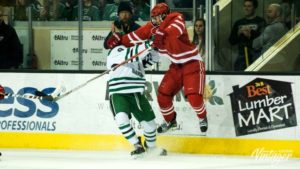 Injuries are part of the game, and every team in the NCHC is suffering from nagging injuries, bumps, and bruises. With that in mind, the Fighting Hawks are in desperate need of some down time.
"I think a lot of guys really need it," associate head coach Dane Jackson said. "Some guys, have little nicks that they're used to playing through, it's definitely a good time for us. Especially, with Tyson (Jost) coming back. It was really big for him to get an extra week.
"It's a great time for us to get healthy, get rested, get rejuvenated and get ready to go for Western."
Western Michigan Up Next
Next weekend, the Fighting Hawks travel to Kalamazoo, Michigan to take on Western Michigan in a pivotal two-game conference series. Make no mistake about it, UND desperately needs a couple of wins against the Broncos to cement their position in the NCHC standings. The Hawks also need wins to solidify an at-large bid in the NCAA tourney.
"They've got a lot of skill to go with their tenacity and size," Jackson said. (At Lawson) things happen extremely quickly and you've got to be ready to play. The biggest thing is to have you compete level high and battle level high and be sharp. Otherwise, you're probably going to get hurt in that barn."
Lawson Arena, a Tough Place to Play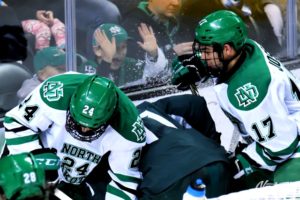 Next weekend's opponent is very tough to beat at home. The Broncos are 9-2-3 (.750) in the friendly confines of Lawson Arena. Throw in the 'Lawson Lunatics' and you have one of the craziest student sections in the conference. Right now, some time off looks pretty good going into a tough series in a hostile building.
"Even with some of the real good teams that we've had, if you're not ready to go, you're scrambling, Jackson said. "They're coming at you, playing in your own end. You're trying to get the puck out of there.
"(In the past) we've done a good job there. We've withstood a lot of hard pushes coming out of the gate. We've kind of worked our way into games. Even when you're ready, they come fast and it's hard to get totally prepared for it. We've done a good job of settling in after some rough starts and kind of grinding out some 2-1 wins in that rink."
Keep Focused
UND's captain expressed caution when talking about his team's weekend off. Last year's bye week brought back bad memories — a sweep at the hands of the Denver Pioneers.  The Hawks don't want a repeat and they need to keep their focus, there's still a lot of work to be done.
"Yeah, it's always nice to have a weekend off, but that the same time we have to stay focused and continue to get better," Ausmus said." Last year, we had the bye week and we lost two games in Denver."
Ausmus continued, "It's needed for a couple of the guys. Joel (Janatuinen) has been a Friday guy and can't go Saturday. Obviously, Tyson (Jost) it's nice to get a week's rest in him. It's huge on the injury aspect, but at the same time, stepping way from a couple on the weekend could affect you in a negative way."