With the IIHF World Championship concluding, our international hockey focus now shifts to the World Cup of Hockey. With the tournament being played out in Toronto and Team Canada winning the last two Olympic gold medals and last two World Championships, the Canadians will undoubtedly be the consensus to take home the World Cup. However, don't sleep on the Leijonat. The nation of Finland has been impressive in their own right.
International Successes
Over the last years, Canada has reasserted itself as the hockey nation of the world, but Finland has had a strong year in their own right. In 2016, Finland has won U18 gold, World Junior Gold and recently earned silver at the World Championship, going 9-1 (only losing to Canada in the final), outscoring their opponents 37-10.
Unlike their North America counterparts, the Finns had several players named to their World Cup roster playing in the World Championship. Six to be exact (the final additions to World Cup rosters will be named at the end of the week).
Having these players already finding success with one another (while likely playing with a few teammates who will join them in Toronto), bodes well for Finland. There won't be much time for the World Cup teammates to get acclimated to one another, so finding some early chemistry will pay dividends.
More often than not, Finland has iced competitive teams in major international tournaments, including medaling in four of the last five Olympics which has featured NHL players. Nothing less should be expected when September rolls around.
A Star is Born
Much of Finland's most recent successes has occurred among the junior ranks, including winning two of the last three World Junior Championships. This could be an ace in the hole for Finland because unlike Canada and the United States, it doesn't lose players to the North American under-23 team.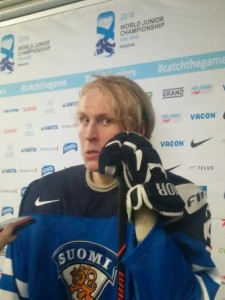 One of the biggest storylines during the world championship was the play of wünderkind Patrik Laine. At the age of 18, the power forward dominated his older competition on his way to winning MVP honors. In what's been a banner year, this was just another feather in the cap of the likely second-overall pick in this June's upcoming NHL draft.
Laine's full list of accomplishments this season include: SM-liigaJari Kurri Award (Best Player in Playoffs), SM-liiga Champion, SM-liiga Most Goals by Rookie (17),  SM-liiga Most Points by Rookie (33),  SM-liiga Playoffs Most Goals (10),  SM-liiga Rookie of the Year,  U20 WJC All-Star Team,  U20 WJC Gold Medal, U20 WJC Most Goals (7), U20 WJC Top 3 Player on Team, World Championship All-Star Team, World Championship Best Forward, World Championship MVP, World Championship Silver Medal,  World Championship Top 3 Player on Team.
Laine isn't currently listed on the World Cup roster, but it's all but a formality that he'll soon be added. He must be chomping at the bit, ready to prove his World Championship performance was no fluke.
Other u23 players joining Finland's World Cup roster include defensemen Rasmus Ristolainen, Essa Lindell and Olli Maata and forwards, Aleksander Barkov and Teuvo Teräväinen.
At the conclusion of the World Cup, don't be surprised to see Finland once again standing on the podium.
As an American based in Amsterdam, Joe provides a unique hockey insight, bringing a global perspective to the game. Joe has several years of experience covering the game on both a domestic and international level, including being credentialed for multiple World and World Junior Championships.