The Boston Bruins have been one of the hottest teams in the NHL in the last three weeks. The Dallas Stars are taking the Western Conference by storm.
On Tuesday night, something will have to give.
Two of the League's highest scoring teams will clash on Tuesday night at TD Garden, looking to build on solid starts to the 2015-16 campaign. After a disastrous 0-3 start to the season, Boston has reeled off wins in six of their last seven games, scoring 32 goals in that time frame. More importantly for them, the defense has allowed just 15 pucks to get past them.
It's a marked improvement over the 16 they allowed to Winnipeg, Montreal and Tampa Bay in their first three games.
Dallas was expected to mount a challenge for a playoff spot this season with upgrades at every position. Instead, they find themselves at the top of a tightly packed Central Division with the Western Conference's best offense (41 goals). Just four points separates first place from sixth in what is regarded as the toughest division in the League.
Recent History
The last six matchups between the Bruins and Stars have leaned towards the team from the Lonestar State. Boston is 2-3-1 dating back to February of 2011 and have not beaten Dallas at TD Garden since then when the Black and Gold scored four first-period goals en route to a 6-3 victory. It was also highlighted by some fisticuffs as the two clubs engaged in some old-time hockey with three fights in the first five seconds.
Between then and now, change has been abound for the Stars. Goaltender Kari Lehtonen is the only remaining player on their current roster that appeared in that February 3rd clash over four years ago. Former Bruin Andrew Raycroft got the start that night and was pulled after allowing two goals on the first two shots he faced.
Boston has dominated Dallas with a record of 76-29-23-3 in 131 meetings.
Offensive Heavyweights
Offense was a major problem in Boston last season. The club recorded just 209 goals, second-fewest in the Claude Julien era.
This year has been a much different story. The Bruins have averaged 3.9 goals/game through 10 games and have scored at least four times in five games, a feat they achieved just 17 times all of last season. A healthy David Krejci has been the major catalyst for Boston's offense, scoring seven goals and 15 points through 10 games. He was recently named the NHL's Third Star of October on Monday.
The dynamic duo of Patrice Bergeron and Brad Marchand have come on strong offensively as well. Bergeron has eight of his 10 points this season in his last five games with three goals (all on the power play) and five assists. Marchand is on fire as well with five goals and nine points on his current six-game scoring streak, earning the pesky winger the NHL's First Star of the Week.
http://gty.im/467380868
For the League's second-best offense in terms of goals scored, they are led by the monster known as "Benneguin". Jamie Benn and Tyler Seguin are one and two in the NHL in scoring with Benn's 18 points (10 goals, eight assists) leading his linemate Seguin who has 17 (five goals, 12 assists). Last season's Art Ross Trophy winner has a young stud on the wing that is rapidly approaching the likes of Toews/Kane and Ovechkin/Backstrom as one of the best pairs in the League.
Offseason acquisition Patrick Sharp is starting to heat up as well with four goals in his last four games. Second-line center Jason Spezza, has 10 points in 12 games while defenseman John Klingberg is second only to PK Subban and Andrei Markov in scoring from the blue line with 11 points, including nine in his last eight games.
Stat Trick
Boston
35.3: The Bruins continue to lead the way in success on the power play. They have scored a League-high 12 goals from just 34 opportunities on the man advantage this season, including a 6/17 mark on home ice.
.679: Boston's points percentage against the Stars is their fifth-highest in franchise history among active NHL teams.
17: The Bruins offense has scored 17 times in their last four games (4-0-0) while conceding just five to their opponents.
Dallas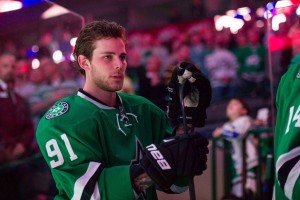 0: Seguin has yet to score a goal against the team that drafted him second overall in 2010. He has just two assists in four games against Boston.
31.3: The Stars own the NHL's third best power-play on the road (5/16).
9-3-0: Dallas owns the second-best record in the NHL. Only the Montreal Canadiens (11) have more wins than Victory Green, who were 4-4-4 through 12 games last year.
It will be a fascinating between two of the NHL's most potent offenses with three of the League's top five scorers playing on the same ice. Someone might want to get extra red bulbs ready for the goal lights.
Joe is a writer covering the Boston Bruins. He is a lifelong native of Massachusetts and is currently a content writer/manager for a newsletter at a Human Services Agency. Joe can be found on Twitter: @JoeCherryTHW