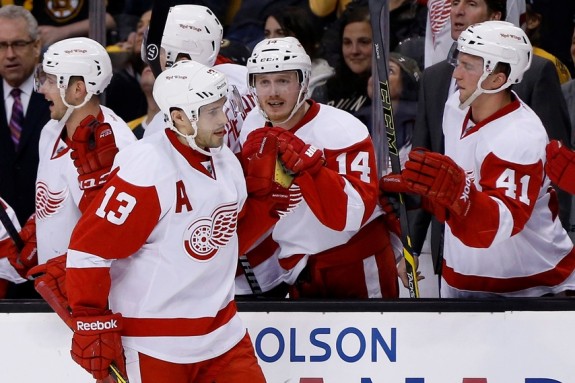 The Detroit Red Wings made a lot of questionable decisions this offseason. The re-signing of Kyle Quincey and Dan Cleary were the two biggest question marks the team faced.
However, a whole new batch of questions will come to the forefront as the 2014-15 season begins to get underway.
Here are the five biggest questions surrounding the Red Wings.
How Will Stephen Weiss Perform?
Stephen Weiss had a less-than-memorable year last season. He signed a five-year $24.5 million deal with the Red Wings last July and hasn't lived anywhere close to that deal after Year 1.
No one expected Weiss to score 40 goals and 90 points, but he should have been in the 20-25 goal range. Instead, he had just four points in 26 games last year. I made a bold prediction he would score more than 25 goals, but I would be happy with 20-25.
He was never a pure goal scorer, but he will need to provide secondary scoring, as Pavel Datsyuk and Henrik Zetterberg cannot carry the load by themselves.
This could be a make or break year for Weiss. If he is hampered by injuries again or doesn't perform up to Mike Babcock's expectations, he could be shipped out of Detroit sooner rather than later.
How Will Datsyuk/Zetterberg Hold Up?
Speaking of Datsyuk and Zetterberg, their health surely is one of the top storylines of the season. Zetterberg had back surgery on Feb. 21 and had to pull out of the Olympics after one game as a result. The Swede played the final two games of the playoffs for Detroit, chipping in a goal and an assist in the 4-2 Game 5 loss to Boston.
Datsyuk had a knee issue that kept him out of the lineup for the majority of the second half of the season. Datsyuk scored the lone goal in Detroit's one win against the Bruins in the playoffs and had five points in the series.
According to MLive.com's Ansar Khan, general manager Ken Holland has received positive news on the health of both Datsyuk and Zetterberg as well as Weiss.
Holland had this to say in regards to health:
The biggest thing is health. If we can get to training camp (Sept. 19) and get Pav, Z, (Darren) Helm, Weiss on the ice we're optimistic we got the potential to be a decent hockey club.
Datsyuk and Zetterberg aren't getting any younger — Datsyuk just turned 36 on July 20 and Zetterberg will be 34 on Oct. 9 — and the window for them to remain competitive in the NHL is slowly closing.
Will the Kids Continue to Contribute?
When the Red Wings went down with a slew of injuries last season, the kids were key in allowing the Red Wings to secure a 23rd consecutive playoff berth. Not only that, but they got valuable experience they wouldn't have got if they were still in the AHL.
Gustav Nyquist, especially, came out of the gate hot once he got the call up and scored two goals in his first game against Carolina. He finished the regular season with 48 points (28 goals, 20 assists) in 57 games.
It wasn't just Nyquist doing all the scoring — although he surely did a good amount of it — Tomas Tatar, Riley Sheahan and Tomas Jurco contributed as well. The four youngsters totaled 64 goals and 62 assists last year.
The postseason wasn't as kind to the kids, as none of them notched a single point in five games. Luke Glendening was the lone youngster to score a goal after it took him 52 games to collect his first NHL goal.
Nyquist, Tatar and Sheahan should all be in the starting lineup this season with Jurco most likely being sent down to Grand Rapids, as he is the only player who is waiver exempt.
The kids will once again have to pull their weight if the Red Wings want to be competitive in the Eastern Conference.
How Much of an Impact Will Anthony Mantha Have?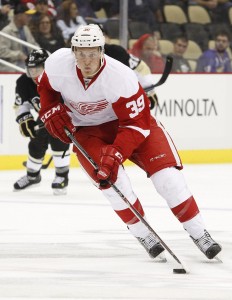 Ever since the Red Wings drafted Anthony Mantha 20th overall in last year's draft, all eyes have been on the junior phenom. His stock has risen after last season, as he scored 120 points (57 goals, 63 assists) in the regular season and added another 38 points (24 goals 14 assists) in 24 playoff games en route to a QMHJL title for Val d'Or.
Mantha, like Jurco, will most likely start the 2014-15 season in Grand Rapids after the re-signing of Cleary, but Holland has hinted if he has a fantastic training camp, he could be starting the season with the Red Wings.
However, we all know how much Holland likes to overripen his prospects in the minors, so unless Mantha averages four points per game during the preseason or the Red Wings succumb to an early injury epidemic, I expect to see him in Grand Rapids in October.
However, every NHL team goes through injuries, and this is where I expect Mantha to get his shot. He should be the first callup when the Red Wings need to replaced injured players. Whether Mantha comes out of the gate flying like Nyquist did or whether he needs 10 or 20 games to get acclimated with the speed of the NHL will be something to keep an eye on.
Can the Assistant Coaches Improve Power Play/Penalty Kill?
Not only were the Red Wings looking for players to fill out their roster, but they ended up needing assistant coaches to help Babcock lead the team, as Bill Peters (head coach with Carolina), Tom Renney (CEO of Hockey Canada) and Keith McKittrick (assistant coach with WHL's Portland Winterhawks) all took other positions.
The Red Wings hired Tony Granato to fill one of those vacancies a few weeks ago and recently hired Jim Hiller and Andrew Brewer.
Hiller is expected to work with the offense and power play, while Granato will work with the defense and penalty kill. Brewer is expected to be the Red Wings' video coordinator.
These hires will be important, as they will determine whether the Red Wings' PP and PK improve or decline. Detroit was 18th in the league in power play percentage at 17.7 and 12th in the league in penalty kill percentage at 83.1.
These two numbers have to improve if the Red Wings want to compete in the Atlantic Division. The Red Wings have always been a fairly well-disciplined team only averaging 8.8 penalty minutes per game, good for fourth-best in the league last year. But they need to take advantage of power-play opportunities in order to be successful.