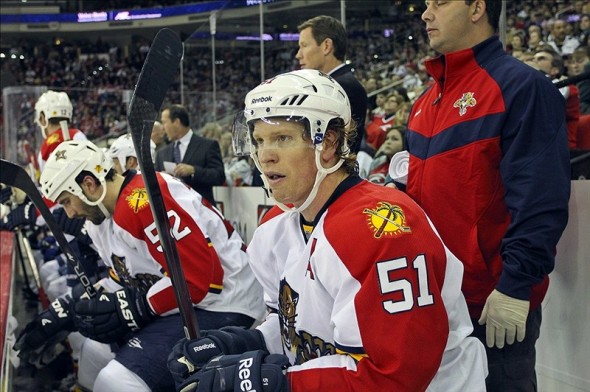 The Florida Panthers are developing into a much better team. They have a strong core of youth coming up the pipeline in the system developing into impressive NHL players. They've brought in players with excellent experience and Stanley Cup rings. Their offense struggled last season, but they appear to be in shape to pose as an offensive threat. Goaltending issues were absolutely solved after acquiring a stellar goaltender in Roberto Luongo and signing a sturdy back up in Al Montoya.
The only area I can see where Florida will struggle consistently in 2014-15 is on defence. They have a good top four that they can rely on, however spots number five and six are completely open. I am interested to see how new head coach Gerard Gallant and general manager Dale Tallon decide who deserves the final two spots.
Option 1: Internal Promotion
Dylan Olsen is probably the most sensible option to fill spot number five. He played 44 games last season with Florida and his stats were modest, but good enough. He is 23 years old and was a positive possession player last season. Giving him more experience this year as a full time NHL defenceman will only help his development and integration in the NHL.
Aaron Ekblad was the first overall pick in the 2014 NHL entry draft. He is a phenomanal defenceman and very well could be ready for his first taste of NHL action this season. I had the opportunity to see him play several times last season while he was a member of the Barrie Colts and he was clearly a dominant player in all aspects of the game. I think it would be a good idea to try him out with the Panthers to start out the year to see how he performs. If you are not familiar with Ekblad, check out his scouting report  by Todd Cordell.
The only other defencemen in the Panthers organization who played games in the NHL last year were Alex Petrovic and Jonathon Racine. Both had minimal games played and their stats did not jump off the page. They would be the runner-ups if Ekblad did not manage to prove himself worthy of the sixth spot.
Option 2: Free Agency
There are two players still available in free agency that I can really see helping the Panthers lineup: Jamie McBain and Michael Del Zotto.

Jamie McBain played for the only team worse than the Florida Panthers last season, the Buffalo Sabres. His statistics are nothing too impressive, but I take into account the team he played for. His possesion numbers are poor last season however they were hovering around the 50% mark the previous three seasons. He is only twenty-six years old, and I believe can still turn his career around. Coming to Florida to fill a five or six defeceman spot may be what he needs in order to get his confidence back.
Michael Del Zotto has really seen a decline in play over the last few seasons. He came into the league as a very promising defenceman but has since seen his offensive game take a turn for the worse. I believe he still has it in him and he is working hard this off season to prepare for next year. He is a proven defenceman who is capable of putting up solid numbers. At the young age of twenty-four Del Zotto still has time to get his career back on track and signing him to a low cap-hit deal to help on the back end could help both parties. Follow
What Happens Next?
Realistically, Dale Tallon will wait until after training camp to make his final roster decisions. He is going to see how players like Ekblad and Olsen perform to see if there really is a need to fill on the back end. Odds are that one of McBain or Del Zotto will still be available come closer to the season, so there is really no rush.
If it were up to me, I would jump the gun and sign one of Del Zotto or McBain. They are both of premium age, and will come at a low cap hit as both are trying to rebuild their careers and prove themselves. I think they would be a cheap way to help a big problem and could become core pieces to this team.
My top six on defenceman would be Brian Campbell, Dmitry Kulikov, Willie Mitchell, Erik Gudbranson, Dylan Olsen, and Michael Del Zotto.
What do you think will happen? Will Florida make adjustments? Or wait it out and let their youth take the reins? Let me know in the comments below!
Avid fan of hockey at all levels. Writing for The Hockey Writers covering the Florida Panthers and Habs Addict covering the Montreal Canadiens. Follow him at @Darrinharmy on twitter.